photo credit: petit hiboux via photopin cc
People in San Francisco like waiting in line for food (a lot). Sometimes, that wait is worth it. While You Wait, SFist's guide for how to pass the time while trying to get into San Francisco's most ridiculously popular restaurants, is here to help.
Minimum wait time at Zazie for party of four, Saturday, 12:00 p.m..: Well that depends. Was that a party of eight that just got seated, or two parties of four? Ha, I kid. It doesn't matter which, you'll be here all day.

It's one thing to brave the wilds of a brunch crowd at a consistently top rated spot. It's another thing entirely to do so at a top rated spot with outdoor seating — specifically, outdoor seating in a precious back garden so charming that you'd hate it if you weren't so in love with it.
I'm talking about Zazie, of course, the second brunch establishment to grace the pages of While You Wait. The Frenchified cafe has earned gushing praise for its fluffy omelets, mix-and-match Benedicts, and seasonally-tinged pancakes. They don't have a full liquor license, but a respectable wine list, plus a variety of mimosas (mango! elderflower!), are all you need to linger in the aforementioned garden for hours.
Which is unfortunate, for you. While those early risers snagged their seats in the wee hours (read: before noon), you're standing out here in the cold, hard streets of Cole Valley, with a gnawing hunger and nagging suspicion that you should be rethinking your lifestyle choices (or at least should have eaten a granola bar in advance).
Regardless, you're here, and you have time to kill. What to do with the next few hours?
First Half Hour: Kezar Pub
Is there anything better than a bar that opens at 6 a.m.? Yes — a bar that opens at 6 a.m. and screens international football games (soccer, guys) live. There's a reason that futbal is the preferred sport in pretty much every other country in the world — it's fast paced, gripping, and involves grown men sporting mullets AND rolling around on the ground in hysterics over fake injuries. Cozy up to the awesome subset of San Francisco football fans, order a beer, and become a bandwagon fan for the next thirty minutes. P.S. The World Cup is coming up really soon. You're welcome.
The Kezar Pub: 770 Stanyan St. (btwn Waller & Beulah), 415-386-9292
Hour One: Ice Cream Bar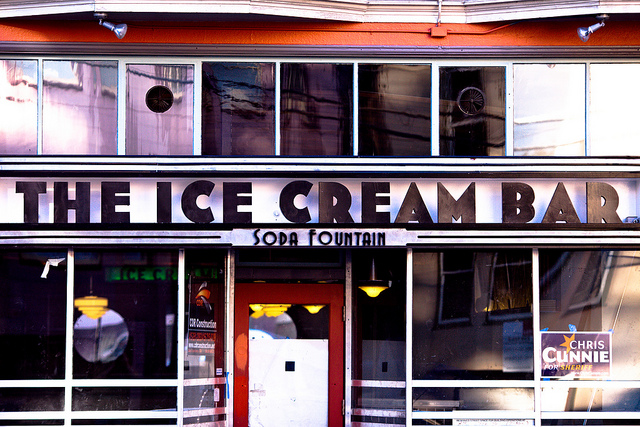 photo credit: Thomas Hawk via photopin cc
Having gotten a little buzzed and said something foolish, promptly revealing your utter ignorance about how soccer/football actually works, it's time to scoot down the street to the Ice Cream Bar. This too-cute, old school ice cream fountain is the perfect place to stem your hunger without fully dismissing the possibility of brunch at Zazie. In addition to ice cream and milkshakes, Ice Cream Bar is serving up some deliciously creative house made phosphates (hello, candy cap mushroom!) and has a list of "Remedies" that feature both ice cream and booze. YAY. Class it up with the Sunday Morning (seasonal sorbet and Mumm's bubbly), or go all in with the Dublin Honey (burnt honey ice cream, Guinness, chocolate syrup, and Tawny port).
The Ice Cream Bar: 815 Cole St. (at Frederick), 415-742-4932
Hour and a Half: Second Act Marketplace (and Martin Mack's)

photo credit: Viewminder via photopin cc
Feeling a little woozy from all that ice cream and booze? Walk it off over to Haight Street, and check out the new(ish) Second Act Marketplace. There, you'll find a collection of tasty foodstuffs for eating, fancy kitchenwares for splurging, and a whole mess of spices to inspire you to maybe cooking something someday (you know, instead of waiting 2 hours for brunch). Go on and get a piroshki or some gumbo to snack on. Since The Alembic doesn't open until 4 p.m. during their expansion (wah), yes, you can go down to Martin Mack's for a Bloody Mary.
Second Act Marketplace: 1727 Haight St. (btwn Cole & Shrader), 415-668-3994

Martin Mack's: 1568 Haight St. (btwn Clayton & Ashbury), 415-861-1586
Hour Two, Wait, There's An Entire Bacon Cafe RIGHT HERE?!: Bacon Bacon

photo credit: Andi Fisher via photopin cc
Funny how when you pulled up the "Nearby" options for that photo of your Bloody, Bacon Bacon popped up. "WHAT?!" you thought. "Bacon Bacon, like the truck?" Yes, except for this is the Bacon Bacon Cafe. And it's right around the street from Zazie. "What am I doing with my life?!" you're thinking. We know. We understand. You were so blinded by the idea of a line-worthy brunch and a garden seat that you forgot about the important things in life: bacon on everything. Remedy this mistake immediately, and get yourself an over-the-top sandwich, like the one featuring chicken fried bacon, or the one with both bacon AND bacon jam, or… oh, get them all! Get them to go, plus a six pack from one of the nearby corner stores. Head to Golden Gate Park, take a hit off of someone's joint, and consider your weekend brunch made.
Bacon Bacon: 205A Frederick St. (at Ashbury), 415-218-4347
The beauty of Kezar's exterior. (Photo: John G./Yelp)