Tater tots — the noble potato product that was once the staple of middle school lunches has seen a resurgence as of late, thanks to our hunger for good old-fashioned American nostalgia and starches. Like french fries, tot quality can range from bar-food staple to pricey haute-r tots. Here now, are our favorites:
Bender's
The grill at Bender's has been turning out some of the best trashy bar food since before there were entire blogs devoted to those kinds of things. The grilled mac and cheese sandwich is truly inspired, but it's the standard, no-frills, massive $5 basket of tater tots that make Bender's an ideal dive bar. When you're drunk on cheap beer and whiskey, nothing tastes better than a pile of starch. —Andrew Dalton
806 South Van Ness (at 19th Street)
The Tot Mafia: Bullitt, Wild Hare, Dr. Teeth & the Electric Mayhem, Lightning
The tater tots at these four bro bars probably make up a majority of the tot trade in the city of San Francisco. Luckily, they come in a variety of creative variations (tot-chos, truffle-drizzled, sweet potato), which is more than you can say for the clientele at Bullitt most nights. —Andrew Dalton
All over town
(Photo credit: Fuzzy Traveler)
The Slider Shack
Sometimes you don't need anything other than an working knowledge of a deep fryer to make a mean basket of tater tots. Although the rest of owner John Cade's menu follows the Tiki theme of the truck, the tots get rave reviews for their perfectly crispy exterior and Dade's own homemade ketchup. At $3 for a side you might as well order two. —Andrew Dalton
Monday, Thursday, Friday at 1st and Howard
SoMa StrEat Food on occasion.
(Photo via: Innabovetide)
Fast Food Francais
Sausalito's clever and delicious spinoff of Le Garage has a bunch of American-ized French-isms on the menu, including a version of ham and cheese with duck ham, bechamel, and emmental cheese; and a take on pork and beans with mustard-glazed spare ribs and emergo beans. Their excellent tots are labeled "pommes dauphines," and that's because the French were making these tot-like potato puffs at least a century before Ore-Ida was born. — Jay Barmann
39 Caledonia Street, Sausalito
(Photo via: Jamber)
Jamber
A hit since this place first opened, the parmesan and rosemary "mashed potater tots" at Jamber are more like the haute cousin of the tot known as pommes dauphines, all fluffy potato in the middle and crisp on the outside. These are served with a choice of bacon jam or cranberry walnut jam, but the choice is obvious unless you're vegetarian. And yes, they go real nicely with beer. — Jay Barmann
858 Folsom Street
(Photo: Yelper Matt G.)
Rickybobby
How do you improve upon the tater tot? You make it out of sweet potato, fry it extra-crispy, and serve it with house-made ranch. That is the magic formula for the tots at two-year-old Lower Haight dude-food emporium Rickybobby, and the $6 basket of these babies is one of the most filling and addictive deals in town. — Jay Barmann
400 Haight Street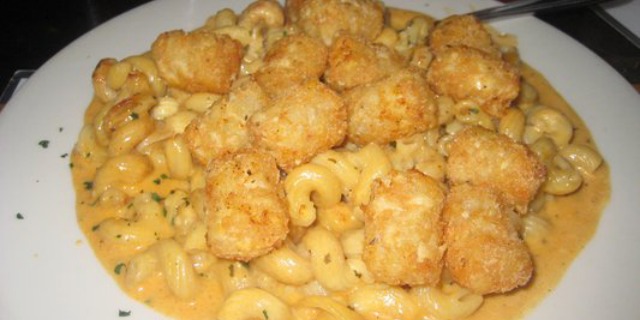 (Q's Macaroni and Cheezy with Tater Tots: Craig R/Yelp)
Q's Macaroni and Cheezy with Tater Tots
Sure, you can get tater tots as a lunch or dinner side for $5 at this Inner Richmond comfort-food standby. But if you need serious comfort, I recommend their Macaroni and Cheezy with Tater Tots , which is, yes, a bunch of macaroni and cheese with tater tots. If you're Paleo (heh), you can even add chicken, if you're blowing it out before joining the cast of The Biggest Loser, bacon's an add-on option as well. — Eve Batey
Q Restaurant and Wine Bar, 225 Clement Street between 3rd and 4th Avenues
(Tater tots at A1 Liquor & Grocery: Eve Batey)
Your corner store's frozen tater tots
To some going out into the world and socializing as they eat their tots is the platonic ideal. But sometimes, no restaurant's open, or you don't feel like getting dressed, or you want to eat your tots in bed. Sure, you're guaranteed to find tots at a large supermarket, too, but we're talking about getting in, out, and back home in a flash, something that never happens at Safeway. This is a corner store job. I've done extensive research on this: almost every corner market in San Francisco has one or two freezers, in which you often find bags of tots. (Some shoppers even turn the oven up to 400, run to the corner for the tots, then pop them in without that painful "when will this thing heat up" wait. Please do not hold SFist responsible if you try this and burn your house down.) Next thing you know, you're in your PJs, watching Drag Race on your couch with a piping hot plate of tots. Heaven. — Eve Batey
At Dr. Teeth, tots are also double as breakfast potatoes. (Photo: Dr. Teeth)