Sure, doughnuts are the popular breakfast treat. (Should the mood strike, you can check out SFist's 10 best doughnuts in the Bay Area.) But sometimes in the AM you want something different. Sometimes you want something savory. Sometimes you want a fancier, flakier, sticker treat. Enter the breakfast pastry. Here are our top 10 picks for the perfect way to start the day.
Toast from The Mill
Once decried as the beginning of the end of San Francisco as we know it, the reality of The Mill's toast is much more wholesome. Inch-thick slabs of Josey Baker's Country Bread slathered in butter with cinnamon sugar, or whole wheat with a generous smear of almond butter and honey: this is the toast you always wanted to make as a kid.
736 Divisadero (at Fulton) — Andrew Dalton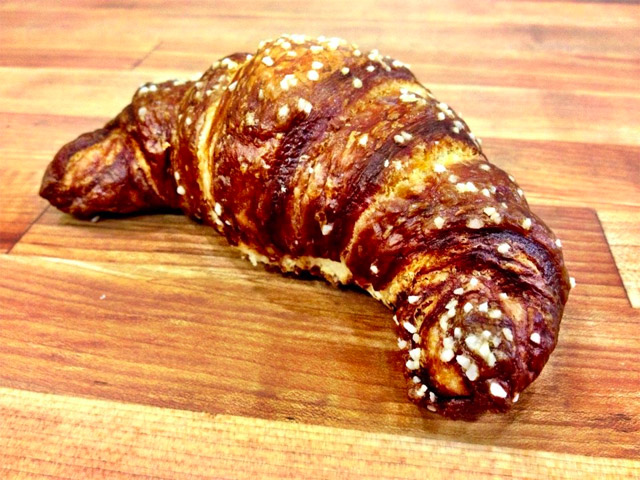 The Pretzel Croissant from Arlequin Cafe
During the height of cronut fever, Hayes Valley's Arlequin Cafe quietly debuted the pretzel croissant. Built from flaky, buttery layers of pretzel dough with a dark brown, salt-speckled exterior: it's a pretzel, only fluffier. At $3.50 a pop, it's frankly baffling that there aren't lines out the door for this thing. — Andrew Dalton
384 Hayes (at Gough)
The Rebel Within unleashed. (Photo: Arnold Gatilao)
The Rebel Within from Craftsman and Wolves
Simply put: A soft-boiled egg inside a muffin with sausage baked in. It's as if someone turned a sausage McMuffin inside out and still the most Instagram-friendly pastry in San Francisco. — Andrew Dalton
746 Valencia (at 19th Street)
b. patisserie's Kouign-Amann. (Photo: Facebook)
b. patisserie's Kouign-Amann
Pastry chef Belinda Leong turns out the hits, but her most notorious accomplishment may be her kouign-amann, a buttery layered Breton cake that's been called the cronut of the West. Order it plain or with a seasonal filling; you won't be disappointed. Kouign-amann is available at Four Barrel, where you can satisfy your coffee and Dynamo Donut cravings, too. — Rose Garrett
2821 California (at Divisadero)
This Butter Pecan Croissant wants you. Bad.
Knead Patisserie's Butter Pecan Croissant
A nutty, brown butter filling and ground pecan are waiting inside this crispy-on-the-outside, moist-on-the-inside treat that keeps 'em coming to the 24th Street shop. Sold out? Try the strawberry ricotta pop tarts instead. — Rose Garrett
3111 24th Street (at Folsom)
Behold, the noted Sticky Bun.
Sticky Bun from Thorough Bread
This bun is seriously sticky, but you won't hear any complaints: the moist interior, caramelized sweetness and hefty topping of chopped pecans are the stuff dreams are made of. Order a coffee to go with it and hang out on Thorough Bread's lovely back patio: you won't be sorry. — Rose Garrett
248 Church (at Market)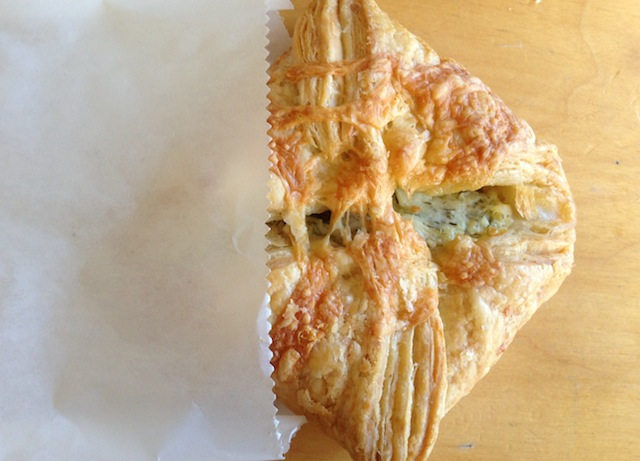 Marla Bakery's Savory Turnover can be found at Saint Frank's.(Photo: Brock Keeling)
Savory Turnover from Marla Bakery
A chest full of flakes. That's what happens when one devours Marla Bakery's savory turnover (stuffed with farmers cheese and green onion) with no self control. Buttery with brittle flakiness, it's the perfect morning treat for those who eschew sweets in the AM. — Brock Keeling
Opening soon at 613 York Street (near 18th Street)
Morning buns at Tartine. (Photo: Janice C. /Yelp)
Morning Buns from Tartine
If you can white-knuckle the line, your pain will be rewarded with some of the finest pastries in San Francisco. Take, for example, the morning buns. Take five of them, in fact. Slightly denser than a croissant but with the same butteriness and a touch of orange flavor, they're worth the wait. — Brock Keeling
600 Guerrero (between 19th Street)
(Photo: Delarosa)
Bomboloni Caldi at Delarosa
These new, warm brunch doughnuts at the Marina's favorite go-to pizza-and-cocktail spot are a must-order. In the Italian style they come just fluffy and sugar-dusted, with three sauces for dipping, mascarpone cream, chocolate, and raspberry purée. — Jay Barmann
2175 Chestnut (at Pierce)
(Photo Joe Starkey / Thrillist)
Filled Bomboloni at Heartbaker
At the still newish Heartbaker, Former Kokkari and Aqua pastry chef Sybil Johnson is doing some great baking, not the least of which are her Italian doughnuts (bomboloni) which come filled with a variety of seasonal flavors, including amaretto custard, nutella, and rum custard rolled in cinnamon sugar. This is how to come off a diet, folks. — Jay Barmann
1408 Clement (at 15th Avenue)
Photo: Facebook