Three Twins Ice Cream dances perilously close to the edge of Ben & Jerry's stargazing with the addition an ice cream churned and branded in honor noted closer Sergio Romo. It's called Sergio Romo's Mexican Chocolate and tastes just like it sounds.
The pints will come with the tagline "It Only Tastes Illegal" -- a reference to the controversial t-shirt Romo wore after the Giants' 2012 World Series win.
Via Haighteration, Three Twins founder Neal Gottlieb had this to say:
"The inspiration of course came from the shirt that he wore at the World Series parade, which got a lot of people talking and thinking about immigration policy in the United States. Mexicans and Mexican Americans play such an important role in Major League Baseball and Three Twins Ice Cream that it seemed like a natural fit. While some claim to be offended by the logo and artwork, we think that it is topical, quirky and fun."
Romo's ice cream should be available in store come September. Meanwhile, your San Francisco Giants are ruining everything in the world and please God make it stop.
Anyway, here's the shirt in question: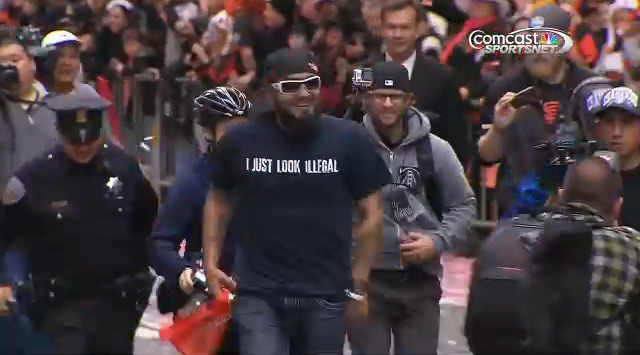 [Haighteration]
[NBC Bay Area]
The shirt, as seen during the second World Series victory parade.