President Chiu called this week's board meeting to order a full 15 minutes late yesterday. We'll leave it to the math geniuses to figure out how much we're paying these clowns to shoot the breeze while we listen to SFGovTV's "Coming up..." muzak, but in the meantime President Chiu gets a -1 right off the bat for not getting his people in order. Anyway, a lot of items to get through here, so let's move on:
First of all David Campos was absent, but excuse, so +1 to David Campos for taking a mental health break, you lucky bastard.
Items 1-14 were passed in one fell swoop, meaning Malia Cohen gets her sewer improvements and Eric Mar gets a million bucks to prove we can effectively recycle fryer grease. So glad we could dispose of those agenda items without too much waste. (See what we did there?)
As previously mentioned, the Yellow Pages Ban passed on a 9-1 vote after Chiu eloquently described our collective laziness as "human inertia". We have to take issue with Chiu's insistence that this isn't a "ban" in the technical sense though. We get it: the city isn't actually banishing paper directories from our streets, but if San Francisco is going to get stuck with this reputation that we want to ban everything that kills trees or makes kids fat or offends penile sensibilities, then we might as well own it. Stick up for your legislation, President Chiu! Tell the world that you personally hate phonebooks! Call Recology and get them to bring the wood chipper down to Civic Center for phonebook recycling party! And then let us never speak of phonebooks again. -1 to David Chiu for not doing this one up in style. He'll never be Mayor with an attitude like that.
Not that we were keeping track, but Ross Mirkarimi gave a 3 minute and 15 second speech about his payroll tax reform item. That's about 2 minutes and 45 seconds longer than we needed to talk about a temporary tax break. Supervisor Kim followed up to express her concerns that this legislation could be starting down the slippery slope of piecemeal tax breaks that the board tried to avoid with amendments to the Twitter tax break that set this whole thing off, but ultimately she's on board with it.
On the other side of the fence, Avalos can't seem to let the Twitter thing go. He's heard some businesses wonder why we even have a payroll tax at all, which scares him because that is our business tax. That's a realistic thing to be concerned about - revolt from business owners over a tax they think is unnecessary - but he doesn't actually offer any solutions to the problem. No alternate proposal, no motion to continue the item, just some particularly frustrating dead end discussion. Not that it mattered anyway, because he ended up voting in favor of the legislation. If we weren't so confused about which side he was on, we'd ding Avalos another point. The progressive candidate for mayor has to get his word in about the little guys, we guess.
Supervisor Farrell, on the other hand, already has similar legislation in front of the board (it's currently on hold while the controller runs some numbers) and he offered to continue Mirkarimi's item until both pieces of legislation could be considered together. Imagine that: an offer to work together instead of just taking a crap on the legislation and dropping the mic. Except whoops, everybody shot down Farrell's continuance. Mirkarimi's item passed 7-3.
Items 26-36, all pertaining to the Treasure Island Development project, were tabled until June 7th so they could be considered along with the CEQA Appeal. +1 to Jane Kim for saving us from that mess for a couple weeks, but also -1 to Jane Kim for making Clerk Calvillo read all 11 of those items. That's just bad Board etiquette.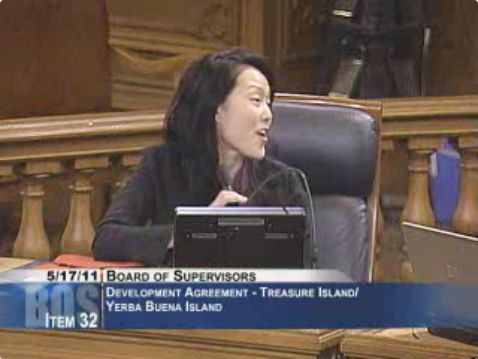 Item 37, Mirkarimi's Safe Drug Disposal legislation passed unanimously. Does anybody care?
Item 38 also passed, so you know everyone on the board is totally cool with Temporary Mayor Ed Lee going back to being Permanent City Controller Ed Lee in 2012. So Lee is sitting pretty whether or not he decides to make a run for full term.
Malia Cohen continues to get shit done in the Bayview district by pushing through her redevelopment lease items. Well done, Lady, don't let those other 10 jokers drag you down. +1 for Malia Cohen.
During Roll Call for Introductions, Avalos introduced new legislation that would make it necessary for cell phone retail outlets to clearly post how much radiation your brain will absorb when using various models of portable phones. Currently, that info must be available if requested, but it's not necessary to post it on in-store displays. It's kind of like that time we made fast food restaurants start posting nutritional information on the menus instead of hiding it in a handy brochure off to the side. -1 to Avalos because we don't really care for another constant reminder that everything on the planet is out to kill us.
Also during introductions, President Chiu gave a shoutout to his parents watching on SFGovTV at home. Yesterday was the elder Chius' anniversary and they are religious SFGovTV fans. Awwww. +1
Immediately after introductions, we got to the fun part: the board's special commendations of local businesses as part of Small Business Week. Some notable highlights:
Carmen Chu recognized the proprietors of Ocean Park Motel in the Sunset, which was cute until she had to use the regrettable terms "staycation" and "outerlands" in the same sentence. No deductions, but you're on lingo watch, Supervisor Chu.
Jane Kim recognized the owner of Passion Cafe on the same day Chronicle columnist C.W. Nevius basically told the guy he couldn't hack it on 6th street. +1 to Jane Kim for telling Nevius to shove it (sort of).
Because Campos was absent, Avalos read the Mission supervisor's commendation of El Rio. And he totally hijacked it! Not cool, Avalos.
Mark Farrell recognized Patxi's Chicago Pizza. Gross, he would like Chicago-style pizza.
Sean Elsbernd finally found another item to speak up and get passionate about. And that item was cheesecake. He gave a lengthy, but heartfelt speech about what Zanze's Cheesecakes means to him personally and to the City of San Francisco as a whole. It was kind of adorable really. +1 to Sean Elsbernd for the amazing cheesecake face:
Finally, President Chiu honored Liguria Bakery in North Beach by listing all eight types of focaccia that they make. Which was weird.
At the end of the day Chiu and Avalos aren't really helping their mayoral campaigns, but pretty much everybody wins this week for getting through a crapload of agenda items in just over 3 hours of meeting time. An honorable mention goes out to the final public commenter who wanted public comment to come during the middle of the meeting because only the crazies stay until the end to talk. He has a point, that guy, but also he kind of seemed crazy so whatever.
Final Ranking: (this week's points in parenthesis)
6.5 Ross Mirkarimi (No change)
6 Mark Farrell (No change)
5 Scott Wiener (No change)
5 Sean Elsbernd (+1)
4 Malia Cohen (+1)
4 David Campos (+1)
4 Jane Kim (+2, -1)
2.5 Carmen Chu (No change)
0 David Chiu (-2, +1)
-1 Eric Mar (No change)
-5 John Avalos (-1)
-999,999,994 Mayor Ed Lee (No appearance this week.)
Absent, but excused: David Campos
"Haha! Sorry, Angela!"