Bust out the Thin Lizzy Warrior Nation, because the boys are back in town.
Thursday night in the vaunted O-rena, the Warriors rebounded from back-to-back shoulda-coulda-wouldas in Salt Lake City to dominate the Utah Jazz, 125-105. In the must-win game 3, the Warriors not only staunched the momentum bleed of games 1 and 2, they completely reversed it. And they couldn't have done it without the uplifting energy and emotion of the hometown crowd -- and of course, Baron Davis.
Game 3 was a shining example of what a home crowd can bring to a team and a ballgame. The crowd made all the difference. From the Warriors inspired three-point shooting to the hustle stats (rebounds, steals, turnovers-forced), to the shock and awe generated by fans that have been denied for too long.
On the "Warriors Roundtable" radio show after the game, Warriors announcer Jim Barnett remarked that he felt the O-rena crowd was worth 10-15 points a game, maybe more. Clearly it was worth at least 20 points Thursday night.
Oh sweet mercy! Eat your heart out John Starks, the Beard's hammer toss on Ivan Drago is now the gold standard for NBA playoff jams. Photos from sfgate.com and espn.com.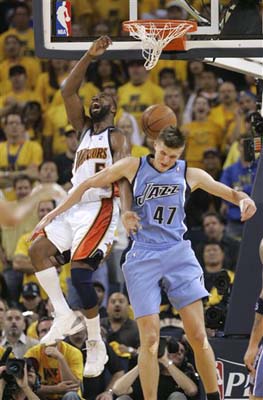 The crowd gave the Warriors what they didn't have in Utah -- energy and swagger. And that energy led to better defense, improved bench play, and even some goddamn rebounds. In every phase of the game, the Warriors played far better than they did in Utah.
But it didn't totally start out that way. The Dubs looked scattered, adrift, and even a bit concerned in first quarter. After falling behind early, they laid a 15-0 run on the Jazz to go up 19-7, but had relinquished the lead by the closing seconds of the quarter. That is, until a clutch three by the Beard (not this, ahem, Beard) as time expired reminded the Warriors what they are all about -- balls. From that point on, it was all Warriors.
Or maybe the turning point was when Stephen Jackson, heretofore the blood and guts (to Baron's heart and soul) of this Warriors team, went to the bench at 4:08 in the first quarter with three fouls. It seemed like a crippling blow at the time, but after a couple of nervous minutes, the Ws gathered themselves and started to grind out a more controlled chaos en route to a 40-point second quarter that built up a 21-point halftime lead. His passion is what makes him a great player, but it's also what gets him in trouble. Tonight, Jax's timeout turned out to be a blessing in disguise for the Warriors because it forced coach Don Nelson to go to his bench.