Some jokers in Alameda were just handing out fast-food condiment packages as trick-or-treat candy, according to one puzzled father's Facebook post.
It was an odd year for Halloween trick-or-treating kids in the city of Alameda. On one end of the spectrum, we reported earlier this week that cannabis-infused candies were somehow handed out at an Alameda elementary school trick-or-treat event, which is not only dangerous for children, but those candies retail at a pricey $20 a bag.
On the other end of the spectrum, KTVU reports that some cheapskate in Alameda was just handing out fast-food condiment packages to trick-or-treaters, according to one father's Facebook post.

"My three kids and four close friends went trick-or-treating last night and many single serving sauce packets were 'recycled' as 'treats,' the father posted to Facebook, according to KTVU. "Let it not be said that Alameda peeps don't have a great sense of humor."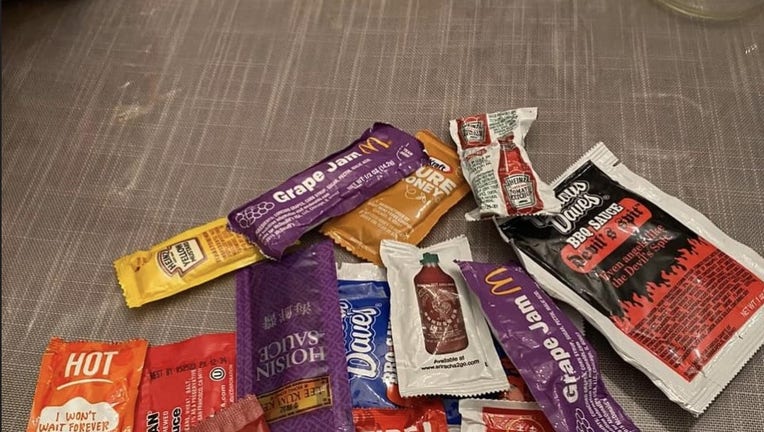 Some commenters wisecracked. "Score on the Sriracha!!" one said. And indeed, one of the packages does appear to be a single-serve packet of the Sriracha sauce that's been in short supply for months.
But another commenter was a parent who reported a similar experience. "My son came home with a packet of Southwest Airlines pretzels," that parent wrote. "Can't really complain when he still has 8lbs of candy."
There is no word on whether the households handing out these non-candy treats got egged, toilet papered, or had their jack-o-lanterns smashed.
Related: Kids Given Cannabis-Infused Candy at Alameda Elementary School Trick-or-Treating Event [SFist]
Image: KTVU via Facebook