Could a different school step in and revive the historic San Francisco Art Institute campus on Chestnut Street? We shall now see, as the nearly century-old property has officially hit the market in a bankruptcy sale, for an unlisted sum.
We have followed the slow-moving wreck of the latter days of the San Francisco Art Institute (SFAI), the demise of which began well before the pandemic accelerated it, for the last three years. The school's first announcement that it may shutter permanently came a week into the pandemic lockdown, in March 2020.
And now, the storied, 152-year-old school's main buildings have hit the open market, along with the very valuable Diego Rivera mural inside.
The listing for the 94,000-square-foot "specialty building" at 800 Chestnut is up on Loopnet, and it includes details about the campus's architects — SF firm Bakewell and Brown designed the historic 1926, Spanish-style, street-facing portion; and Pafford Keatinge-Clay, who studied with Le Corbusier and Frank Lloyd Wright before ultimately launching his own firm, designed the more modern 1968 addition, sometimes called the "Clay building." The SF Standard was first to catch the listing.
SFAI declared bankruptcy in April, but that announcement came after three years of false hopes and attempts to save it — even, as some board members wanted to do, by selling the 1931 fresco by Rivera, which may or may not even be able to be moved. (The self-referential, downright meta piece is titled The Making of a Fresco Showing the Building of a City, and features Rivera's own backside, sitting on a scaffold painting, in the center.)
The final nail in the coffin was the falling-through of a deal with USF last summer. USF had been considering a merger in which it would have had to assume SFAI's debts, along with the Chestnut Street buildings and the school's art and film collections. But the deal died after a period of due diligence, with USF backing out.
The school reportedly had $65 million in assets, a large portion of which may be the value of this fresco — when it was being shopped around, it was rumored to be worth $50 million. And as reported at the time of the bankruptcy filing, the school's total debt liability was listed at just over $10 million, with creditors including Fort Mason Center — where the school built a graduate school in the last decade, from which it was evicted for non-payment of rent.
The campus for sale is technically owned by the Regents of the University of California, who were renting it back to SFAI in a complicated land deal.
Pictures of the facility include this lofty ceramics studio below, a roof deck with Bay views, and historic classrooms.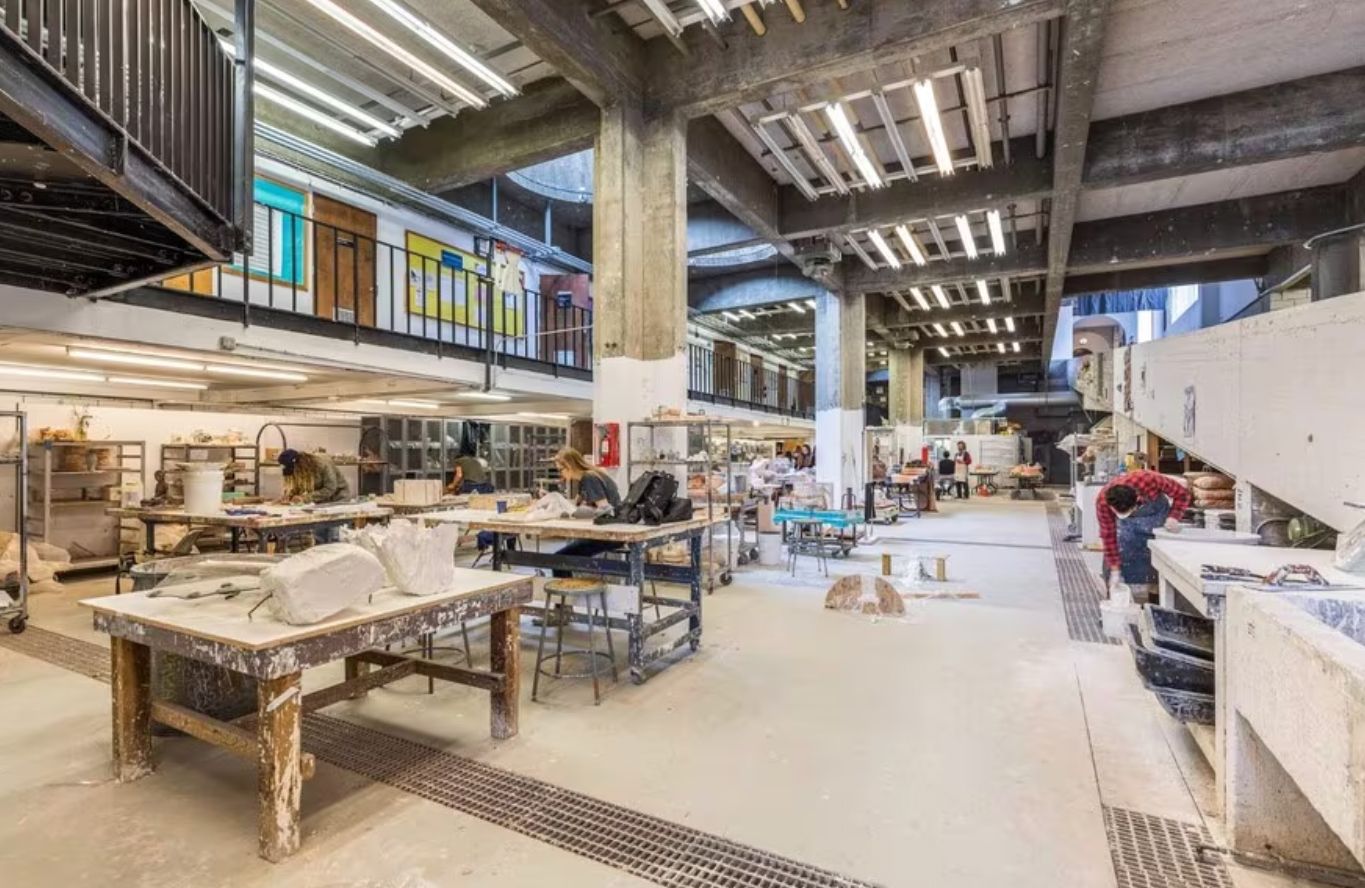 Tom Christian, executive director of Cushman & Wakefield, tells the Standard that the ideal buyer would be "someone who could use it as a school."
Previously: SF Art Institute Has Declared Bankruptcy, Looks Finished After 152 Years