After hundreds of hours watching games at bars, at friend's houses, and alone at my desk through COVID, and after years of screaming, clapping, or shrugging indignantly at my monitor in a wild roller-coaster ride of emotions, I went to my first-ever, live Warriors' game at the Chase Center on March 26, where Golden State lost to the Minnesota Timberwolves 99-96.
I don't know what I expected. Never a fan of crowds, liquor-fueled debauchery or a herd mentality, I wasn't sure how it would feel to actually sit in the stands and cheer on the Dubs with 18,000 fellow fans. It was fun, it was fleeting, and there were moments when it felt so familiar that I had to remind myself that it was, in fact, my first-ever game.
But not long after I clicked "purchase" for my tickets, I was flooded with unexpected buyer's remorse. Investing my time in the Warriors — which has been a significant investment in the wake of the pandemic — was one thing, but to put hard-earned cash down was something else entirely. Long before the game, I realized that I was going to have some kind of existential crisis. I was going to wonder what it's all for, and why I'm so invested in this team.
The Cash Part
It's probably no surprise that the Golden State Warriors lead the NBA in ticket prices. The Dubs have been to the NBA Finals six times in eight years and have won four championships. They have game-changing, paradigm-shattering players. The Warriors now play in a brand-new arena that — bucking convention — was built with private money. Of course tickets in San Francisco, the eighth-most expensive city in the world and third most-expensive in the United States (behind New York and L.A.), are expensive. Really expensive.
"A family of four hoping to purchase the cheapest tickets to see the Warriors should expect to pay at least $570 on average (or $142 per person) just for tickets," the San Francisco Chronicle reported, saying that along with parking, booze and food, a family of four could spend $700. The Dubs also have the honor of the most expensive beer at $17.28 a pint, and up to $21 for a craft brew. The food, which I'd tried before (for free) seemed like the best value in the building at around $18 to $22 a dish. We paid a little above that $142 average for the nosebleed-iest altitudes of Chase Center, against the back wall, slightly above the jumbotron and at the end of an aisle.
I'd wanted to see shoot-around almost as much as the game itself — I'd heard that even a nosebleed-ticket holder could enter the lower levels during warmups. "You used to," a ticket checker standing at a lower-level entrance told me. (I'm paraphrasing.) "But then people tried to get too close to the players, so now only ticket holders are allowed."
I'd seen the motions and almost exact order of Stephen Curry's warm up dozens of times on social media. At my game, Steph started working with assistant coach Bruce Fraser (aka Coach Q, aka "The Most Interesting Man in the NBA."). There's a reel of Steph making 16 shots in a row through his progression, never really hitting the rim, and ending with a cartoonish, straight-up-and-down floater. Steph and Coach Q did their schtick of kicking the ball around, with Steph catching one on his back like a soccer player, then firing a corner three.
The thing I'd wanted to see for its spontaneity and circus antics was, in fact, methodical and almost a letdown... until I thought about the discipline of Steph working on his shooting form. He was at once regimented and having fun in his pregame workout. In the on-court, postgame interview on Tuesday, after the Warriors beat OKC in the last regular-season game at Chase Center, Steph acknowledged that his warmup has become a thing.
"Since 2014, it's been like that. People come in early and enjoy the 30 minutes that I'm out there. I appreciate the attention that it gets in the sense of seeing how much fun I'm having getting ready. Hopefully kids and people of all ages enjoy it."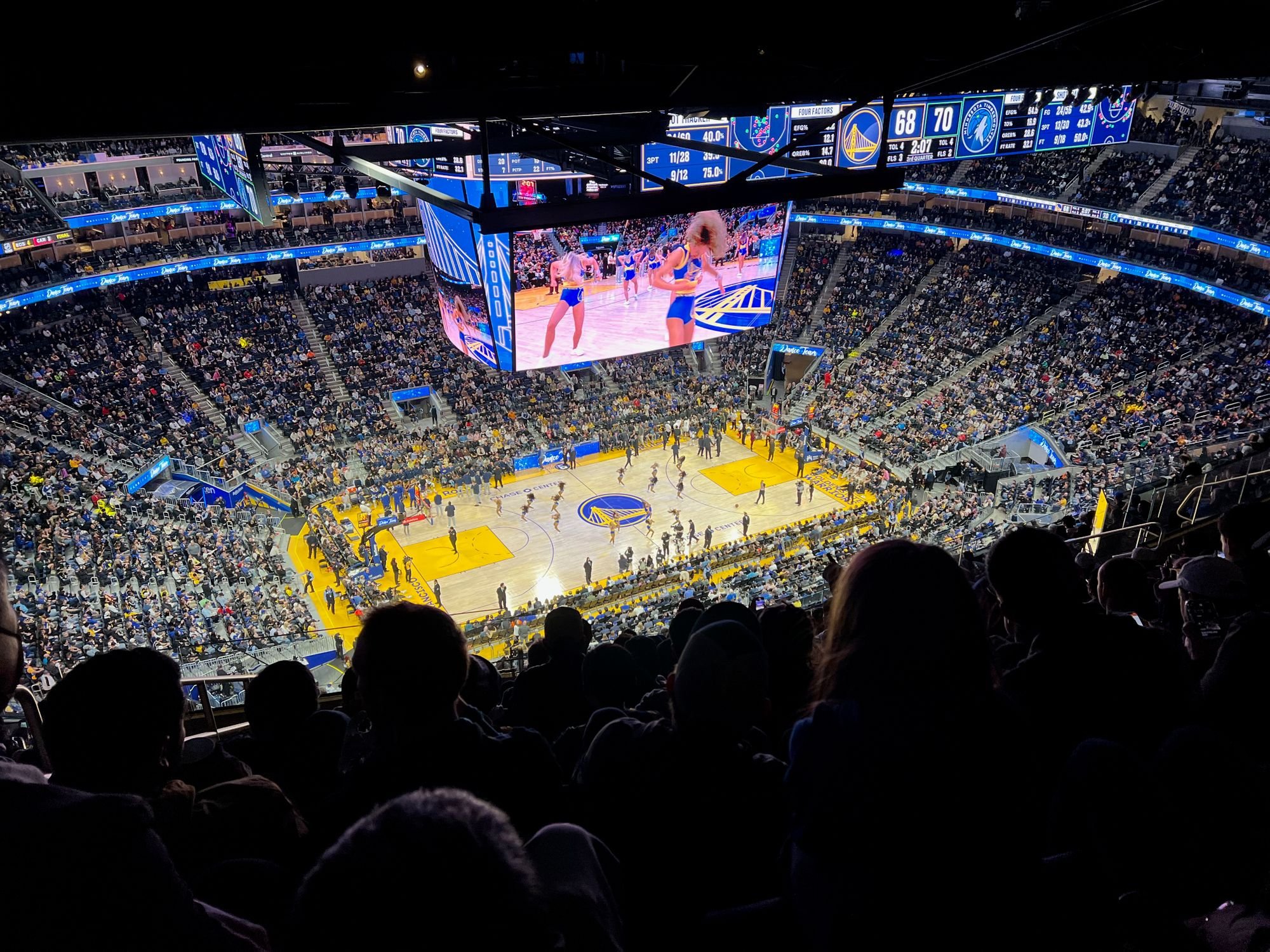 There were actually a ton of kids at the game. (I presume that weekends and 5:30 starts draw more families.) There were young men in Cub and Boy Scout uniforms, there were young women in purple pants, sparkly tops and makeup who were part of a dance troupe that had performed between quarters. The majority of kids seemed to have some kind of Warriors' art painted on their faces. For all my skepticism about roving bands of drunken bros, kids were a welcome sight. It's easy to obsess over standings, slumps, road-losing streaks, and to forget that it's just a goddamn game.
Isn't that part of the appeal for middle-aged fans (like me)? We get to act like kids and yell and scream. Sports is a catharsis. "You're looking at drama happening in front of you, and you can talk about things because you don't have to look at each other," Brett Goldstein, who plays Roy Kent on Ted Lasso, and is also a writer on the show, said on Fresh Air in late March. "Men traditionally aren't great about looking each other in the eye and talking about their feelings. [With] sports, you're both facing forward. And if anything gets emotional, it can kind of be blamed on what's happening on the pitch."
Every time I start to write about the nature and degree of my fandom, it gets personal, and weird, pretty quickly. Why do I care? Why am I kind of worshiping these young men, and not just for their athletic skills, but their overall personas? A friend of mine, who's in his 60s, saw Klay Thompson on his boat at a Bay Area dock last summer, shortly after the Dubs had won the Western Conference Finals. "Funny how things like that affect you," my friend told me of the Klay encounter. "You think that you're impervious to fame and hero worship, but you realize that you're truly invested in it all."
The Pop Psychology of Fandom
"As a sport's pundit, you're constantly making a case for something," Stephen Colbert said to Stephen A. Smith on the Late Show on Monday. "Let me call on those powers right now: Sell me sports," said Colbert, who is intentionally rigid when relaying sports news in his monologues.
"You believe in a meritocracy, do you not?" Smith asked. "People who step up to the plate and earn their way in a fair and equitable system — that's ideal for all of us."
San Francisco-based writer Eric Simons, who is the author of "The Secret Lives of Sports Fans," seems to be one of the lone journalists venturing into a topic that he says "lacks media and scientific curiosity." Simons says that much of sportswriter's efforts are "guesswork [and] narrative simplification that underlies a complex reality. What really lies in the hearts of sports fans?" This X-factor of fandom leads to "reed-thin forays into pop psychology [which] would seemingly be better informed with a scientific understanding of what motivates sports fans," Simons wrote in the Columbia Journalism Review in 2014.
Professor of Psychology Daniel Wann seems to be one of the lone academics venturing into the sociology and biology of fandom. Simons said that despite the fact that Wann works out of a small liberal arts college in Murray, Kentucky, receives no grant funding, and never intended to do research, "He is described by most of his colleagues as far and away the leading sports-fan psychologist in North America."
Being a sports fan is a "very psychologically healthy activity," Wann was quoted as saying, adding that fandom "connects us to other like-minded people, which satisfies our human need for belonging." Wann said that sports fans have higher levels of self-esteem, lower levels of loneliness, and tend to be more satisfied with their lives compared to those who aren't interested in sports. Another publication said that being a sport's fan reduces depression and anxiety. There may even be chemical benefits. Simons wrote: "We know that our hormones engage when watching sports: testosterone, adrenaline, cortisol, and oxytocin are all active in fans."
Researchers believe the human brain can "co-opt" rewards; the same area of the brain that can "light up" with intense, romantic love or drugs can respond similarly when your team wins, according to Simons. "Particularly when your team wins in a way that is unexpected."
I've definitely felt like I was actually a part of the Warriors in some strange, amorphous way, rather than just passively cheering at my monitor. I often say "we" and not "they" when talking about the Dubs.
"In the case of sports, there is compelling evidence that this is basically a real relationship in your brain," Simons told Smithsonian Magazine. "In a very real sense, the sports team becomes a part of you. You feel like whatever success it achieves is a personal success."
At the end of timeouts at the game against the Timberwolves, Jordan Poole or Steph would appear on the jumbotron and say something like, "We need you, Dub Nation. We need your energy." It was easy to believe that they really did need us, and it was easy to yell and scream. I don't like to boo or root against anyone, but when the T-Wolves were shooting free throws, it was so much fun to join in the crescendoing chorus, and it really felt like we could affect the outcome. (Minnesota did miss a lot of free throws.)
There was something liberating about everyone focusing on the court. You're at once anonymous (because you're not looking at each other) and part of a collective. I stood and cheered without reservation when Garry Payton II took the floor for the first time this year as a Warrior. I was indignant about fouls called against the Dubs that were, in fact, obvious fouls.
It felt like there's a license to be a different person when sitting in the stands.
Am I Unwittingly in a Cult?
In my research on fandom, I was surprised that there wasn't much about the dark side of rooting for sports: The buffoonery, the binge drinking and blatant alcoholism that's accepted or even encouraged, the vandalism to either celebrate a win or mourn a loss, and the violence of fan against fan — which in other countries is an entire culture unto itself. How much money does a hardcore fan spend in their lifetimes on tickets, merch, concessions, and opportunity costs? Even if we're not going to games or buying jerseys, how many hours do we spend watching games, highlights, previews, pundits and analysis?
It was actually the time-consuming aspects of Warriors' games that appealed to me in early 2022, during yet another surge in COVID cases. I had something to look forward to, and I liked being on a schedule, all the way through mid-June. Filling one's time (and in my case surplus time) with sports is not inherently a bad thing.
But what about shifting one's morals to fit the narrative of your team?
Last year, when the video of Draymond Green punching Jordan Poole was leaked, I wanted to immediately dismiss it. Still basking in the glow of the Warriors' magnificent championship run, "The Punch" was an unwelcome distraction from a title-defending season. But shouldn't I have been concerned with bad or possibly abusive behavior within "my'' team? As a fan, was I developing a cult mentality? Would I refuse to say anything bad about the Warriors?
Reticence to criticize an organization valued at some $7 billion, or reluctance to question power and money, is a dangerous thing indeed.  
The Warriors said that they had done their due diligence regarding the rape accusations against Anthony Lamb, who was signed to a guaranteed contract in mid-March. It appears, however, that neither Golden State, nor Lamb's previous teams, spoke with the alleged survivor to inform their decision. (Lamb has called the assertion against him "patently false.") Should Golden State have severed all ties with Lamb? Should they stand by him until the legal system grinds through the case? Should they acknowledge that he made a horrible mistake?
"Innocent until proven guilty is a matter of law, not justice," wrote columnist Alex Siquig after the Warriors signed Lamb. "The Warriors are making a loud statement here, and it's an ugly one. It's also a massive, ineffable bummer. The move to invest further in Lamb feels mind-bogglingly obtuse for what's usually a well-oiled PR machine [and] the NBA's so-called wokest franchise. Surely the Warriors have to be aware that the optics stink."
I don't know what Golden State should or shouldn't do about Lamb, but looking the other way for a game — if that's what the Warriors are doing — is absurd.
"I feel like there's one cold truth about sports: the only things that matter are wins and money," said NBC reporter Kerith Burke in December 2022. "No matter what kind of culture a team thinks it has, no matter how seriously they take these issues, no matter how much due diligence they conduct, the only things that matter are wins and money."
In November 2022, Stephen Curry and the Warriors were named in a class-action lawsuit submitted after FTX, the cryptocurrency exchange, filed for bankruptcy. Also named were Tom Brady, his now-former wife Gisele Bundchen, Shaquille O'Neal and actor Larry David, among others. "FTX [was] sued over claims the platform targeted 'unsophisticated investors' using celebrity endorsers including Curry and the Warriors," reported SiliconValley.com. (The Warriors and Curry also face legal action for promoting the NFT series Bored Ape Yacht Club.)
Everyone got caught up in the crypto FOMO frenzy, including me. Everyone is going to lose money, rather than make millions. It sucks and it's embarrassing, but I don't blame Steph or the Warriors for making a bad investment/gamble, just as the rest of us did. Are they legally liable? I have no idea. Are they morally liable? I don't know that either, but what could be more American than thinking you could get rich out of nowhere, then suing those who suggested that you would?
I don't expect "my team," or athletes, actors and public figures in general to be perfect. In fact, I prefer it when they're flawed and complicated, because that makes them more relatable. That was the conclusion I came to about Draymond in the wake of The Punch. Who am I to judge?
Though I'm trying to be a free-thinking fan rather than a member of a cult, I don't think the former should necessarily be predicated on rating from afar a person's morality.
When in Doubt, Be a Kid
I can't believe how fast the game went. Where a game on TV can sometimes take forever, the live game flew by. It felt like being in Chase Center was this flash of an experience, not unlike a pow-day on the mountain in Tahoe, where it feels like you're remembering it before you've experienced it. In the wake of a loss, the vibe among exiting fans was maybe a little subdued.
One kid, who was maybe 12 was dribbling a blue and yellow basketball outside Chase Center, had the Warriors' logo painted on his face, and was wearing a Curry #30 jersey. He seemed to be having all the fun in the world. He was dribbling back and forth between his legs. (He was pretty good.)
The outcome of the game seemed to be the last thing on his mind.
Top Image: Tim Henry