Other than the storybook Cinderella ending we were all hoping for, what could have been a more fitting conclusion to the San Francisco 49ers' 2022/23 season than seeing multiple quarterbacks go down in yesterday's NFC Championship game against the Philadelphia Eagles? Despite pulling themselves up by their red and gold bootstraps time and time again throughout a season riddled with injuries, despite a roster deep with talented weapons and a best-in-the-league defense, and despite the unlikely ascendence — and undeniable relevance — of the last player picked in the draft, the 49ers' luck finally ran out on Sunday.
The 49ers lost 31-7 to the Eagles and were denied a trip to the Super Bowl, but also denied what would have been one of the great storylines in sports history.
It felt like a game of exceptionally bad luck for the Niners, with mere inches separating glory from disaster early on. "What if San Francisco 49ers' Coach Kyle Shanahan had thrown the challenge flag after [a] Philadelphia Eagles' wide receiver hauled in that improbable 4th-and-3 catch? Or what if [an] Eagles' linebacker hadn't tattooed Brock Purdy's right elbow on the quarterback's third dropback? And what if Nick Bosa had been standing safely a yard or two away from a sideline collision that upended him?" the Washington Post wonders aloud.
The aforementioned 4th-down catch led to a Philly touchdown, but there should have been no reason to worry. We have seen Brock Purdy, who looked calm and collected when he stepped on the field, play from behind, win on the road and win big playoff games. In fact, we have never seen Brock Purdy lose.
His first pass of the game, straight up the middle to George Kittle, established a familiar rhythm that would surely blossom into an effective drive. But then there was the aforementioned hit on Purdy, and to add insult to what turned out to effectively be a game-ending injury for Brock Purdy, it was determined after a challenge (a challenge, Kyle Shanahan, why didn't you just challenge!) that Purdy had fumbled the ball — one of his few turnovers in his nine-ish games as the Niners' QB.
There was a profound sense of deja vu — along with a dark, ominous chill — when yet another 49ers quarterback took over on San Francisco's next possession. Josh Johnson, who has played with I think every single team in the NFL and alternative leagues, entered his first-ever playoff game, and hung in there, until he didn't.
The Niners punted, and when the Eagles were deep in their own territory, Nick Bosa nearly sacked Philadelphia quarterback Jalen Hurts for a safety, forcing Philly to punt from inside their own end zone. Once again, the Niners were mere inches from the game swinging into their favor.
With a short field to work with, Christian McCaffrey put the Niners on his back, carrying or receiving the ball on every possession and eventually finding the end zone for a for a Niners' touchdown. It was 7-7 halfway through the second quarter and the San Francisco D was standing tall, but the game, from a 49ers' fan perspective, still had an eerie feeling. Philly put together a solid, seven-plus-minute drive — saddled with multiple 49er penalties — putting the score at 14-7.
With about a minute and thirty seconds left in the first half, Josh Johnson threw a magnificent pass to Deebo Samuel for a quick first down, and mid-field was instantly well in range. What a great start to a critical, potentially momentum-swinging drive! But on the next play, Johnson appeared to take his eyes off the ball on the snap, and fumbled. The Eagles recovered and scored another touchdown before the half to make it 21-7.
It was those kinds of plays — a silly, fundamental mistake in a high-pressure situation — that Brock Purdy had managed to avoid during his brief, brilliant tenure as the 49ers QB.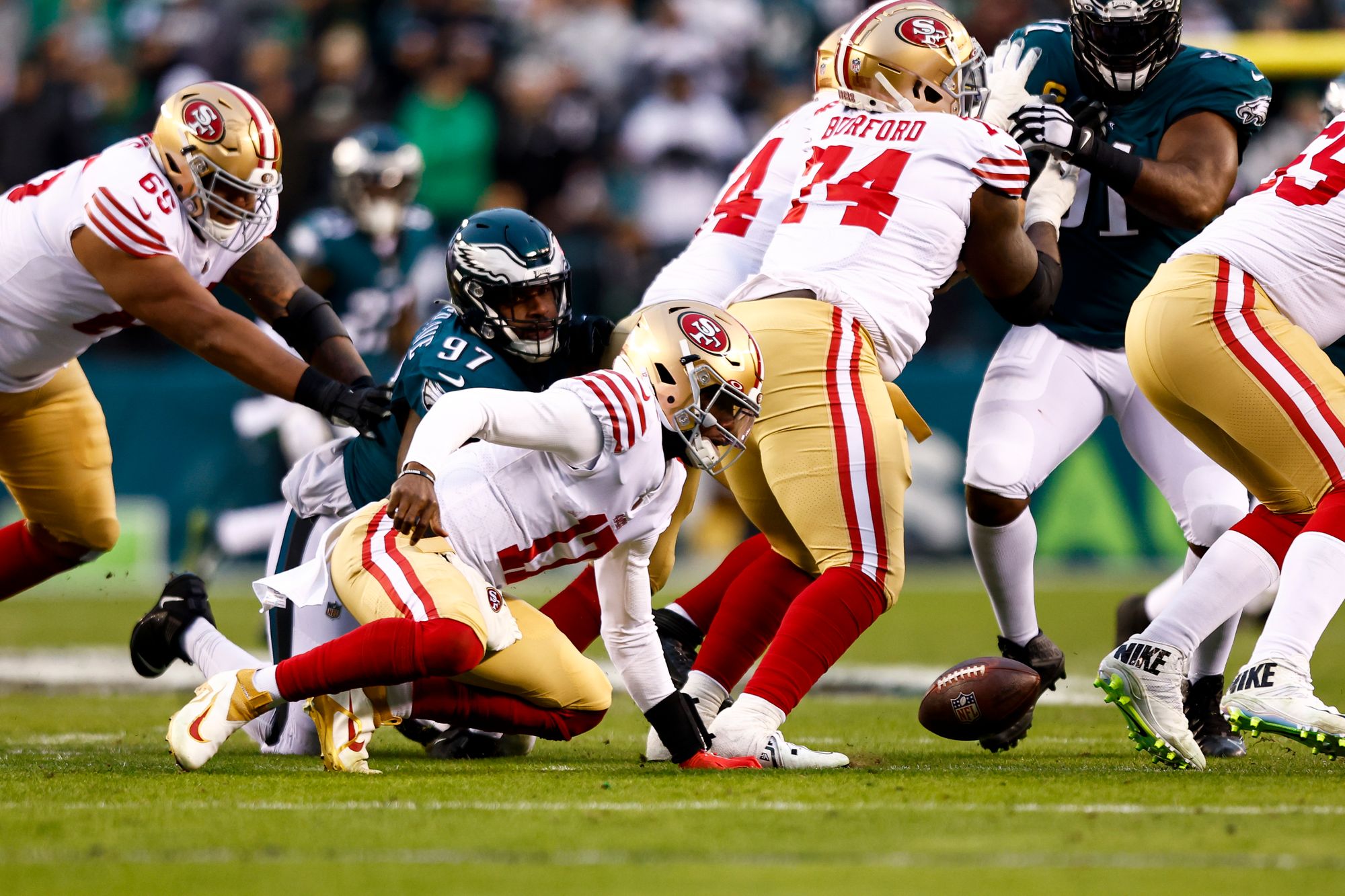 There was more carnage, still, that would befall a 49er quarterback.
Josh Johnson took a hit early in the second half, with his head snapping off the turf, causing him to suffer a concussion. This forced the return of a hobbled Brock Purdy. We would, however, barely see the Niners' offense on the field in the third quarter, as the 49er defense started to self-destruct on penalties. A roughing-the-kicker flag on a Philly punt kept the ball in Jalen Hurts' hands; a shove to the Eagles' quarterback after he'd stepped out of bounds led to another Philadelphia score. It was 28-7, and the game felt out of reach. It had felt our of reach for some time.
When Purdy did take the field again, he threw one short pass, then handed the ball off a million times. "I'd been throwing, after the hit occurred, on the sidelines just to see where I was at — but even in those throws, it was painful," Purdy said at the postgame press conference. "I couldn't throw anything over ten yards, five yards." Christian McCaffrey was technically the Niners' fifth quarterback, and donned the QB's playbook wristband at one point. (Hadn't there been talk of a possible Jimmy Garoppolo return — or at least his availability — in time for the playoffs, or the Super Bowl? "I wish I had a helmet," Jimmy G told NBC Sports Bay Area yesterday.)
But it was Purdy who took his rightful place at the helm of a ship that was slowly but surely going down, a ship that wouldn't have been in the championship game at all without his hand on the wheel. (Jimmy G deserved to take a few snaps, too.)

In the week-long gaps between playoff games, there was an exceptional amount of noise surrounding Brock Purdy, Trey Lance, and... Tom Brady? There are predictions that "the 49ers will sign Tom Brady to be their starter and make Brock Purdy the backup, with Trey Lance being traded to the Tennessee Titans." There was a headline which read, "Purdy is 49ers' QB, Trey Lance a 'mistake." And there was a headline describing Brock Purdy's luck, with one analyst saying that if the 49ers did win the Super Bowl, Purdy would have "gotten" the trophy, but not "earned" it. (Phooey.)
We can expect the rumors to continue to swirl in the cold February wind, and I'm sure we can expect people to continue to explain how Brock Purdy isn't that good, doesn't have that much of an arm, and that with him, the Niners' offense will forever be stuck to a check-down, incrementalist style relying on yards-after-catch plays that might win some games, but will never win it all.
Have fun with the chatter, everyone.
The only thing I'm lamenting is that we never got to see Brock Purdy be Brock Purdy in a championship game. He was injured almost immediately yesterday, and returned only when the 49ers were literally out of quarterbacks.
I know that it's easy to focus too much on the quarterback — especially one as out-of-nowhere as Purdy — and to define the narrative of a team by the guy taking the snaps. The 49ers are an incredibly deep and talented squad. What is the right "type" of quarterback (or quarterbacks) to tie it all together and unleash their full potential?
I have no idea, but I can only say this: It was so much fun to watch Mr. Irrelevant take the spotlight.
And it's only just begun.
Top Image: Photo by Kevin Sabitus/Getty Images