The latest chapter in Another Planet Entertainment's plans to overhaul the Castro Theatre involve a "motorized raked floor" to quell opponents' outrage about removing the floor seats, yet opponents seem no less outraged.
It is now just past one year to the day since we learned that the Castro Theater would be handing over management operations to Berkeley-based concert promoter Another Planet Entertainment. And while Another Planet Entertainment (APE) has pretty much taken over said operations, they've made little headway in easing community outrage that they would give short shrift to LGBTQ+ programming. And they've made zero progress in clamping down community fury over plans to remove the current seating arrangements and replace them with standing areas, cocktail tables, and temporary seating that are better suited for live music performances.

SFist received an invite to a Thursday night community meeting hosted by a group called Friends of Castro Theatre Coalition. Scheduled to speak at this meeting were representatives from the Castro Theatre Conservancy (who oppose APE's current plans), the Castro LGBTQ Cultural District (who oppose APE's current plans), and the Friends of Harvey Milk Plaza  (who oppose APE's current plans). Notably absent from the scheduled speakers were anyone with Another Planet Entertainment, or anyone form the Nasser family that owns the Castro Theatre.
The Bay Area company, which operates the Fox Theater and Bill Graham Civic Auditorium, has revised its proposal for floor seating at the historic movie theater.

Read more here:https://t.co/X3TWPQw8ra

— SFChronicle Datebook (@SFC_Datebook) January 27, 2023

And it is probably no coincidence that just hours before this community meeting of groups that oppose APE's current plans, APE presented a new seating plan, according to the Chronicle. "Today, we put out a solution that we think is a win-win-win." Another Planet Entertainment spokesperson David Perry told the Chronicle. "This is not only the best, but the only way to keep the Castro open."
Opponents did not buy this. "These are the same plans that they tried to sell us on a year ago," Castro LGBTQ Cultural District executive co-chair Stephen Torres said at Thursday's meeting, after the plans were unveiled. "Nothing has changed. What they have changed are the adjectives that they used to describe them."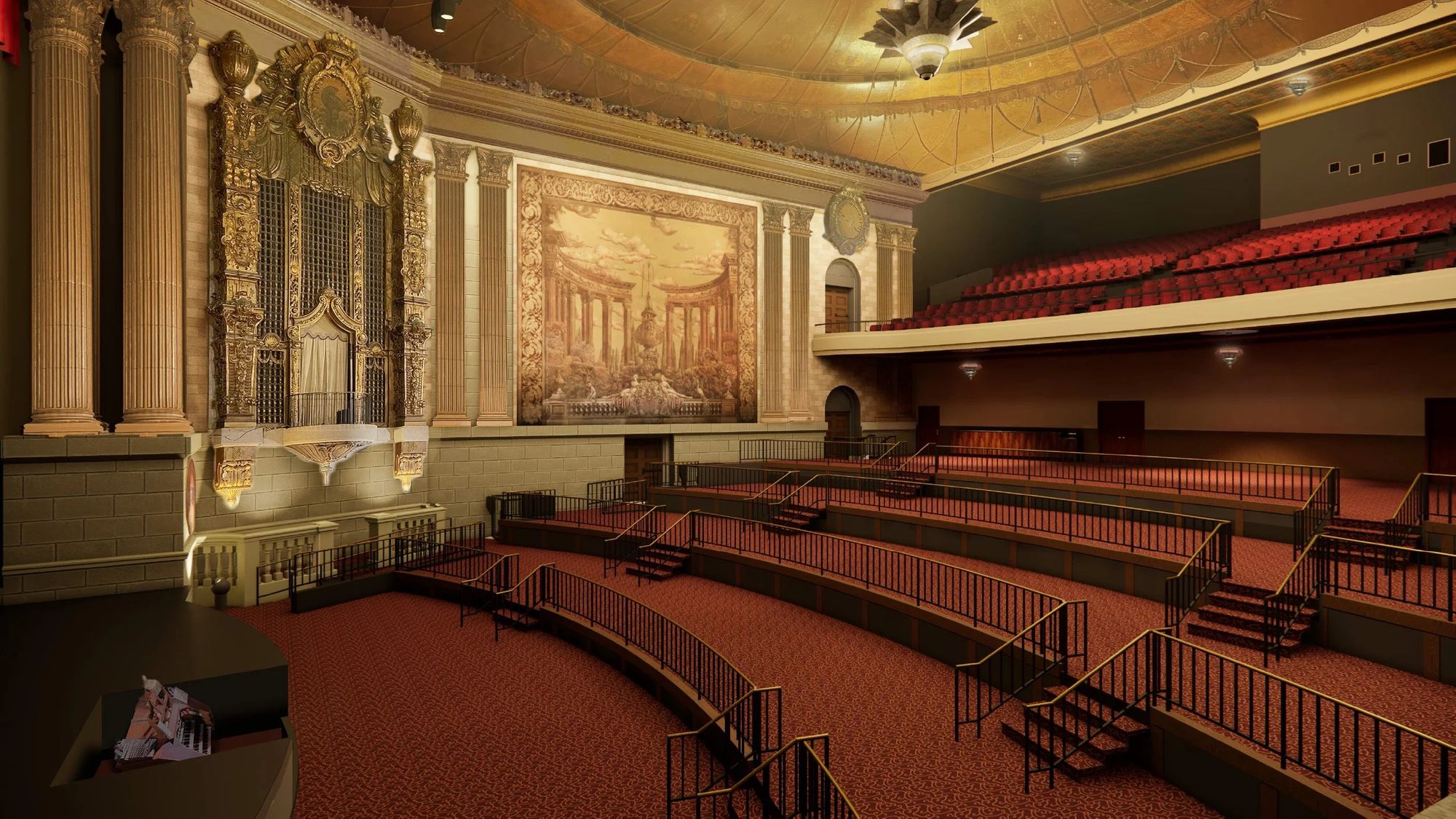 You can judge for yourself how much has changed with APE's description of the new proposed new floor plans on the Castro Theatre's website. We cannot embed the 70-second animated video that the proposal calls a "motorized raked floor," though it looks wildly high-tech. (The reality may be more manual than what is presented in the video). But configurations can switch between standard seating, standing-room only, and tiered variations of this.
"The proposed new seating program for the orchestra level of the Castro Theatre allows flexible reconfiguration of the venue, permitting a more diverse set of programming — seated events and film — on stepped tiers replicating the existing sloped floor; standing room concerts, fundraisers, seated dinners and more," according to the proposal. "This added seating flexibility is critical to the proposed programming."
It's a head-turning change for sure, and perhaps an attempt to push back at last week's report in the Examiner, which ran with the headline "Does Another Planet still want the Castro Theatre?". That report cites "rumors that [APE] lost interest." The Bay Area Reporter describes in more detail that "gay activist Michael Petrelis published an email from Mandelman's office showing that on December 13 the supervisor was interested in meeting with Alfonso Felder, an executive vice president of administration for the San Francisco Giants baseball club, regarding the latter's "interest in the Castro Theatre."
These communications are seen above. Yes, Mandelman's aide Thornhill was in touch with someone who provided Felder's contact information (lower left image), though it doesn't go much further than that. What seems far more intriguing here is a purported text between Mandelman and former Planning commissioner Dennis Richards (lower right image), wherein Mandelman says, "Not sure if APE is still even interested, they're acting like they're done."
Either way, APE's new plan does create the appearance they're all in, and they will present it to the Historic Preservation Commission at a February 1 meeting (a final decision is not expected at that meeting). They want historic landmark designation for the interior of the theater, but also the right to rip out the current seating arrangements.
"Landmark status of the Castro Theatre is closely related to and will have a direct impact on the feasibility of the Project," APE says in their proposal to the Historic Preservation Commission. "We hope you will agree that the Castro Theatre can both retain its incredible historic character while at the same time becoming a more flexible entertainment venue that will continue to add character and vitality to the Castro neighborhood."

Related: Tempers Flare as Castro Theatre Hosts First Public Meeting With Another Planet Entertainment [SFist]
Image: Castro Theatre