The city adopts Oakland-style car bans on streets, but the number of streets closing is less than overwhelming, and it appears the program will employ honor system enforcement.
Who among us has not brazenly walked into a relatively car-free street during this COVID-19 pandemic period, hoping to avoid clusters of people, while generally figuring there's little risk due to the lack of automobiles? That practice has just received full City Hall blessing on a few San Francisco streets, as the SFMTA announced this morning that so-called "Slow Streets" would be closed from car traffic across town, in hopes of promoting easier social distancing for pedestrians, bicyclists, and scooter-riding types. This follows the lead of Oakland's far more ambitious 74 miles of streets with car traffic bans (which police say could spawn a sideshow or two) and at a glance looks to cover fewer than ten miles of total San Francisco street space. You can see below whether any of the Slow Streets are near you, and the program goes into effect "Beginning this week."  
But this is not a full car ban. "Streets will not be closed completely, and local vehicle access is permitted," the SFMTA said in their announcement. "There will be no changes to parking or driveway access for residents. Slow Streets will not create any legal change in the right of way. People walking/running in the street will not have the right-of-way over motor vehicles but will be allowed to be in the street. "Slow Streets will be in effect 24/7, given the limited staff resources to deploy/re-deploy equipment daily."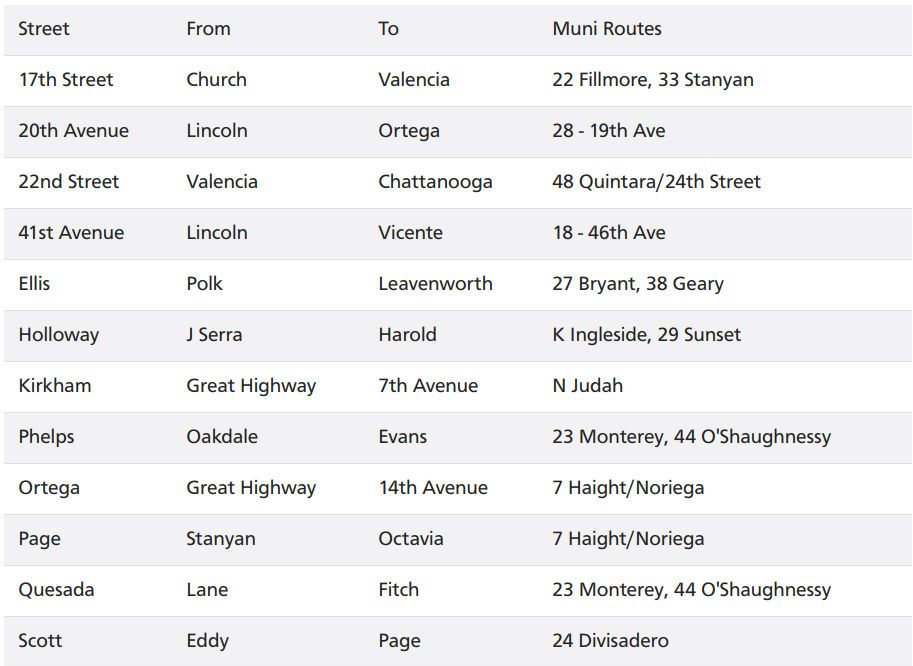 The streets named above are merely "candidates for a first phase of Slow Streets," which means their Slow-ification is apparently not a guarantee, there will be more phases of streets introduced. The decision on which streets to "close" is not affected by positive case cluster presence, but instead by the corridors being "lower-traffic residential streets that connect neighbors to essential services in the absence of Muni service."
The announcement, though, may cause more confusion and complaints than actual results. The Examiner reports on criticism from Supervisor Aaron Peskin, whose district has not been granted one inch of Slow Street designation, despite pockets of disproportionately elderly populations who might benefit from fewer cars being around.  
Mission Local adds that infrastructure will be limited to "Traffic cones and signs." Drivers are essentially asked to comply via the honor system. This Streetsblog report shows what these modest enforcement mechanisms look like, though some Oakland neighborhoods have had a little fun by adorning the barriers.
The unambitious nature of the rollout means Slow Streets will not affect most of you readers, not initially at least. The far bigger deal in your universe is that most of Muni is not running right now (here's a handy visual reference to which Muni routes are running during COVID-19 service interruptions). And more routes are thankfully on the way, as on Monday the SFMTA announced more bus lines are coming back starting Saturday, April 25, including the return of the 5 Fulton and 28 19th Avenue bus lines, and jacked up frequency on the L and N Owl-stlye buses that replaced those light rail lines.
Related: BART's Morning Rush Hour Is Now 5:30 to 7 a.m., Because Nurses [SFist]
Image: SFMTA