The mid-season premiere of NBC's "musical dramedy" about a woman whose brain malfunctions and she starts hallucinating that everyone breaks into musical numbers was on Tuesday night. It's the latest prime-time show to be set and partly shot in San Francisco.
Given the dominance of streaming these days, NBC is making the likely wise choice to let the first episode of this high-concept show sit out on the internet for a bit before the second episode airs — Episode Two won't be on until February 16. But the whole first episode is on YouTube and you can see it below, complete with location shooting that was done last spring (per Hoodline) in North Beach and around along the Embarcadero near Cupid's Arrow.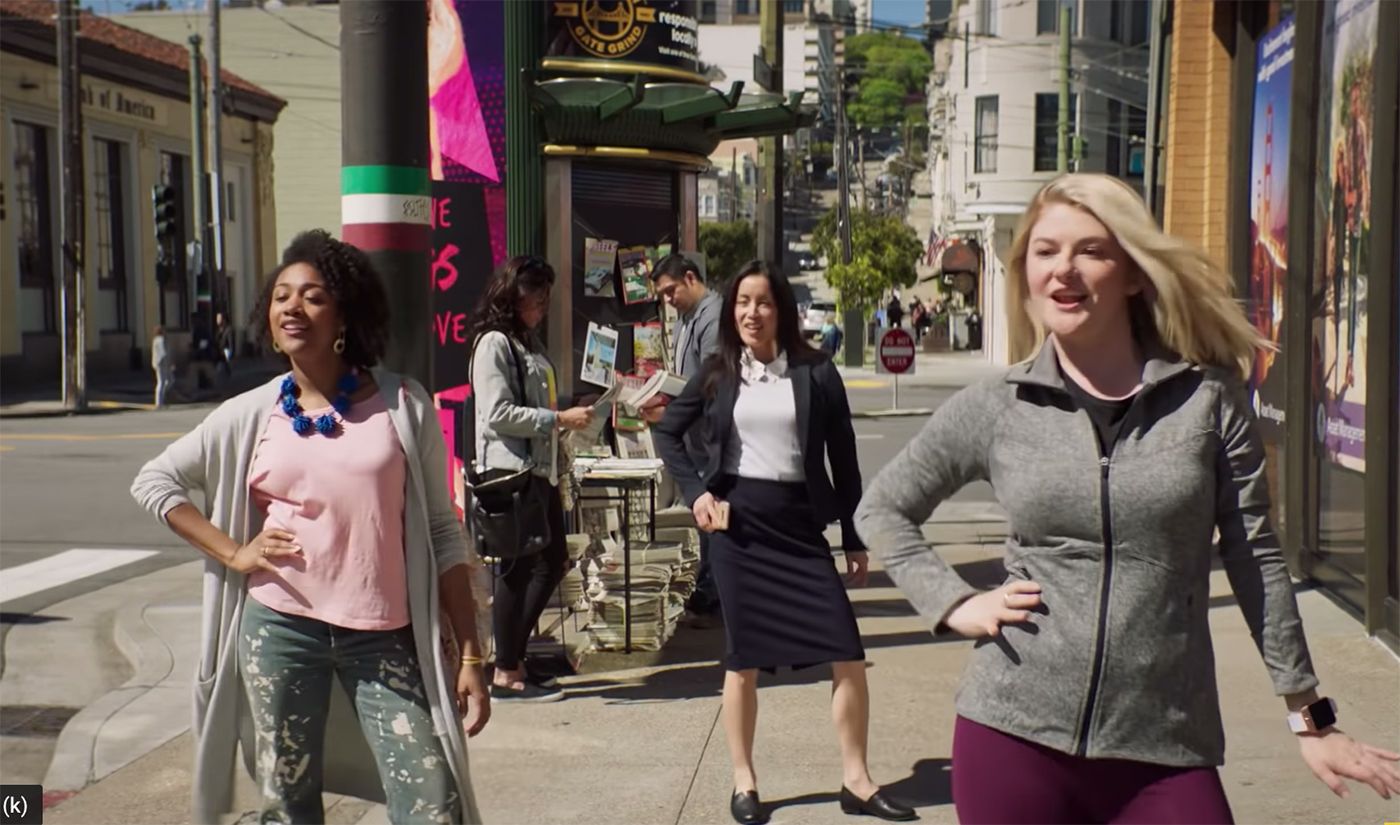 The first big musical number begins around the 9:40 mark, and we get a collection of random people along Columbus Avenue breaking into "Help!" by the Beatles. As the character of Zoey, played by Jane Levy (Don't Breathe, Evil Dead, Castle Rock), explains to her neighbor Mo (Alex Newell of Glee fame), "It's almost as if they were singing what they were thinking out loud, collectively, as a people."
Fun fact: Lead actress Jane Levy grew up in the Bay Area, in San Anselmo, and attended Sir Francis Drake High School.
To the credit of creator Austin Winsberg, the high concept works in part because it upends the standard criticism of the musical genre by giving a fantastical explanation for why characters are busting out into song, thereby letting that convention be the central joke/theme of the show. Can it last beyond that initial novelty? We'll see. The show co-stars a bunch of people with Broadway cred including Peter Gallagher as Zoey's stroke victim/catatonic dad, Mary Steenburgen as her mom, Sylar Astin (Spring Awakening), and Lauren Graham (Gilmore Girls, and Broadway's Guys and Dolls in 2009).

If this show takes off we can probably expect some more location shooting to come in SF, but for now we're likely to see a lot of interiors at the tech firm Zoey works at, where Lauren Graham is her boss — weirdly it's called SPRQ Point, which is too similar to SF restaurant SPQR, but that is probably coincidental.
And it's been a minute since we had a TV show set in SF — though sometimes things get set here and they film them entirely elsewhere, like Fuller House. There was Netflix's Tales of the City reboot, of course. Silicon Valley occasionally showed the SF skyline but did basically no shooting here. Same with Big Little Lies. NBC's About a Boy lasted two seasons between 2014 and 2015. And both Sense 8 and Looking spent some time on location in the city back between 2013 and 2015.
Zoey's Extraordinary Playlist returns on Tuesday, February 16, at 9 p.m. on NBC.