It's been a relatively quiet year for restaurant openings in San Francisco — and is it any wonder? Most of what we hear in high-profile restaurant news lately is either about beloved, longtime spots closing, or about veteran business owners struggling to stay afloat.
But we can't deny SF is still a world-class eating town, with every bit as exciting of a food scene as it's had this whole decade. Things are just not as heady and splashy as they were eight years or so ago, when it felt like there was a big opening every other week — nor quite as decadent as they've felt in the last five or so years, when it seemed like every other new place was catering to millionaires and sales execs with unlimited expense budgets. And whether they meant it as a slight or not, this was the first year in a decade that Bon Appetit didn't reserve a spot for San Francisco on its annual top-ten list of best new restaurants in the country.
But times are changing and moods are shifting. After a six-month period when it felt like half the newspaper columnists in the nation tried to write an obituary for our fair city, it seems like maybe they've moved on, and we can try to focus on the positives as we wrap up 2019.  
We're economizing, for one, when it comes to some eating experiences. Three of this year's best new restaurants in SF, in fact, don't even have proper waitstaff — they've gone with counter-ordering models to keep costs down while still serving excellent food. A couple of these places will still set you back more than a pair of good shoes would, but we may have — maybe! — peaked when it comes to prices. For now.
AL's Deli
Chef Aaron London's ode to his favorite foods of the past, blending Israeli street food with Montreal-style Jewish deli, has resulted in a perfect weeknight spot in the Mission — which also serves as a treat-yourself delivery/takeout option that won't break the bank. At AL's Place, London has shown the world his facility with California produce and international flavors of all kinds. At AL's Deli, he's taken that skill and applied it to casual shawarma, brisket, and falafel sandwiches — and some stellar tomato salads — giving us all a new go-to for craveable, healthy fast food.
598 Guerrero at 18th


Beit Rima
I can stop complaining about not being able to find halloumi (pan-fried cheese) in San Francisco, because Beit Rima has it in spades — and now at a second SF location in Cole Valley (third including Daly City). Samir Mogannam's Palestinian/Jordanian restaurant took over for a flagging Burgermeister on Church Street (his dad owned and has now closed the Burgermeister chain) early this year and has enjoyed constant crowds ever since. The hit parade on the menu includes some excellent ful, the mezze sampler, a fried whole branzino, a deeply satisfying braised lamb shank, and some spice-coated, hand-kneaded pita cooked to order. Pro tip: Get on the waitlist via the Yelp app before you head over.
138 Church Street and 86 Carl Street


Dear Inga
Odds were good that the winning team of Ravi Kapur (LihoLiho Yacht Club, Prospect), Jeff Hanak (Nopa, LihoLiho), and chef Dave Golovin (Nopa, Spruce, La Folie) were going to hit it out of the park with a new Eastern European concept, and with Dear Inga they did. Many of us are still mourning the loss of Bar Tartine's last incarnation, but Dear Inga takes some similar influences and gives us a new lens on the cuisines of Slovakia, Poland, Georgia, and other nearby "old world" regions. The starter courses — especially the endive salad and liptauer cheese dip — are to die for, as is the smoked game hen, and the multi-faceted lamb dish when they have it.
3560 18th Street
Flour & Water Pizzeria
When this handsome space at 18th and Valencia debuted as Farina Pizzeria a few years back, there was some tepid applause. But thankfully it has fallen into the hands of chef Thomas McNaughton and his crew, because now this is a pizzeria you can dream about and return to again and again, and it won't get old. They've traded in the wood oven at Flour + Water for a gas-fired, more traditional American deck oven here, but the results are just as fantastic — with some great meatballs, fritto misto, and other items to get you started. It's definitely more San Francisco-feeling than it East Coast, despite McNaughton wanting to conjure his Jersey roots. But the pizza is what matters — and its consistently crisp and generously topped, with my winning fave being the sausage pie with olives.
702 Valencia Street at 18th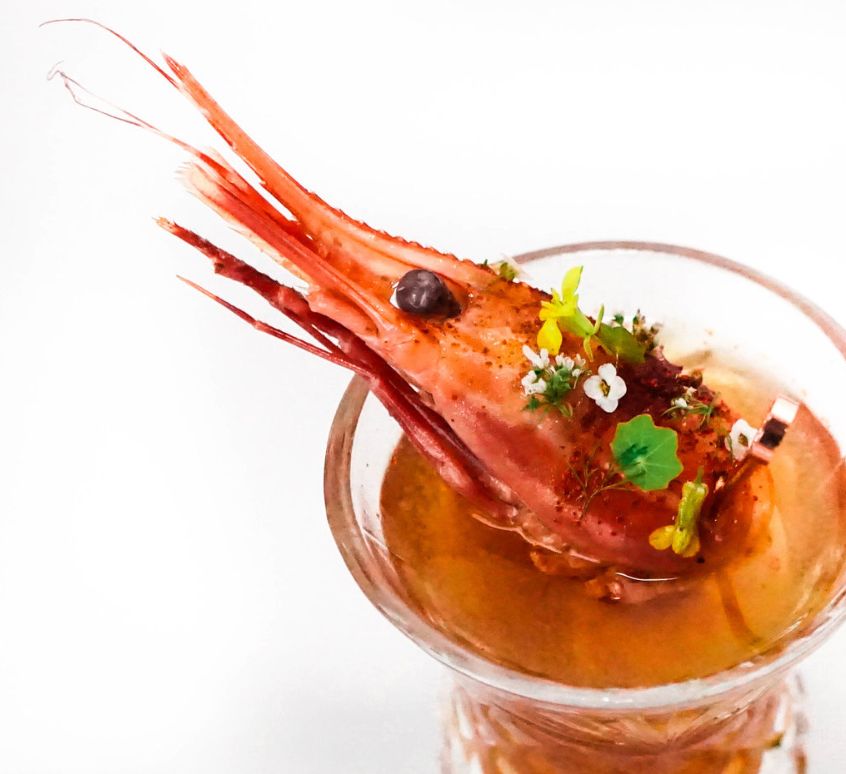 The Table at Merchant Roots
I wrote about The Table at Merchant Roots back in August, and it remains one of the main highlights of my culinary year. Chef Ryan Shelton manages to create theater and whimsy in a city where seasonal ingredients have always been king, with rotating-themed menus that this year included "Color Theory," "Vanity Fair," and "The Mad Hatter's Tea Party." Where some chefs might take such themes and get gimmicky, Shelton and his team are as intellectual and rehearsed as they are skillful in imagining which scene comes after which, and understanding what ingredients evoke not only through their flavors, but through their meaning and context. It's ambitious cooking in a narrative vein that feels new, and also comforting.
1365 Fillmore Street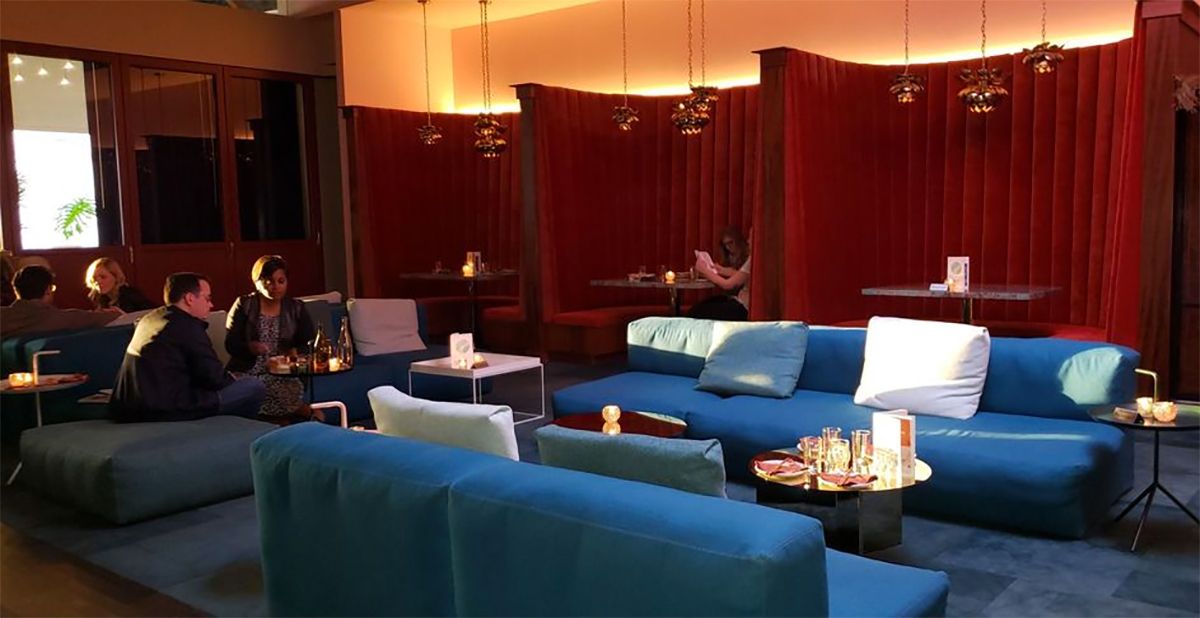 Moongate Lounge
The lavishly kitschy upstairs lounge at Mister Jiu's made its debut earlier this year, and with it comes a cool new date spot and hideaway in Chinatown, complete with creative, complex drinks by Danny Louie and Alex Kulick. While it's more of a cocktail spot than a true restaurant, you can manage to have a light dinner there — albeit not cheaply — of wings, shrimp toasts, and "chicken in spacesuits." The former banquet room of Four Seas has transformed into an event and wedding venue, as well as a hangout with high-backed, red velvet banquettes to impress friends from out of town.
28 Waverly Place, second floor
Nari
Pim Techamuanvivit's larger, more ambitious sister restaurant to Kin Khao is much more than a hotel restaurant, or a modern Thai restaurant. Along with the new lobby bar at the Hotel Kabuki, Nari has helped transform the formerly faded Japantown hotel to an exciting destination for food and cocktails. And with chef de cuisine Meghan Clark — a Chronicle Rising Star — Techamuanvivit is pushing the flavors of Thai dishes uncommon in the U.S. and adapting them to ingredients available in the Bay Area. And with 100 seats and 40 more at the upstairs bar, it's a bigger space and a broader canvas for Techamuanvivit to show off her lens on the Thai dishes from her family's culinary memory — and it landed her on Esquire's list of the best new restaurants in the country.
1625 Post Street at the Hotel Kabuki
Niku Steakhouse
Opened under San Diego pop-up chef Steve Brown in February and improved by chef Dustin Falcon, Niku Steakhouse has matured over the last ten months into a baller's wagyu beef heaven. No doubt, this falls into the category of New San Francisco Places to Drop a Grand on Dinner. But in terms of modern steakhouses, this extension of the Omakase Restaurant Group hits high marks for quality meat and some delicious, well plated starters as well. And hey, if you don't go nuts on wine, you might be able to get out of there for $250 a person.
61 Division Street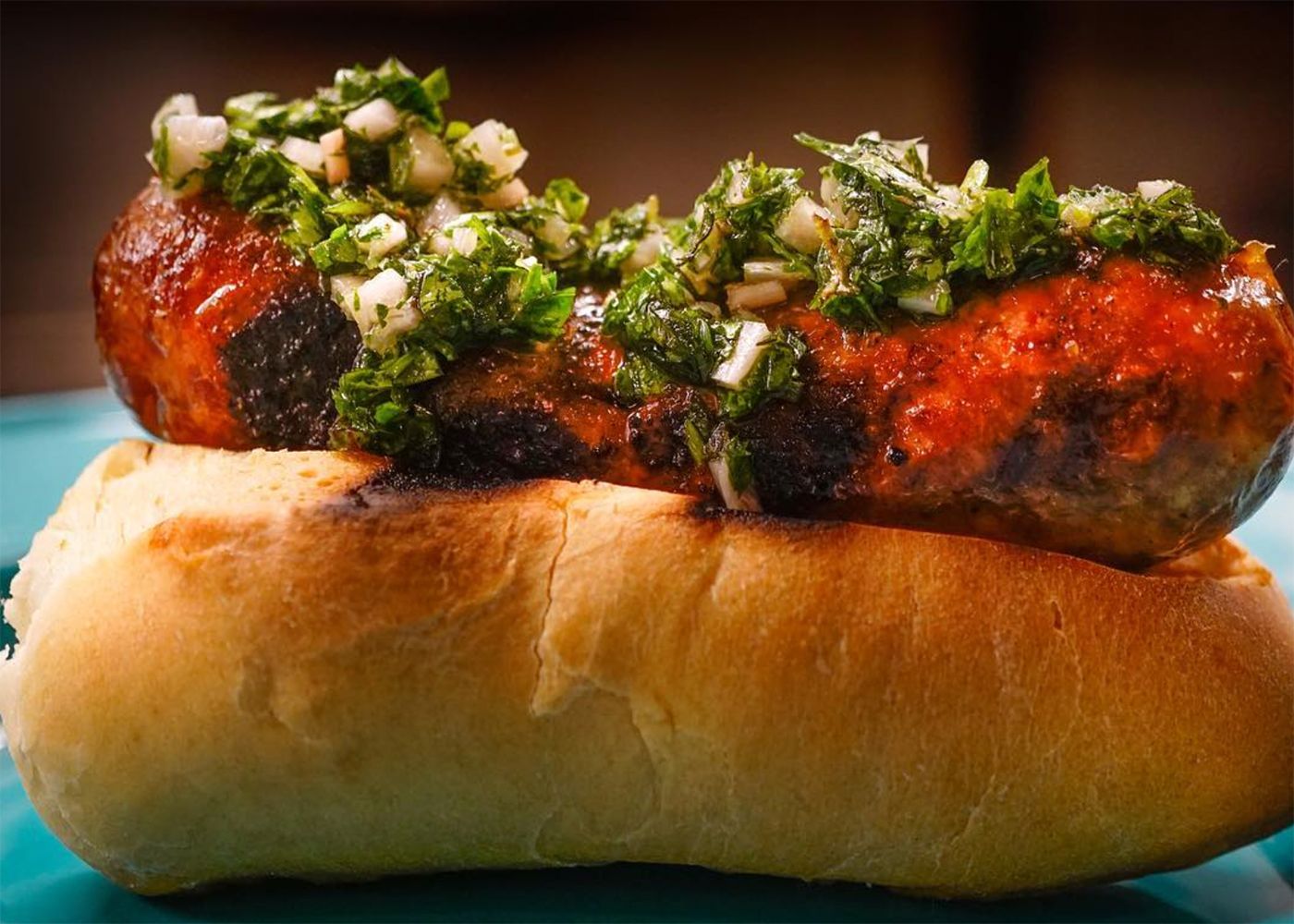 Obispo
Barman and restaurateur Thad Vogler (Bar Agricole, Trou Normand) opened this rum bar on 24th Street in the Mission just after the new year, and thank god. Having a place where you can have an excellently mixed cocktail along with a Cubano sandwich that dreams are made of — and some great jerk chicken — for less than $35 may not sound like a revelatory value. But in the time and place we live in, we have to be grateful for such small victories. And the model of casual weeknight restaurant that is also a high-end cocktail bar with a specific focus — in this case the Caribbean — is one that should be repeated.
3266 24th Street
Señor Sisig
A list of this year's best openings wouldn't be complete without remembering this hometown food truck made good — and not just because of their take on Taco Bell's Crunchwrap. A decade after street food made a high-profile splash across the Bay Area, the guys behind Señor Sisig — Evan Kidera and Gil Payumo — finally opened a brick-and-mortar location in the Mission. So even though there's nothing new about Señor Sisig for local fans of their sisig burritos, they belong on this list for that Crunchwrap — technically named the Sisig Crunch-a-dilla, with nacho cheese dipping sauce — alone. Also, it's truly something special when a restaurant opens in SF in 2019 with nothing on the menu over $12.
990 Valencia Street near 21st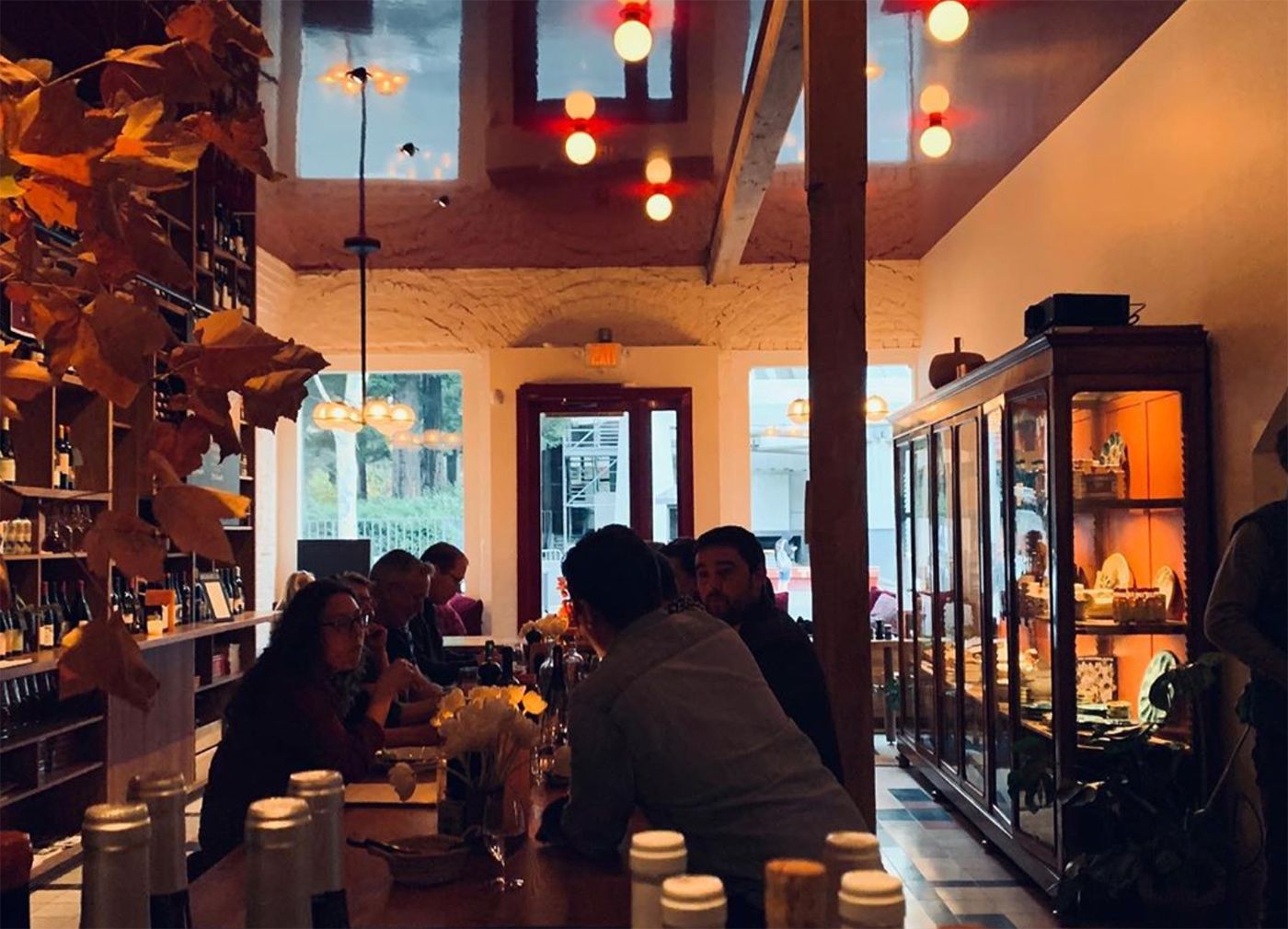 Verjus
The Quince team's wine bar and retail venture is at the high end of casual, even for this town. But the re-creation of Parisian wine shops combined with perfectly executed bistro fare is a great window into the precision brand of comfort food from chef Michael Tusk — a low-key version of what goes on two blocks away at Quince, nightly. Here it's all about crab tartines, pate en croute, veal sausage, and pot au feu — the kind of rib-sticking French stuff you want in the winter, alongside glasses of Bordeaux.
528 Washington Street
Honorable Mentions that Opened in 2018 (while SFist was sleeping):
The Saison team's Embarcadero stunner, Angler, still has that new-restaurant sheen despite opening a year ago August. Go for the grand raw bar spreads and that delicious braised head of radicchio, but stay for the excellent wood-roasted chicken.
Birdsong, the ambitious fine dining spot from former Atelier Crenn chef de cuisine Christopher Bleidorn, has added an impressive new option to the city's competitive slate of prix fixe palaces.
The long-awaited Che Fico debuted last year to immediate crowds, which only increased after getting on Bon Appetit's annual top 10. Chef David Nayfield's generous Italian fare — especially the pizzas and seasonal pastas — is decidedly a cut above.
Pearl 6101 is a great win for Outer Richmond denizens, and a dreamy and cozy destination spot for the rest of us. Besides great seafood and pasta from co-chefs Joyce Conway and Mel Lopez, and top-notch cocktails, this is one of those neighborhood restaurants that captures a mood and a je ne sais quoi about what dining in this city ought to be, always.