A thief on Sunday afternoon snatched a Salvador Dali etching worth $20,000 off an easel inside the door of a gallery near Union Square, and his casual escape was all caught on surveillance video.
Around 4:30 p.m. on Sunday, a suspect who can be seen in the video given to KTVU below walked into Dennis Rae Fine Art Gallery on Geary Street just off of Union Square and grabbed the framed etching. It's titled "The Burning Giraffe" from the "Surrealistic Bullfight" series, and the etching — one of just 100 produced — is described as one of Dali's more important pieces from the 1960s, and inspired by a bullfight series by Pablo Picasso.
"I turned my back to do something or talk to somebody. I was in the back of the gallery and when I turned back, it was gone. Bam. Just like that," says the gallery's associate director Rasjad Hopkins, speaking to KTVU.
The thief seemed to specifically know to target this artwork, which is typically tethered to the easel it sits on, but was not at the time of the theft. The 20" x 26" etching had only been in the gallery for three weeks, and was not yet even listed on its website.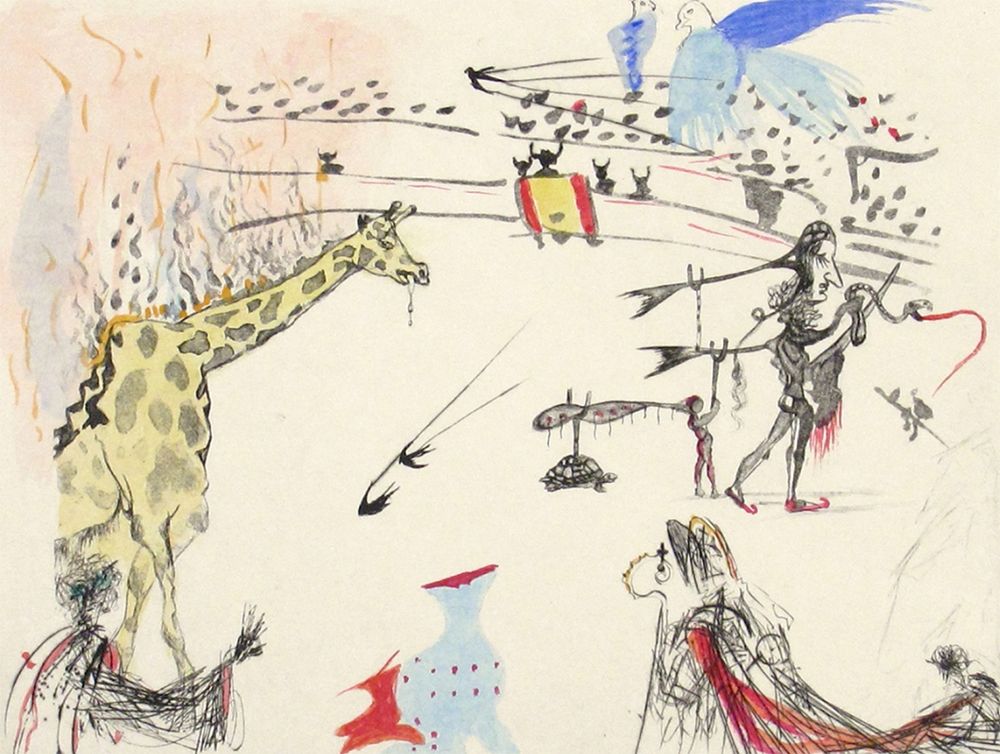 As Hopkins tells KRON 4, "[The thief] could've been taking an order. I've seen that happen before. Some of these thieves are specialists. You place an order. They'll get it for you."
Dennis Rae Fine Art Gallery has four locations, including ones in Fisherman's Wharf and St. Helena, specializes in contemporary and 20th Century art, and often stocks works by Dali, Chagall, and Cezanne.
Gallery Director Angela Kellett tells NBC Bay Area that it will be hard for the thief to offload the piece — if a buyer hadn't already placed that "order" — because collectors will now know it was stolen.
Kellett further tells the station that the gallery may now have to consider ending its open-door policy. "That's why this makes us sad because we don't want to become where we are fearing this kind of thing. We want everyone to feel welcome [to walk in]."
Dennis Rae Fine Art is asking the public to contact the SFPD anonymous tip line if they recognize the thief at 415-575-4444.