Under a new plan, the entire M-Ocean View line could be an underground train, but no additional car lanes are slated to be added to 19th Avenue.  
Those of you with long memories and a fascination with backwoods San Francisco neighborhoods may recall that five years ago, the SFMTA announced they were considering plans to put an underground tunnel beneath 19th Avenue. Doing so, of course, would render the entire M Ocean View into an underground line, as the M would go underground (as opposed to onto street tracks) once it hit West Portal station. Those plans have plodded along more slowly than the M Ocean View itself, but they are suddenly being revised and fast-tracked, as the San Francisco Examiner reports that the SFMTA is launching a nearly million-dollar study to explore building the underground tunnel.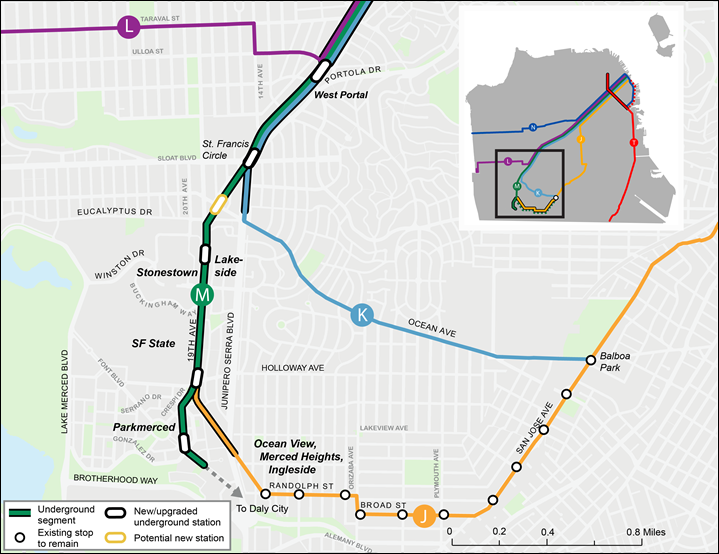 The tunnel, and general overhaul of the M line, have new urgency with gobs of new units coming to the fancypants Parkmerced apartment complex, as well as more possible housing at SF State and even the Stonestown Galleria. Parkmerced (the apartment complex, not the neighborhood proper) is worried enough about the underserved, out-in-the-boonies reputation of the area that they're offering $100 a month in Uber subsidies to entice tenants.    
Despite serving the alleged boonies, though, the M train is often pretty crowded. "The M, I would say, needs some help," SFMTA Citizen Advisory councilperson Neil Ballard told the Examiner. "As I've taken it from [SF] State it's often not reliable and crowded."

Would putting the M Ocean View underground open up new car lanes for smoother driving on 19th Avenue? Probably not! These plans are from 2016 but still show four lanes southbound, and three northbound on the configuration. Plans for any and all of this can be altered, of course, and nothing is a done deal.
Neighborhood merchants are actually supportive of the idea, as the executive administrator of the San Francisco Council of District Merchants expressed support to the Examiner. But he may not be taking into account the construction woes that would come with god-knows-how-many-months-or-years of 19th Avenue being torn up.
Related: The 8 Coolest BART And Muni Stations [SFist]

Image: By Pi.1415926535 - Own work, CC BY-SA 3.0,