While for decades it was a cliché to hear recent émigrés from the East Coast bemoaning San Francisco's lack of decent pizza or bagels — both of which have arrived in recent years, btw — good sushi was something we were never starved for.
Japantown, for one, has been home to many renowned nigiri masters for decades. But as with everything in New San Francisco, the bar has been raised in the sushi realm thanks to high-rolling sushi lovers who don't blink at dropping $200 or $300 on a high-quality, Tokyo-level omakase experience. With beverages and other add-ons, SF now boasts multiple Michelin-starred sushi spots where the bill can easily climb to $500 per person or more.
We are also a city that's rife with humbler mom-and-pop sushi dens, many of which have been open for decades serving a fiercely loyal cadre of neighborhood regulars — most of them with prices that reflect long-term leases that were locked in years ago. And we're now home to multiple excellent izakayas like Rintaro and Yuzuki where you'll find beautiful sashimi alongside grilled and fried share plates. (In fairness, we've excluded them from this list because they don't serve a menu of proper sushi.)
This updated list aims to give equal respect to both the extravagant and the modest. And let's face it: Sometimes all you want is a maki roll and a couple pieces of unagi on a Tuesday night, and you'd rather that didn't cost more than $30 after tip. Believe it or not, that is still possible in this fancy eating town.
Akiko's
This high-end yet low-key, 23-year-old Union Square spot has been thriving under the leadership of chef Alex Orejana, and it's remained a staple of best-of lists for years. The omakase menu will run you around $150 per person (it changes based on market prices), but a la carte sushi is reasonable for downtown, with nigiri coming in at $4 to $7 per piece, with a 12-piece nigiri tasting for $39. The nicer, specialty fish — things like kamasu (young barracuda) and tachiuo (ribbonfish) that you don't see much outside Japan — is on a separate menu with prices starting at $12, or around $25 to $30 for a couple of sashimi slices. All the sushi is incredibly fresh, and there is also a regularly changing menu of grilled and fried items for the fish-averse. — Jay Barmann
431 Bush (at Claude Lane)
An Japanese Restaurant
Situated in a tiny 25-seat space upstairs in the upper building at the Japantown mall, An is one of those intimate, semi-secret, very high quality sushi experiences you want to take a connoisseur to, to impress them. Serving whatever is freshest and trending from Tokyo's Tsukiji Fish Market, An ups the ante a bit from its predecessor in this space (Ino) with omakase options, thoughtfully composed appetizer dishes, and a delicious, delicate seafood-dashi soup that closes out some meals. The word "an" means "modest cottage" in Japanese, and that's fitting for this space. There are no online reservations (phone only), and the single server is the sushi chef's wife, and you will feel very well taken care of even if it comes at a price. – Jay Barmann
22 Peace Plaza, Japan Center East Mall, #510
Cha-Ya
Those of us who'd rather not eat our finned friends can usually get by at any sushi joint — it's pretty tough to screw up a cucumber or avocado roll. But if you want a totally veggie sushi experience, there's no better place to go than Cha-Ya. Caveats apply: They're cash only, the wait can be long, and the fight to get to the "sign up to wait" clipboard can be arduous. But the food is inventive and delicious and the service is pleasant and capable of dealing with granular vegan/allergy questions. The Cha-Ya Roll alone (a tempura-battered asparagus, avocado, yam, and carrot roll with their special sauce) is worth the trip. — Eve Batey
762 Valencia between 18th and 19th Streets
Daigo Sushi
You want some excellently prepared, no-frills sushi in the Avenues that won't break the bank? Daigo is just that unassuming, sleeper spot that's gained a cult following, and pretty much always has a line outside — though they keep it moving fairly quickly. Go for the $45 10-piece omakase, which is always a solid choice and a way to see what the chef is highlighting. Also don't miss the excellent and simple hamachi carpaccio, the $5 temaki (hand rolls), and the salmon citrus roll made with snow crab and lemon. – Jay Barmann
2450 Clement Street between 25th and 26th Avenues
Eiji
An absolute gem in the mom-and-pop category, this intimate Castro spot is tucked well enough down Sanchez Street that many who live in the neighborhood may not even know it's there. But its regulars know well to put their trust in the sashimi, the daily specials on the white board, and the silken, made-to-order tofu — which can be made into a special meal all on its own. – Jay Barmann
317 Sanchez Street between 16th and 17th
Hashiri
This rarified, Michelin-starred Mint Plaza restaurant came along in 2016 amidst a mini boom of ultra-high-end omakase places, but Hashiri has the distinction of having a sister restaurant in Tokyo with whom it shares fish-seller contacts. The $250 sushi counter experience is arguably one of the best in town, and there is also a $500 chef's table option available for those not worried about paying a credit card bill. (Since opening, Hashiri has also added a beginner's level $175 omakase options Tues-Thurs, which skips the kaiseki courses but includes 4 small starters and 12 nigiri pieces.) Hashiri does a hybrid kaiseki and omakase meal, in which the chef serves both cold and warm dishes in a specific order, with a selection of special, seasonal nigiri to close out the meal, pre-dessert. Compositions are elaborate and thoughtful, and the fish is as fresh as if you'd caught it yourself. But with all the add-ons and the high-end sake and whiskey pairings, there's an air of exclusivity and pretense hovering over the otherwise humble, traditional Japanese service style. – Jay Barmann
4 Mint Plaza at Fifth Street
ICHI Sushi
Chef/owner Tim Archuleta has been serving up top-notch sushi in this modest space at 3369 Mission for 9 years, with a brief detour in between to a larger space nearby. The place remains an unpretentious staple of the Mission/Bernal borderland that earned a spot on the Chronicle's Top 100 in 2016, and continues to keep prices extremely reasonable. A yellowtail roll will run you $5, and a plate of assorted sashimi is $24, with changing daily specials — and a full omakase experience is about $100 per person. – Jay Barmann
3369 Mission (at Valencia)
Ijji
Many sushi snobs have taken notice of this tiny Divisadero spot since it opened in 2016, even if it can't yet boast the Michelin star to match nearby Ju-Ni. A 19-course omakase experiences starts at $135, and chefs Billy Kong and Kua Catuang emphasize traditional techniques and careful seasoning and manipulation of every piece of fish. (It should be noted that Kong and Catuang's other SF restuarant, Kinjo, has earned a Michelin star and is therefore a somewhat tougher table to get these days, but some will argue Ijji is just as good.) – Jay Barmann
252 Divisadero Street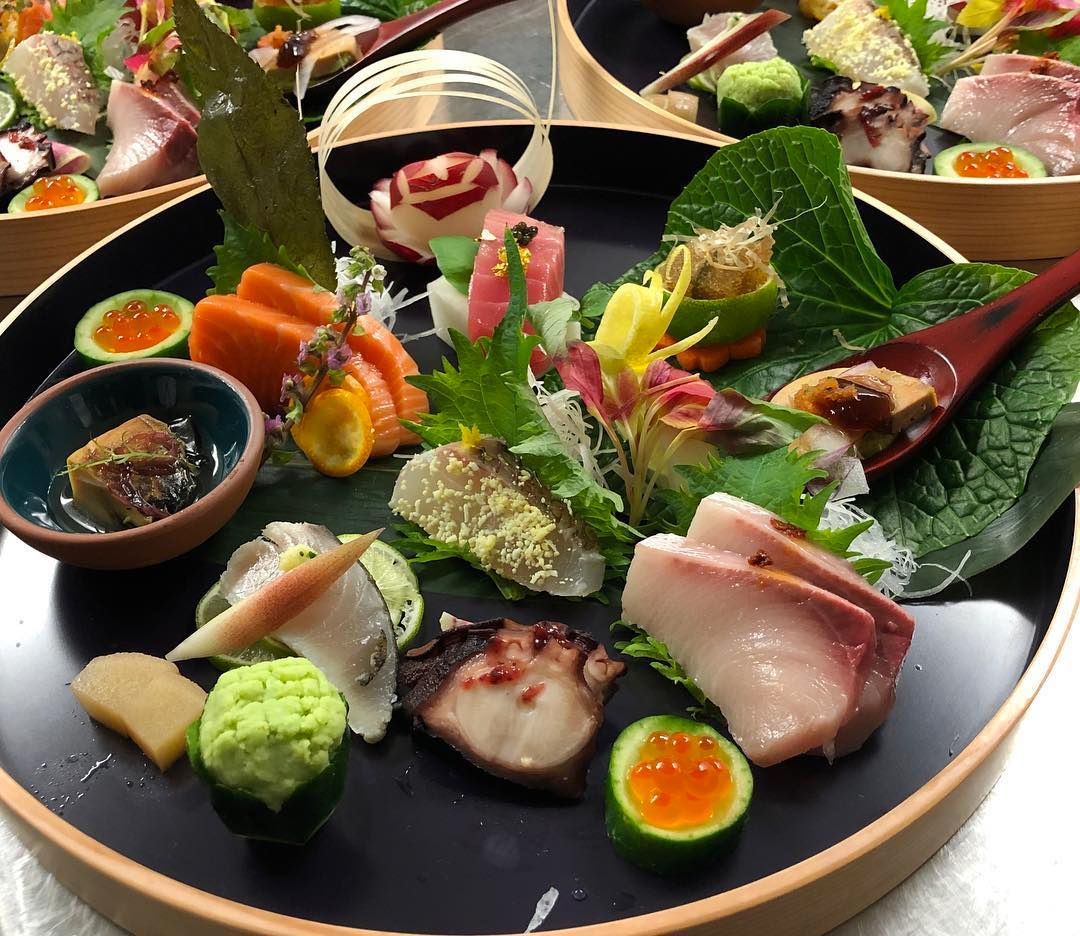 Izakaya Sushi Ran
While Nomica earned a number of neighborhood fans in this space over the last two years, the owners of Sausalito's famous Sushi Ran decided for business reasons to revert back to what they do best and rebrand the restaurant in December as a sushi and izakaya spot. Prices are lower than at Nomica, with an emphasis on hot and cold shared plates. Without having to travel to Sausalito, you can have some of Sushi Ran's excellent sashimi and maki rolls here (rolls are $12-$18), as well as delicious, seasonal salads and heartier items like braised pork belly with karashi miso. Also, it's one of the few restaurants on this list to boast a full bar and a top-notch cocktail menu. – Jay Barmann
2223 Market Street between Sanchez and Noe
Ju-Ni
This small and luxurious sushi den quickly earned a Michelin star and a spot on the Chronicle Top 100 its first 18 months of operation. With only 12 seats and two seatings per night (6 p.m. and 8:30 p.m.), there's an emphasis on perfection — and you can expect to pay the price for canceling at the last minute. There is never a set menu, but a constantly changing, 18-course omakase prix fixe for $165. Expect delicacies like monkfish liver, baby barracuda, and firefly squid. – Jay Barmann
1335 Fulton Street, between Broderick Street and Divisadero Street
Kinjo
Kinjo gained its Michelin star in the fall of 2017, only to have to close shortly thereafter due to an unfortunate flood. But the place reopened within about eight months, and proved its Michelin worthiness with a renewed Michelin star last fall, all with the help of "guest chef" Fujii Tahahiro from Japan. The $155 "sampler" menu served at the sushi bar includes six courses as well as 11 pieces of nigiri, and it's as refined and memorable an experience as several spots where you might pay twice as much. – Jay Barmann
2206 Polk Street
Koo
This much loved spot in the Inner Sunset stands out as a perfect neighborhood date spot for when you don't want to spend $100 per person. Prices are wildly reasonable with two pieces of nigiri starting around $6 and rolls that start at $8, with the priciest omakase option priced at $75. Sushi chef Kiyoshi Hayakawa trained ICHI Sushi's Tim Archuleta back in the day, and he is still turning out world-class nigiri. Also, don't miss weeknight happy hours before 7 p.m., when all hand rolls and appetizers are $5. – Jay Barmann
408 Irving Street
Kusakabe
Sushi Ran veteran Mitsunori Kusakabe prepares sushi in the non-traditional kaiseki style at this downtown spot, which to my philistine American taste means that you only get one piece of sushi per plate. But that one piece is insanely well-crafted and meticulously arranged, and the plates keep coming. You've got the options of a "petite" omakase ($98 per person) and a grand omakase ($168 per person), but an additional a la carte menu delves into such sushi exotica as Japanese barracuda, long neck clam, and Santa Barbara sea urchin. – Joe Kukura
584 Washington Street, between Columbus Avenue and Hotaling Street
Omakase
At nearly three years old, this SoMa spot has consistently delivered one of the most refined omakase experiences in town — as evidenced by the Michelin star it earned early, and has maintained. It got that star right out of the gate, and could be on its way to two, as chef Jackson Yu has already shown off some considerable talent in a short amount of time. The place has just over a dozen seats at the counter, and Yu offers just two options, at $150 or $200 per person, the second being slightly larger with a couple more pieces of sashimi and nigiri. Fine technique as well as carefully sourced, ultra-fresh fish and uni are all part of this luxe experience, which rivals Hashiri at a slightly lower price point. (And do note this place boasts a well curated and high-end list of French wine and Champagne, as well as sake.) – Jay Barmann
665 Townsend Street
Pabu
With locations in Boston and San Francisco, this collaboration between chef/restaurateur Michael Mina and Rohnert Park-based sushi chef Ken Tominaga, can feel a little bit corporate. The place does quadruple duty as a bustling lunchtime ramen spot, a FiDi happy hour destination, a Japanese steakhouse and robata grill, and a deeply serious sushi restaurant with both omakase($110) and kaiseki ($85) options. With the former, you're bound to be presented with things you may not find anywhere else, like a side-by-side tasting of four species of mackerel, each prepared slightly differently —a sprinkle of sea salt here, a drizzle of lemon there. Price- and experience-wise, it comes in below the opulence of Hashiri and Omakase, and just above places like Koo and ICHI. – Jay Barmann
101 California Street
Robin
Chef Adam Tortosa's pristine yet playful Hayes Valley sushi spot is casual enough (if not necessarily cheap enough) for a mid-week meal, but refined enough in its service and offerings to qualify for special occasions. Tortosa has worked at Akiko's here in SF, and at Kiwami and Michael Voltaggio's ink in Los Angeles, and his take on omakase is contemporary and impressive from the start. He focuses on local seafood like Northern California steelhead trout, canary rockfish, Fort Bragg uni, and also offers an array of bluefin toro from Japan, all served on lovely handmade ceramic dishes. Each piece is dressed or garnished creatively, negating the need for soy dipping, which is as it should be — and Tortosa has some fun with it too, like with a piece of nigiri with caviar on top of a potato chip on top of rice. The sake selection, also, is interesting and thoughtfully curated. – Jay Barmann
620 Gough Street near McAllister
Ryoko's
You need to not be too snobby about your sushi — and in the mood for a party — to enjoy Ryoko's. It's a Union Square-adjacent birthday place, and kind of a tourist place. And it's been on TV shows like Midnight Munchies, because they serve until 1:30 a.m. Also it's been around for over 30 years. On Fridays and Saturdays, there's a DJ starting at 8 p.m. But for fun, underground, drunken craziness along with some wacky, non-traditional maki rolls (the Kentucky Roll has fried chicken in it, and one house favorite, the Volcano Roll, has fried shrimp, jalapeño, and peanut butter), this is the place to go. Also, the nigiri and sashimi are usually pretty fresh, since business here is always booming. — Jay Barmann
619 Taylor (at Sutter)
Saru Sushi Bar
Situated on the Noe Valley corner of 24th Street and Sanchez, Saru is teeny tiny and extremely popular. Fish is flown in from around the globe, they're super uptight about their three kinds of soy sauce, and the rice — oh, the rice — is seasoned with a red vinegar called akazu which prohibits the use of too much sugar. As a result of this obsession with ingredients, the sushi at Saru is serious indeed. Try the tasting spoons of chef's specialties to start, and the "White Out Roll," which is hamachi and avocado topped with seared escolar and garlic ponzi. – Beth Spotswood
3856 24th Street
Sushi Hon
This two-and-a-half-year-old Mission spot from Barnzu owner Min Choe opened with a relatively low-cost omakase menu as its selling point, though what began as a $65 tasting has gone up to $85, with a $108 option as well. Despite the value proposition, Choe has insisted from the start that all the fish served is line-caught and flown in from Tokyo's Tsukiji Market, and the restaurant continues to deliver a mid-range omakase experience that's perfect for a date night, without breaking the bank. – Jay Barmann
2598 Harrison Street at 22nd
Sushi Time
Like a Shinjuku dive, Sushi Time's subterranean bubble crams a lot of character into a tiny space — and at 20+ years old, the space feels lived in and cozy. Rolls are reasonably priced, ranging from $5-7 for basics and veggie rolls, to $10-12 for their own creative takes on Californian sushi like the Barbie Roll (crab, avocado, salmon) and the Astro Boy Roll (spicy scallop, mango, cucumber, tobiko). They're perhaps best known for their happy hour, which offers cheap-to-fair deals on sake, sushi, and a host of other menu items. When I go I like to sit at the tiny, low bar, where the waiter will let you pick your own sake cup from their mismatched collection. —Eve Batey
2275 Market Street (at 16th Street, downstairs in that quirky little shopping center)
Sushi Zone
This may be the most representative example of an old-school SF sushi spot that dates back to the 90s where little has changed over the years except the prices — and those only barely. There are really zero frills (unless you count the delicious, mayo-laden baked mussels that come out of a toaster), the portions are generous, and the nigiri options are pretty basic with a few nightly specials thrown in. The rolls are large and well made, the single waitress won't ignore you, but things don't move at the speed of light in this cozy spot, and you will almost certainly wait a minimum of 45 minutes for a seat, given that there are only about 25 of them. Also, don't arrive with a party of 6 or 8 because again, it's tiny. – Jay Barmann
1815 Market Street near Octavia
Tekka Japanese Restaurant
Tekka is one of those formerly well kept secrets that got out years ago, and thus it's become a place you have to arrive at really early if you don't want to be waiting outside for an hour or more. In fact, if you miss the first seating at 7 p.m. (for which people often line up around 5), then you'll be waiting until 9:30 or so, because there are only 11 seat total. But many, many people swear by this cozy Inner Richmond spot and its generous slices of ultra-fresh fish. It's run by a sometimes curt, elderly husband-and-wife team, it is cash only, and the must-orders are the sashimi combo, hamachi kama (grilled yellowtail collar), and/or the full omakase (tasting) menu. (Also, chef Nobu and his wife Yoshimi might not be around forever, so get it while you can.) — Jay Barmann
537 Balboa Street at 7th Avenue
Wako Japanese Restaurant
One of the small wave of sushi spots to gain recent respect from Michelin inspectors, Wako debuted five years ago in the Inner Richmond, catering to connoisseurs and neighborhood drop-ins alike. At $95 per person, the standard omakase feels like a steal compared to what many places on this list are charging. (There's a $135 version too.) And given the location and the carefully cultivated atmosphere of this place, it feels like a special celebration to go there. – Jay Barmann
211 Clement Street between 3rd and 4th Avenues
Zushi Puzzle
Lest you think the name of this place is just some quirky American joke, I think only the "puzzle" part is the quirk of the owners. "Zushi" is, in addition to being a town in Japan, part of the original Japanese word for sushi, which is also called chirashizushi and nigiri-zushi, and various other things there, depending on its form. This place is serious about its fish, and counts a lot of fans in the Marina and beyond. Zushi Puzzle's ponytailed, Chinese-American sushi chef, Roger Chong, always makes friends with his diners and puts out an excellent omakase at his in-demand, 10-seat counter. And he boasts some of the freshest nigiri and Kobe beef around, as he will be the first to tell you. – Jay Barmann
1910 Lombard Street at Buchanan