Three more men have come forward alleging that they were the victims of racist verbal attacks and harassment on the factory floor of Tesla's Fremont plant, and they've filed a lawsuit in Alameda County court seeking unspecified damages. This suit follows on a similar case brought by former employee DeWitt Lambert in March which included a video that showed coworkers using racial epithets and lobbing apparent threats.
As the Mercury News first reported, the new suit is being brought by Lambert's same attorney, Lawrence Organ, on behalf of three former Tesla employees — father and son Owen and Demetric Diaz, and Lamar Patterson — all of whom say they were victims of discrimination and harassment. All three men are African American, and Organ says their cases "seem to show a pattern of insensitive behavior by Tesla supervisors and coworkers," and "That's a problem."
Owen Diaz, 49, went to work at the Tesla plant as an elevator operator in the summer of 2015, and he encouraged his then 19-year-old son to apply for a job there as well. Diaz says that he was regularly subject to racial epithets from coworkers that he tried to ignore, but that he later got into a heated argument with a supervisor who drew a racially charged "pickaninny" cartoon on a piece of cardboard. Diaz also says he witnessed his son being called an epithet by a different supervisor. "I was turning the corner, I was coming out to give my son his lunch, and his supervisor started calling him a [expletive] [n-word]," Diaz tells NBC Bay Area. He also says coworkers would say things like "Go back to Africa."
Below, a picture of the racist cartoon, which was allegedly drawn on the side of a bale of cardboard.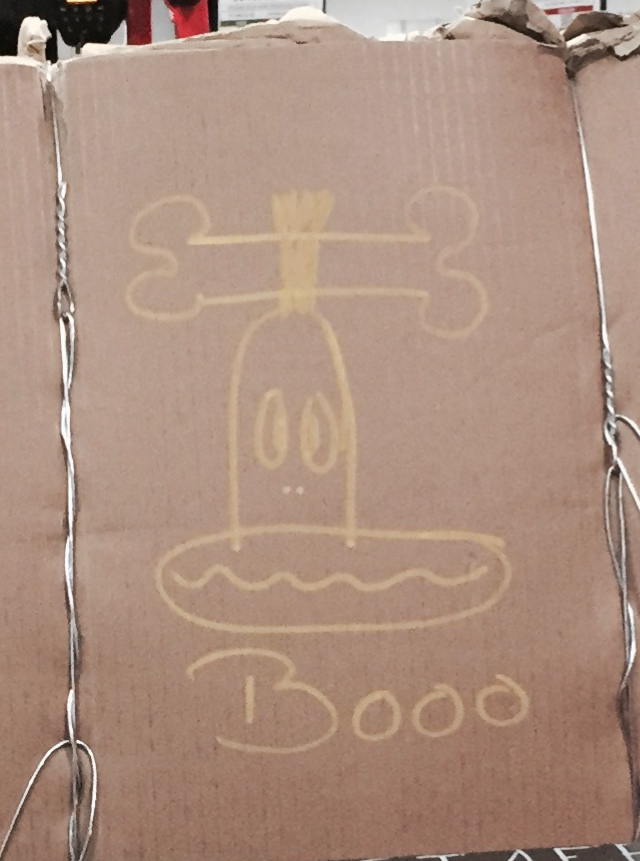 Diaz says that after he complained, he started to receive poor performance reviews, and he ultimately left work at the plant in May 2016.
Tesla suggests in a statement that the latest lawsuit, as well as a federal civil rights complaint brought by Organ on Lambert's behalf, are the work of an opportunistic lawyer seeking "a favorable forum" for a suit. The company also questions the validity of Owen Diaz's claims, saying that they received an emailed complaint from Diaz about a belligerent coworker in October 2015 that "made no mention of the use of any racist language or epithets." The company also questions why the former employees did not first bring their complaints to the state's Equal Employment Opportunity Commission or the Department of Fair Employment and Housing, which would typically be the first step in a case like this.
Per NBC Bay Area, a spokesperson for the company also said, "We will never be able to stop every single person in the factory from engaging in inappropriate conduct, but we will continue to do everything that we can to encourage the right behavior and to take action whenever something bad happens."
In a different statement to Business Insider, the Tesla rep said, "In situations where Tesla is at fault, we will never seek to avoid responsibility. But in this instance, from what we know so far, this does not seem to be such a case."
Earlier this year, a female engineer at the company claimed that she was paid less than her male counterparts and discriminated against, claims that the company denied.
Last week, Tesla fired hundreds of workers — it's unclear how many but it was somewhere between 400 and 1200 — claiming the terminations were based on performance reviews, and that the company was continuing to grow. Some of those fired, however, say that the company appeared to cutting costs and conducting layoffs, as CNBC reports. According to one source, "Those terminated were generally the highest paid in their position," and they all came from Tesla's motors division — though it was earlier reported that most of these layoffs were in engineering and management and not at the factory level.
Related: The 'Affordable' Tesla Model 3 To Start Rolling Off The Lines Friday
Photo via Owen Diaz/Lawrence Organ