Just like in the Cinderella story, through the Merola Opera Program, some young and deserving singers are plucked from obscurity by a kind fairy, they get 10 weeks to come to San Francisco to train and learn at the SF Opera center and achieve their dream of crooning on the big stage, and then after a big party, poof, they are sent back home. Many with the glass slipper of an invite to return as Adler Fellows with the SF Opera, or with other companies. No wonder then that the Merola singers felt right at home Thursday night in Cenerentola, Rossini's take on the fairy tale, at the SF Conservatory of Music.
Rossini isn't going all Disney on us, there are no magical pumpkins or mice turned into horses. Two evil sisters, Tisbe and Crolinda, and an evil stepdad, Don Magnifico, abuse poor Cenerentola, née Angelina. Enter Prince Ramiro disguised as a servant and his servant Dandini in princely costume, and you have pretty much the whole cast. By the end of the play, as preordained, Ramgelina is an item.
What makes Merola performances fun is that there is no divide between the principals and the supporting cast. All artists selected for the program are amazing musicians, which means the smaller parts are way over-cast. It is easy to steal the show with Dandini's part, it has plenty of comic relief as the valet enjoying the life as the king. But baritone Christian Pursell's voice had a pleasing directness, an effortless volume and tonal steadiness, he was just more than comedic fodder, he was a wonder to listen to. Similarly, Natalie Image (the sister Clorinda) just would not disappear into the ensemble pieces. She just captured your ear and asserted her right to be listened to, despite competing with the orchestra and the other singers.
Andrew Hiers (bass-baritone) as Don Magnifico hams it up to the max with an awe-inspiring fearlessness. As the power couple of the story, tenor Anthony Ciaramitaro (Romiro) and mezzo Samantha Hankey (Cindy) had a lovely chemistry, partially staged as awkward goofiness. His voice is super sweet, in a canonical tenor way; hers took a bit of time to warm up, being slightly withdrawn at first, but expanding as it went along to conclude in a explosion of bel canto, with warm tones and fiendish agility in her final Nacqui all'affanno.
Mark Morash conducted the orchestra and had his work cut out for him to keep the pieces together. The sets were simple but functional, with a couple rotating wardrobes. Just like Narnia, one side of the wardrobe was the Cinderella's hearth, the other the palace. The staging took a few gambles that didn't pan out: An ensemble piece with umbrellas seemed out of place. Granted, the preceding storm in the opera comes from left field too, Rossini (who wrote this one in three weeks) had a cookie-cutter way to compose opera that felt particularly formulaic here.
Daniel Noyola (bass-baritone) and Jana McIntyre (soprano) in La serva padrona.
This was the second fully staged opera performance of this year's Merola crop. The first one was a collection of three rarely heard one-act operas. It started in seventeenth century, with La serva padrona, a fun romp where Serpina, the servant of Umberto, convinces him to marry her. These are the only two singing characters. Daniel Noyola (bass-baritone) and Jana McIntyre (soprano) spar and have fun, and so do we. The ensemble for this is a dozen or so musicians, so we get to hear the singers and appreciate McIntyre's artful ornamentations (Noyola didn't take as much risks in his repeats).
Gustav Holst's Savitri first opened in 1916, during WWI. Not coincidentally, its main character is Death. David Weigel (bass-baritone) sings it with the proper depth and booming low register. Kelsea Webb (soprano) as the opera's namesake, outwits him with a melancholy grace. The Bear completed the show. Walton's opera is the most recent, but seemed less willing to challenge us musically than Holst had been. It's a lively collage of folk music and many atmospheric vibes.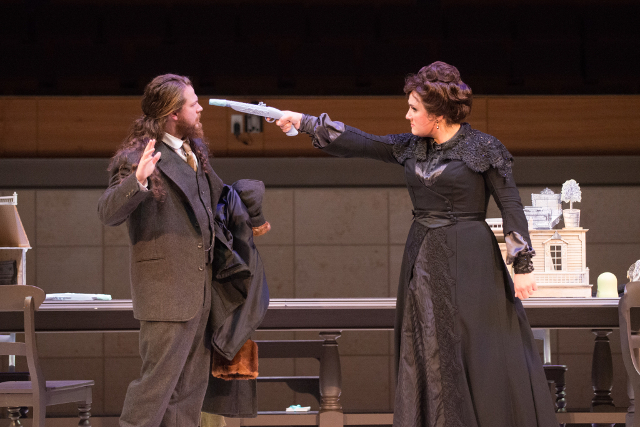 Ashley Dixon (mezzo-soprano) and Cody Quattlebaum (bass-baritone) in The Bear.
The first two operas featured assertive women who were getting what they wanted, which we found refreshing. (What they wanted was their man, but we'll take the feminism that we can get). The Bear does not follow that trend. On the other hand it tells of Yelena who wants no man, but can't resist the misanthropic-yet-hunky Grigory after he comes pestering her for money. They spar, and they bring out the guns, which according to Chekhov, must be fired. They aren't, and who wrote that play, so we can let him know he goofed? Ah, Anton Chekhov.
Ashley Dixon (mezzo-soprano) and Cody Quattlebaum (bass-baritone) repeat the energetic entangling into love of the first act, with similar verve. I found it a bit unnerving that the big love melody was lifted wholesale from David Raksin's jazz standard "Laura," but the whole opera is made of bits and pieces expertly put together.
The Merola program concludes with a Grand Finale on the stage of the War Memorial Opera House on August 19th. All the singers will get to belt their arias supported by the SF Opera orchestra. Many of today's opera stars came through the ranks of Merola, as we were reminded watching Cenerentola. Last time they staged it, the lovers were sung by Daniela Mack and Alek Shrader who made it to the stage of the NY Metropolitan Opera and both returned in starring roles at SF Opera.
Left to right, Natalie Image, Samantha Hankey, Andrew Hiers, and Edith Grossman in La Cenerentola. All picture by Kristen Loken.