Your iPhone is a lot less likely to get swiped on Muni than it used to be.
According to the San Francisco Chronicle, new San Francisco Police data says that smartphone robberies in the city are down by half, thanks in large part to the thrillingly named Smartphone Theft Prevention Act (which we've discussed here in years past).
The STPA, which was sponsored by San Francisco District Attorney George "Geo" Gascon and authored by then-State Senator now-Mayoral candidate Mark Leno, went into effect in 2015. It says that all smartphones sold in California must have a "kill switch" to render stolen phones unless. Plus the kill switch is the phone's default setting, meaning that users who'd like thieves to be able to use their stolen phone have to dig around in "Settings" to disable it.
SFPD's data states that 2,368 or 56% of all robberies reported in the city in 2013 involved the taking of a smartphone. In 2016, 1,191, or 37% of SF robberies involved a smartphone. Between 2015 and 2016, smartphone robberies in SF dropped 22%. (So that 50% result comes from comparing 2013's phone thefts with 2016's.)
Gascon is psyched about these new numbers, announcing in a press release, "The prevalence of these crimes made it evident early on that enforcement and prosecution were not sufficient tools to reduce the violence on our streets. Because of this hard-fought legislation, stealing a smartphone is no longer worth the trouble, and that means the devices we use every day no longer make us targets for violent crime."
Graph courtesy of SFDA
While we're talking numbers, iPhones are by far and away the most popular phones to steal.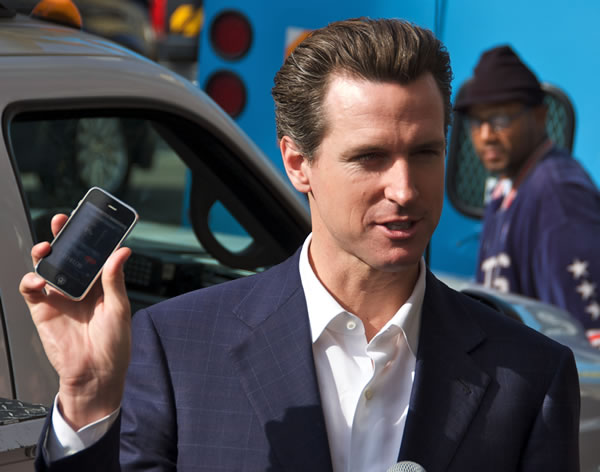 Photo via: Echelon
Related: Cell Phone Thefts On Muni Reportedly Going Down
Graph courtesy of SFDA