No doubt, this year's SF Pride is going to be one for the books, if only because as the nation remains bitterly divided about its identity and its future. So in some part does the LGBTQ community find itself divided, arguing about which letter in the initialism deserves the most attention and who should control the future of the movement now that cisgender gay men and lesbians have largely "made it," at least in most blue states, regarding equal rights. For the first time in a long time, this year's Pride parade on Sunday is likely to feel a whole lot angrier, and more political, than the largely corporate-sponsored and cheery celebration it's generally become. And no doubt that energy will infuse Friday's Trans March and Saturday's annual Dyke March as well.
Still, it's SF's large gay community that throws the lion's share of parties come Pride weekend, so the calendar below may be a bit gay-heavy, per usual. You will all need to pace yourselves regardless, especially if you want to be mildly awake to see the main event on Sunday, i.e. the parade itself — which could be especially provocative and worth seeing for locals for a change.
Plus, don't forget that the Frameline LGBTQ film festival is ongoing all week, with a bunch of great screenings still to come.
TUESDAY 6/20
SCIENCE SPEAKEASY ON GENDER: Come learn more about human gender diversity with Dr. Madeline Deutsch of UCSF and Leakey Foundation grantee Stephanie Meredith, along with drinks, food, and experiments at this Pride-themed Science Speakeasy at Public Works. 161 Erie Street at Mission, 6 p.m. to 9 p.m., $10-$15
WEDNESDAY 6/21
DYKE CODES: Travel back in time to the post-disco, pre-internet era for "Dyke Codes: Coming Out Outside The Bubble," a storytelling event featuring a "new generation of old-school queers share their stories about coming out as young dykes of color outside of big city life," including stories from Mona Webb, StormMiguel Florez, and Dawn Rudd. GLBT History Museum, 4127 18th Street, 7 p.m., $5 to $15 donation at the door please.
PULLED PORK PRIDE BENEFIT: The annual benefit party for the Harvey Milk Democratic Club and hosted by 48 Hills is happening again on the patio at the Pilsner Inn. $10 gets you the beer bust deal and $10 gets you some pulled pork. Pilsner Inn, 225 Church Street near 15th, 6 p.m. to 9 p.m.
THE ART OF PRIDE: Juanita More and 7x7 are co-hosting this fete at Blackbird featuring hosted cocktails, bites, an interactive mural project, and more. 2124 Market Street, RSVP required, $10 suggested donation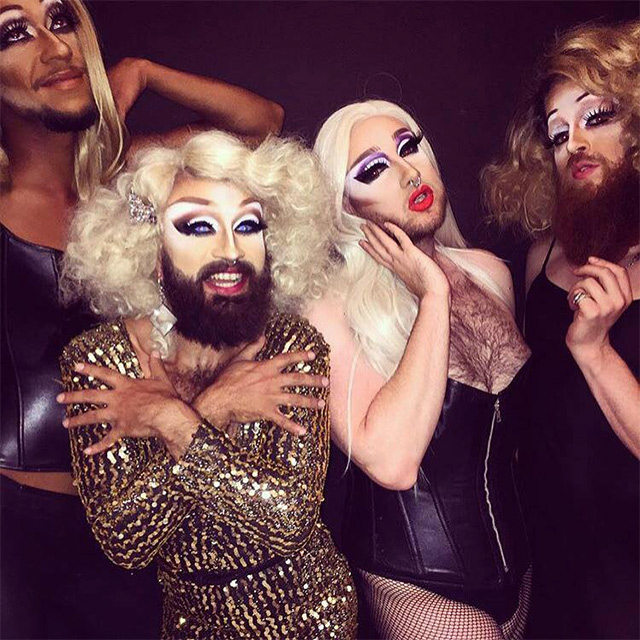 DICK AT NIGHT: 10 mostly bearded drag performers, not including hostess Grace Towers, will be doing two shows at this offbeat drag affair at Moby Dick in the Castro, all with the theme "Proud Mary." Shows at 9 p.m. (ish) and 11 p.m. (ish).Moby Dick, 4049 18th Street at Hartford, $5

THURSDAY 6/22
LEXINGTON PRESENTS - PRIDE KICKOFF AT VIRGIL'S: The city's only real lesbian bar the Lexington Club may be gone, but the spirit lives on with events like this now annual pride soiree at Virgil's in the Mission. This years features DJs Ms. Jackson, DJ OLGA T, and Jamila Afrika, and will feature artwork from a bevy of local photographers and artists projected on the back patio. Virgil's Sea Room, 3152 Mission Street, 9 p.m. to 2 a.m. $5
#YouAreLove - TREVOR PROJECT BENEFIT: This big benefit, featuring performances by Jessica Childress from NBC's The Voice Season 4, DJ Philip Grasso, the SF Gay Men's Chorus, and appearances by local drag stars Honey Mahogany, Donna Personna, Bearonce Knows, Sister Roma, and Bebe Sweetbrier. Proceeds go to The Trevor Project, which provides crisis intervention and suicide prevention services for LGBT youth. Twitter Headquarters, Market and 10th, 7 to 10 p.m. and doors close at 8:30, find tickets here
CHRISTEENE: The gross-out horror-camp-drag of Christeene will be on full display at the Rickshaw as she performs with "tha Boyz" and opening act Ah Mer Ah Su. 155 Fell Street, 9 p.m., $10-$15
CLUB FINN:: New Castro tavern Finn Town is ringing in its first Pride with four nights of parties after dinner service is over, with appearances by drag stars Mercedez Monroe, Sister Roma, Ruby Red Munro, and Whitney Skye Patterson, starting Thursday, and going through Sunday, starting at 10:30 p.m. Finn Town, 2251 Market Street between Sanchez and Noe, 10:30 p.m. to 2 a.m., cover charge required
DRAG PARTY AT ELBO ROOM: The Stud's own VivvyAnne ForevoreMore is hosting this new monthly drag show "Beautiful! - for Pride" at the Mission's Elbo Room, with the help of Abomonatrix, Laundra Time, DJ Primo Pitino, and more. 647 Valencia Street, 10 p.m. to 2 a.m., $10
PRIDE NIGHTLIFE: The big annual affair hosted by Heklina is happening again at the Academy of Sciences, with music upstairs and in the aquarium, and performances by House of Glitter, Mahlae Balenciaga, Miss Shugana, all with the theme "the future of love." Win prizes for your own "Future of Love" looks, and dance to the DJ tunes of Swagger Like Us and Juanita More! in the Piazza. Also, there's food, booze, and the exhibits are open. Get tickets now, because this will sell out. Academy of Sciences, 6 p.m. to 10 p.m. $15
San Francisco Trans March (Image: Facebook)
FRIDAY 6/23
TRANS MARCH: The local trans community comes together at the beginning of every Pride weekend to show their own pride, strength, and solidarity, and this year, the Trans March's 14th, will be no different. The day kicks off with a youth and elder brunch at Dolores Park at 11 a.m., and the rally with speakers and performers starts at 3 p.m. The group will then march at 6 p.m. from the park, up Dolores and typically heads down Market to the location of the Compton's Cafeteria Riots at Turk and Taylor in 1966. This year's theme: "Celebrating Resilience with Love & Resistance."
SHENANIGANS: MASK4MASK: The cheeky dudes of the Shenanigans crew are again throwing a masquerade ball at Oasis, and yes, masks are required. There will be three dancefloors including a silent disco on the roof, and they promise "a club full of faceless torsos dancing to the beats of many local DJs." Expect some masc/mask good times. Oasis, 298 11th Street, 10 p.m. to 4 a.m., $10-$15.
MR. - 10TH ANNIVERSARY: This infamous mustache party took a year off last year, but it's back for one final, 10th anniversary, grande finale party in SoMa. The party this time is at Verso, which once upon time was the leather bar The Loading Dock, and music will come courtesy of DJs David Harness (Taboo), Borja (Daddy Issues), and Juan (Beatbox events). Verso, 1525 Mission Street, $15 and up. Tickets here.
#BLACKQUEERMAGIC: Black Fridays at the Stud will ring in pride with this black queer celebration featuring drag and burlesque performances, music by DJs Miss Pop (Portland) and John Fucking Cartwright, and hosting by Honey Mahogany. The Stud, 9th and Harrison, $10 before 11 p.m., $15 after
UHAUL PRIDE KICKOFF: The hilariously named lesbian dance party UHAUL is doing a trio of parties this weekend, starting with an all-black-attired kickoff at Hawthorn near Union Square. DJs include Yooey (Honolulu)
and China G (San Francisco), and there is a bottle service option. Hawthorn, 46 Geary Street, 9 p.m. to 2 a.m., $25
EVERY BODY: A party from Club SomeThing is happening in the 'Loin at Bao Down, with drag queens and dancing, hosted by GlamaMore and DJ Downey. Bao Down, 648 Bush Street, 10 p.m. to 2 a.m.
POUND PUPPY PRIDE: This party, which only loosely caters to the gay puppy play community, always brings a host of alterna-queer boys and men to the Eagle for a night of drinking and dancing — and stuffing money in the go-go puppy's jock. And this year's Pride party will have a touch of New Orleans via BOUFFANT BOUFFANT, the a self proclaimed design/party machine from NoLa, who'll be spinning alongside residents Taco Tuesday and Kevin O'Connor. SF Eagle, 398 12th Street, 9 p.m., $20
STEAM PRIDE: This monthly, bathhouse-themed party at Powerhouse features go-go boys getting wet in the "PowerShower," massages, drink specials, and, as always, the $100 wet towel contest, with proceeds from the door going to the SF LGBT Center. Spinning the tunes this time around: DJ MAJR (Mikey Adolphson Jr.). Powerhouse, 1347 Folsom Street, 9 p.m., $10
ELECTROLUXX: The Pride party from the "incredibly inclusive" Mass crew happens at Public Works, and this year features a massage booth, LED hoop performances, costumes, tarot readings, a cuddle puddle, and a bevy of DJs. Public Works, 161 Erie Street, 9 p.m. to 4 a.m., $20-$30
POLYGLAMOROUS PRIDE: This year Polyglamorous brings the beats to Club Six and will feature DJs Heather, NoLa's Father Figure, and residents Mark O'Brien, M*J*R and Beya. 60 6th Street, 10 p.m. to 4 a.m., $15-$30, tickets here

MANIMAL FRIDAYS PRIDE KICKOFF: This new party at Beaux may be the hottest ticket in the Castro on Friday, featuring go-go boys styled by LA's SHOKRA, and tunes from DJ Ms. Jackson. Beaux, 2344 Market Street, 9 p.m. to 2 a.m.
Caleb Pershan/SFist
SATURDAY 6/24
DYKE RALLY AND MARCH: Yes, as always, the dykes will dominate the Mission, taking over Dolores Park for an all-dyke affair all afternoon, culminating in the always lively and fun Dyke March. The march usually heads into the Mission and up Valencia, but the route isn't strictly adhered to, and it usually ends up in the Castro, but who knows. Starting at Dolores Park, 11 a.m., march at 6 p.m.
PINK SATURDAY DAYLIGHT DRAG PARTY: Once again, there's no Pink Party this year in the Castro, but Beaux is again throwing their own, featuring Drag Race star Naomi Smalls alongside local queen Au Jus, and featuring DJ Becky Knox and the Beaux GoGo Crew. Beaux, 2344 Market Street, 4 p.m., meet-and-greet at 5 p.m., show at 7 p.m. $8 before 6 p.m., or $10
PINK MAMMOTH: This annual daytime block party that leans toward the Burner end of things has been popular the last few years, and this year it features a list of DJs including David Harness, Juan Garcia, Tim Green, DJ e'Lish, Kramer, and more. Great Northern, 119 Utah Street, $15-$35
DYKE MARCH AFTER-PARTY: This big queer/dyke party will include two dancefloors and a large outdoor area, with food, and music from DJs Von Kiss (LA), Jenna Riot (SF/NYC), Skylar Love (VANCOUVER), UNIIQU3, DJ Val G., Star Amerasu, Chelsea Starr, and others. Public Works, 161 Erie Street, 7 p.m. to 3 a.m., $10-$40
UHAUL DYKE MARCH AFTER-PARTY: The UHAUL gals will re-gather at Harlot for a big shindig featuring go-gos and beat by That Girl (San Francisco), Ry Toast (Los Angeles), and Ms. Jackson (San Francisco). Dykes are being directed to "dress to impress" for this one. Harlot, 46 Minna Street, 9 p.m. to 2 a.m., $25
DYKE MARCH AFTER-AFTER PARTY: The Stud is putting on a new party from the CMYK crew called CMDYKE, featuring underground techno legend DJ SHIVA aka NONCOMPLIANT. The Stud, 9th and Harrison, 10 p.m. to 4 a.m., $10 advance, $15-$20 at door
JUNGLE - PRIDE AT THE ARMORY: This year the big, circuit-y Armory dance-a-thon features headliner Betty Who, who's likely to draw a younger crowd than might usually come to this sort of thing. And as with previous big pride parties here, the DJ lineup includes heavy-hitters like Pagano, Danny Verde, Wayne G, and Paul Goodyear. Expect cool lighting design, and basically zero shirts. 333 14th Street, 9 p.m. to 4 a.m., $50-$150, tickets here
SWAGGER LIKE US QUEER PRIDE PARTY: A queer, inclusive, hip-hop-heavy option for the weekend is this shindig downtown. Recording artist Trina will be performing, and a portion of the proceeds will go to benefit SF City Clinic. Mezzanine, 444 Jessie Street, 9 p.m. to 3 a.m., $20-$60, tickets here
MOTHER PINK SATURDAY W/CAZWELL: Cazwell comes back to town to entertain the Mother crew, and this pre-Pride edition will also feature performances by Heklina herself, Roxy-Cotten Candy, Madd Dogg 20/20, and Hollow Eve. 298 11th Street, doors at 10 p.m., $15


Photo: Afterglow/Facebook
AFTERGLOW: Another Burning Man Pride affair that's been big for a few years is this blacklight-themed party from the Comfort & Joy crew. Put on some Day-Glo and/or just some body paint and go dance and sweat it up at this mostly gay party. Pre-sales are sold out, though, and this one's expensive. 550 Barneveld, 10 p.m. to 6 a.m., $106
COLOSSUS: Guess where else the circuit queens will be? They'll be heading to Great Northern around midnight for this annual affair from Gus Bean, featuring DJs Nacho Chapado, Mauro Mozart, and Jack Chang. Great Northern, 119 Utah Street, $75
SUNDAY 6/25
PARADE AND FESTIVAL
The day kicks off at 10:30 a.m., and the parade usually winds down around 2 p.m. Everyone eventually ends up in and around Civic Center, but you never can tell when it might end. Headlining the main stage in front of City Hall will be Betty Who and Cazwell, and there are multiple stages with different music themes throughout the Civic Center area.
JUANITA MORE'S PRIDE PARTY: Pre-sale tickets are gone, but there will be plenty at door, Juanita promises, though you probably want to roll up early. Yet again the party is in the courtyard at Jones, and it is always a big, fab, well dressed refuge from the Civic Center madness. This year's party benefits the Q Foundation and the LGBT Asylum Project, and you can expect performances from the great Miss Rahni, Nicki Jizz as
"Labelle," as well as music by Christy Love, One-half Nelson, John Fu**ing Cartwright, and John Walker. Jones, 620 Jones Street, Noon to 10 p.m., $45+, tickets at door starting at 11:30 a.m.
MIGHTY REAL - POOLSIDE: The Mighty Real crew will be doing it up again around the pool at the Phoenix Hotel. And this year the beats come from resident David Harness along with Quentin Harris & Hector Romero + Tedd Patterson. There is food on the grill, and fun in the sun while it lasts. Phoenix Hotel, 601 Eddy Street at Larkin, $55-$60
PRIDE "POOL" PARTY AT OASIS: A cheap and easy daytime escape from the Civic Center festivities is this now annual rooftop party at Oasis, featuring a six-foot kiddie pool, floaties, Sneaky's BBQ, and booze. Oasis, 298 11th Street, 1 p.m. to 6 p.m. Free
HARD FRENCH PRIDE: And another annual tradition is of course the indoor/outdoor Hard French party at Mezzanine, where you can wind down your day (or wind up your night) with music from residents Carnita and Brown Amy in the back alley, and check out headliner Ronnie Specter and The Ronettes. This crowd will skew a bit younger, and this one starts early too. Mezzanine, 444 Jessie Street, 3 p.m. to 11 p.m., $20-$60
UHAUL PRIDE AFTER-PARTY: The third and final lesbian-centric party from the UHAUL gang takes over big Union Square nightclub Love + Propaganda and they promise go-gos, "lezzie bartenders," and DJs Bribee (San Francisco), Von Kiss (Los Angeles), and Skylar Love (Vancouver). 85 Campton Place, 8 p.m., $20
HONEY SOUNDSYSTEM PRIDE: If you've still got plenty of energy and took Monday off, you'll want to head to Folsom Street Foundry's for the Honey Soundsystem boys' Pride edition electro fest. It goes into the wee hours, and this year features Detroit DJ Holographic. Folsom Street Foundry, 1425 Folsom Street, $20 before 10 p.m., $30 after.

Related: Exclusive: Betty Who To Headline LGBT Pride Event At The Armory

Grace Towers (bottom left) and the ladies of Dick At Night. Photo: Facebook