More and more it seems going to the movies has become a special-occasion thing for a lot of people, and Hollywood obviously struggles every year to come up with reasons to get us to the theater in terms of large-scale, 3D, CGI spectacles and the umpteenth edition of the Fast & Furious franchise. Though we've lost a few of our neighborhood movie houses over the years, SF and the East Bay have held on to an impressive number of these vintage gems — because, if nothing else, the Bay Area is good at preserving things — and some, like the Roxie, dedicate themselves entirely to indie and documentary programming. And I'm not sure that any other city in the country has a movie house as unique as the Castro Theatre, that grand single-screen palace with one of the most diverse arrays of programming — from vintage double-features to Moana sing-alongs — anywhere. In an age when too many of us are glued to a series of small screens throughout the day, there's something to be said for living in a cosmopolitan place where you could see a summer blockbuster with the full digital sound experience designed by Lucasfilm, and a series of documentary shorts about the LGBT experience in Indonesia in a 30-seat theater, all within a couple of hours and a couple of blocks of each other. — Jay Barmann
The 4-Star Theatre
No, the 4-Star is not the poshest theater in town, nor is it the hugest. But it is one of the coolest, with multiple screens of what they call "alternative world cinema" but I call badass Eurotrash sex and violence next to earnest indie relationship drama next to first-run Asian films — the only theater in SF to still host the latter, they say. Established in 1919 as the La Bonita, the 4-Star narrowly escaped eviction in 2005, but was placed on the market as a possible condo development in 2015, with sellers even trying for a buyer via Craigslist in January. In other words, this place is likely on borrowed time. Get there while you still can.
— Eve Batey
2200 Clement Street at 23rd Avenue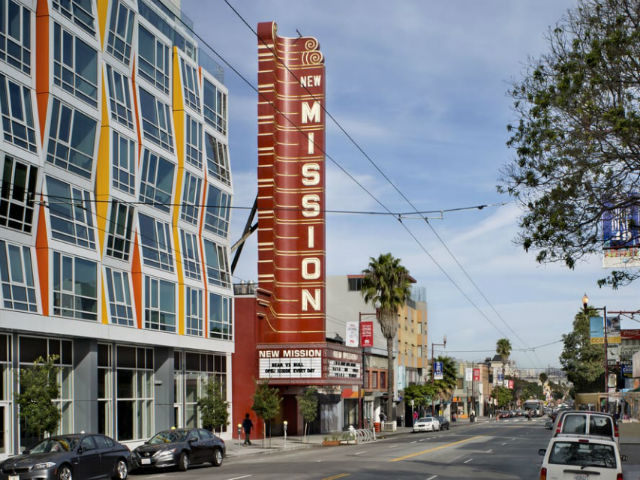 Alamo Drafthouse New Mission
I desperately wanted to hate the Alamo Drafthouse before it opened in late 2015, as its redesign and renovation coincided with the opening of the bougie-fug Vida apartment complex next door and seemed to signal the turning of the 2500 block of Mission Street into a tech-boom Millionaire's Row. But with some developer help the Austin-based hipster theater chain did a spectacular job restoring the New Mission marquee to its full 1930s-era glory, meticulously hand-crafted the tremendous Art Deco ceiling ornamentation, and provided a surviving vestige for the Le Video and Lost Weekend Video collections in the lobby. Some film-house purists will scoff at the Alamo's in-movie food and beverage service that has staff filling orders throughout most of the show, though many of us appreciate having that fourth gin and tonic arrive without having to leave our seat. The Alamo's food menu is impressive (while expensive), and their truffle parmesan butter popcorn is quite possibly the best popcorn in town. With that and their immensely creative programming, the Alamo Drafthouse is one of the only theaters making a creative effort to restore the old movie-going tradition as a special night out, as the industry in general seems resigned to shrugging its shoulders while Netflix and streaming services eat their lunch. — Joe Kukura
2550 Mission Street between 21st Street and 22nd Street
Image: William B via Yelp
AMC Metreon 16
Late 90s moviegoers will remember a time, long before the Metreon was reduced to pretty much just a downtown Target location, when the Loews Metreon was the most vanguard, state-of-the-art theater in San Francisco. Back then, the Loews Metreon 16 was simply known as "the Metreon" because no one cared about the other ill-advised, Sony-themed retail flops also housed in the Metreon. The Metreon 16 theater is the only remaining business from that Sony Metreon era (though it's now an AMC Theater), and time has worn down the cineplex's novelty significantly. But the Metreon still provides an unparalleled IMAX experience, whose shows for blockbuster comic-book and sci-fi releases will sell out even for the midnight and 2 a.m. screenings. — Joe Kukura
135 Fourth Street between Minna Street and Howard Street
Image via David Gallagher on Flickr.
The Balboa Theatre
Pulled from the jaws of closure in 2013, after a successful fundraiser allowed it to upgrade its projection and audio capabilities, the 91-year-old theater is still a 91-year-old theater, so don't expect the amenities you'd get at a new mall multiplex. Do, however, expect sharply curated first- and second-run offerings, events like their "Beer Movie Saturdays," "Classics Thursdays," their weekend kids' "Popcorn Palace," and a friendly neighborhood feel you'll never get from a big-box cinema. — Eve Batey
3630 Balboa Street at 38th Avenue
Image: Michael P. via Yelp
Castro Theatre
There are not enough superlatives that can applied to the historic, iconic, and seminal Castro Theatre, the designated landmark that opened in 1922 and whose outsize, beaming marquee sign is arguably responsible for the neighborhood being called "The Castro". While the Castro Theatre is now a repertory house that no longer runs a regular daily schedule, it remains the only theater in town capable of pulling off star-studded red carpet events; premiere nights for Frameline, SF FILM Festival, the Film Noir Festival and many others; Julie Andrews musical sing-a-longs; and the most epic, big-budget drag parody shows. Many aspects of the Castro Theatre feel like they haven't been updated since 1922 — the box office looks like a neglected steampunk project, the ladies room line is untenable during crowded shows, and the upper balcony seats are in comical need of refurbishing. But there is no one among us who doesn't have a long list of fond Castro Theatre memories, and clapping along with the Mighty Wurlitzer organ before a show remains one of our fair city's most cherished throwback traditions. — Joe Kukura
429 Castro Street, between 17th Street and 18th Street
Century 20 Daly City (Wiki Commons)
Century 20 Daly City
Century 20 in Daly City is a pretty solid and gigantic suburban cineplex that is close to civilization and right next to a BART station. The multi-story free parking lot is a nice bonus, as is the Coldstone Creamery one is forced to pass en route to Last Holiday 2 (one can dream), but the real draw of this theater is the fact that it's packed full of blockbusters and standard theater food that harkens back to my childhood of requesting drop-offs a block away. When I'm in search of a clean theater with abundant parking and a 10 a.m. showing of Last Holiday: Georgia's Return (what?), we're going to Daly City. — Beth Spotswood
1901 Junipero Sera Blvd., Daly City
Century Corte Madera (cinematreasures.org)
Century Cinema Corte Madera
It's got one movie screen and potholes in the parking lot, but you know what else Century Cinema in Corte Madera has? It's THX sound-certified by the Oscar-winning team at Lucasfilm. This (rather junky and old) theater has a world-class sound system so great it was used by George Lucas himself for big screenings — at least according to Marin County lore. It's still used today as one of the theaters for the Mill Valley International Film Festival, and I saw the youngest son from Home Improvement there on the opening night of Mrs. Doubtfire. It's a celebrity magnet! — Beth Spotswood
41 Tamal Vista Blvd, Corte Madera
Photo: Tom Paiva
Grand Lake Theater
One of several grand, historic movie palaces in Oakland to have stood the test of time and benefited from tasteful renovations (the Fox and Paramount being the other two, though only the Paramount still occasionally screens movies), the Grand Lake is a beloved cornerstone of the Grand/Lakeshore neighborhood. Built in 1926 as an ornate, single-screen theater, it was subdivided in recent decades to include three more smaller screens, including the gorgeous Egyptian-style Theater 3. Like the Castro Theatre, the main screen room still has its Wurlitzer organ, which is played before certain shows by a rotating cast of old-timers on a schedule only they are aware of — and, a bit of morbid trivia: one organist died at the keys during the opening night of the reissue of Star Wars in 1997. Also, fun fact: the owner, Allen Michaan, likes to use the theater's prominent marquee as his own political soapbox sometimes, particularly during election years. — Jay Barmann
3200 Grand Avenue, Oakland
Landmark Embarcadero (cinematreasures.org)
Landmark Embarcadero Center
When Landmark installed reclining seats in their Embarcadero Theater, they basically were saying, "San Francisco, we love you this much." RECLINING SEATS, guys. The lay-down situation is only available in a few of the complex's small theaters, but when you book that baby online and roll down to the totally empty FiDi any night or weekend, the theater atop One Embarcadero Center is transformed into your in-home mogul's movie theater. Plus, there's a Walgreen's across the street for cheap candy and they only show high-class artsy-fartsy movies. Le langage du cinéma est universel! — Beth Spotswood
Embarcadero Center One
The coffered lobby ceiling. Photo: Yelp
Landmark Shattuck Cinemas
Take a well preserved, Art Moderne cineplex that shows mostly independent and smaller films, and add the occasional blockbuster for balance as well as booze service in nice glassware, and you have a swell movie-going experience in downtown Berkeley that beats out a lot of other East Bay options. True to Berkeley's academic bent, the theater features a heavy amount of documentary programming, and there are also frequent visits by filmmakers. — Jay Barmann
223 Shattuck Avenue, Berkeley
Photo: Patricia A./Yelp
Piedmont Theatre
Another Landmark property in Oakland, on Piedmont Avenue, the Piedmont Theatre is exactly 100 years old this year, and through some periodic remodeling it remains a cozy and comfortable neighborhood movie house with (faux) leather seats and loads of charm. It caters to its bougie neighborhood with a lot of indie and foreign fare on three smallish screens, and it also annually takes part in the Frameline LGBT Film Fest, becoming the festival's Oakland home every June. — Jay Barmann
4186 Piedmont Avenue, Oakland
Photo: Chris R./Yelp
Rialto Cinemas Elmwood
This neighborhood cinema gem on the Oakland-Berkeley border was taken over by the Sonoma County-based Rialto chain a few years back, and it features both big Hollywood fare as well as indies and docs on its three screens, with bargain matinees and regular filmmaker appearances. This is where you'll find a fair number of Berkeley professors spending their Saturday nights. — Jay Barmann
2966 College Avenue at Ashby, Berkeley
The neon lights are bright on 16th Street (photo: M. Thorn)
The Roxie and The Little Roxie
As the oldest continually-operating movie theater in San Francisco, it would be impossible to make this list without a mention of the Roxie. After a brief stint as a porn theater in the late '60s and early '70s, the Roxie now operates as a not-for-profit movie house. Between the main 238-seat space and its 48-seat sister, The Little Roxie, next door, the Roxie hosts everything from hard-to-find or out-of-print releases, cult and genre classics, tribute events , dog-friendly screenings, and portions of local film fests including Frameline and SFFilm. — Eve Batey
3117 16th Street
Photo of the Stanford Theatre from their website.
The Stanford Theatre
Palo Alto's Stanford Theatre is "dedicated to bringing back the authentic movie-going experience of Hollywood's Golden Age," they proclaim on their website. It first opened in 1925, and proudly displays lists of the iconic films that played their first run there. These days, you should check their calendar to make sure they're open, and to see what classic film they'll be showing. One thing that hasn't changed: their Mighty Wurlitzer organ, which to this day is played during the intermissions before and after their 7:30 shows. — Eve Batey
221 University Avenue, Palo Alto
Image: Ann S. via Yelp
Westfield San Francisco Century 9
It's a mall theater, people, so the Westfield cinema — whose real name is the distinctly not-catchy "Century San Francisco Centre 9" — is not going to venture far from the typical blockbuster Hollywood fare or predictable shopping mall cinema experience. But there are some notable upgrades over most mall theaters, significantly the faux-leather luxury seats that recline and offer leg room beyond comparison. Getting in and out can be tricky if you're seeing a show after the Westfield Centre has already closed, but they have high-tech sound, the concession stand serves Pocky and kettle corn, and the Westfield Century is probably the best choice for moviegoers who are typically frustrated by small theater seats and tiny aisles. — Joe Kukura
845 Market Street between 4th Street and 5th Street

HONORABLE MENTIONS
Alameda Theatre - The island's upscale moviegoing experience includes the Cinema Grill and food service at your seat, a la Alamo Drafthouse, but unless you live in Alameda...
AMC Kabuki - It's basically lost its cool, and its soul, since AMC bought out the Sundance brand, and there's no longer any large format beer or Humphry Slocombe ice cream. But you can still drink there, and the seats are comfy, so there's that.
AMC Bay Street 16 (Emeryville) - The place does have a bar, albeit an overpriced one, going for it, and some suburban-style amenities outside the theater in the Bay Street shopping complex, including a Rubio's and a Fuddruckers, but otherwise can be kind of a chaotic scene and not always well maintained about a decade and a half into its existence.
The New Parkway (Oakland) - It's smaller and less fun than its original namesake near Lake Merritt, but the Uptown location still has spunk, and adult beverages, making it the only movie theater in Oakland where one can buy such things.
The Paramount (Oakland) - It only functions as a movie theater about once or twice a month when they do their Paramount Classics series, but the place is grand and awesome and well worth checking out.
Vine Cinema & Alehouse (Livermore) - Like the Alameda Theatre, it may give Alamo a run for it's money, but: Livermore.

Image: Alamo Drafthouse Cinema - New Mission via Yelp