Think you can handle California's most epic terrain?
"3…2…1… Dropping!," another Squallywood denizen shouts, declaring to the valley below they've embarked on another quest for eternal radness. Since hosting the Olympics in 1960, Squaw has become a fertile incubator for free riders, inspiring people to push their limits in a way that sets it apart from other resorts.
And the feeling is contagious. Flip through any ski magazine, and soon you'll be dreaming of carving pristine lines into the powdery spines of Denali, or hucking cliffs that would take you way over the cuckoo's nest. Usually, you close the cover on that fantasy, sense of self-preservation still intact—along with a dose of lotto-ticket-level daydreaming material.
Not here. The locals at Squaw leave the daydreaming to the birds. Ride up any lift, and you'll spot tracks that will have you asking yourself, "How do you even get there?" Hiking, usually, but the point is, there's no closing the cover on this magazine—you're in the middle of it. Luckily, you don't need an energy drink sponsor to get close to the action and enjoy the show. Some of Squaw's extreme terrain is its most exposed.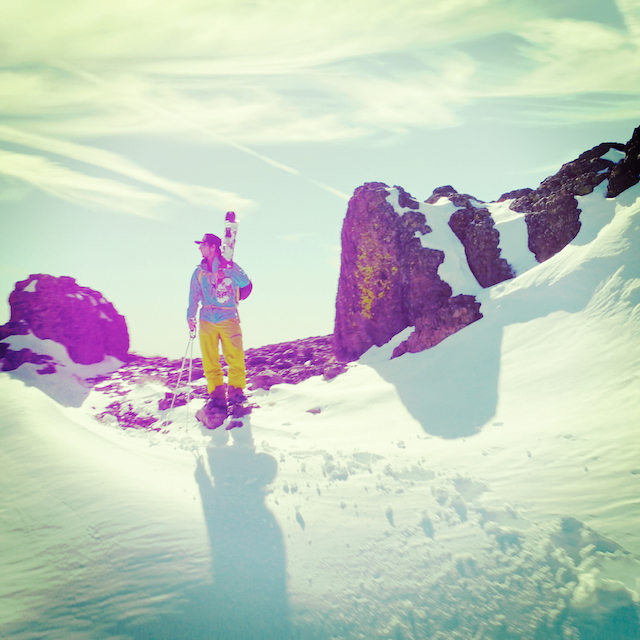 The most iconic feature of Squaw Valley is, unquestionably, the Palisades—a little slice of Alaska right here in California offering some of the steepest terrain in the country, and lines so gnarly their difficulty would be more accurately quantified in yellow snow than in diamonds. Ski patrol closes the Palisades on the weekends to protect overconfident weekend warriors from themselves, but if you're here on a weekday, take a ride up the Siberia Express and watch the locals let it rip. Consider this viewing experience a reminder to tip well when you go out up here, because health insurance is expensive.
KT-22 is perhaps the most famous chair in North America. Nicknamed the Mothership, it delivers 2,000 vertical feet of steeps, chutes and cliffs. The chair ride itself can be like watching a supercut of your favorite ski movies in mega-tangible-HD reality. The lift passes directly over the Fingers—a massive fist of big mountain terrain that attracts a feeding frenzy on powder days. Up top, you have McConkey's (formerly the Eagle's Nest)—a nearly 70-degree face of sheer adrenaline. So take the ride up, and don't worry, there's an easy way down if you need it.
At 9,006 feet, Granite Chief is the highest point in the resort, and that might be your condition if you're thinking about attempting any of the lines up there. To watch those with enough brass make the hike up, take the Granite Chief chair and unload to the right, toward Hidden Bowl. From there you'll have a good view of the action up top, and the bowl below provides its own brand of challenging fun for the rest of us mortals. Shoot for the trees on the left if you want to get extra radical.
Squaw Valley can be an extreme place but "radical" and "gnarly" are relative terms. It's a huge resort and offers enough terrain for everyone to have a blast and get down in their own way.
Getting down may be the easy part. The best conditions on the mountain often mean less than amiable road conditions, so getting to the good stuff can be difficult if you don't have a reliable ride with four-wheel drive. Before your next ski trip swing by your Toyota dealer and check out California's most-trusted SUVs, and while you're at it, go to onewithsnow.com for a chance to win free lift tickets to Squaw Valley and Alpine Meadows. See you on the hill!
This post is a sponsored collaboration between Toyota and Gothamist staff.