Doughnut lovers likely already know where to get the good stuff here in San Francisco — and if you don't, we previously provided lists here and here. Today, for the true doughnut fiends, we bring you a list of road-trip worthy destination spots around the Bay Area, within a couple hours drive of the city, as well as a famous one up in Sacramento. Winter is coming, after all, and you have many months before you have to go on a swimsuit diet again.
Most visitors to Napa are usually focused on wine, but those in the know take a break from winery hopping to visit Boon Fly Café for a little doughnut break. A mini-doughnut break, to be precise. The menu calls them "world famous," and those who have sampled them agree (one patron went so far as to explain that they tasted so good that she forgot she was in a big red barn). They go down fast, especially with the optional chocolate dipping sauce, so definitely order more than you think you should. Try the bucket of six (seriously). And hey, Boon Fly made Grub Street's Top 101 doughnuts in the nation in 2014 — so you know it's worth the trek. — Jack Morse
4048 Sonoma Highway, at Los Carneros Avenue, Napa
Thomas Keller's iconic French Laundry dessert, "Coffee and Doughnuts," serves as the inspiration for their sister bakery's weekend doughnut offerings, which are well known among Napa locals and tourists and tend to sell out early. Available only on Saturday and Sunday mornings you'll find fresh cinnamon doughnuts as well as a seasonal doughnut like the blueberry jelly shown above. These are pricey doughnuts ($3.50-$3.75 apiece), and you will probably have to stand in a line and risk not getting any, but such is life in Yountville. — Jay Barmann
6528 Washington Street, Yountville
Photo: Briana V./Yelp
Donut King
An old-school shop well known to Contra Costa County denizens is Donut King in Pleasant Hill, a strip-mall spot with a very loyal following and 4.5 stars on Yelp. Specialties here include the jelly and chocolate-covered buttermilk cake doughnut, but you're probably not going to be disappointed with anything fresh at this well kept, friendly spot. — Jay Barmann
1607 Contra Costa Boulevard, Pleasant Hill
Photo: Facebook
Donut Wheel
Livermore's much loved, 24-hour doughnut shop, the Donut Wheel, has kept up the tradition of perfect glazed doughnuts since the mid 1960's, but they also keep up with new-fangled doughnut trends with things like their red velvet cake doughnut (pictured), cronuts, and a bacon-and-egg breakfast sandwich served on an open-faced glazed doughnut. (They also do shaved ice called Snow Miracle which one Yelper says "comes out with consistency like cotton candy.") The place is long overdo for a remodel, but as with many outer Bay Area spots of this era, retains some kitschy charm untouched by bland contemporary design trends. — Jay Barmann
2017 First Street, Livermore
Doughnut Dolly
To the long list of reasons to plan a dining adventure around the East Bay add Hannah Hoffman's filled doughnut confections. Hoffman's mother was a Chez Panisse pastry chef and a love of sweets and the skills to perfect them rubbed off on her. Fans are besotted with her "naughty cream" filling — creme fraiche and vanilla bean — and in addition to her Oakland and Berkeley home bases Hoffman has opened a pop-up Doughnut Dolly's in The Market on Market, where she'll soon be a mainstay. —Caleb Pershan
482 B 49th Street Oakland and 1313 9th Street, No. 120 Berkeley
Photo: Facebook
Part doughnut shop, part diner, and part ice cream parlor, this Elmwood neighborhood staple near the Berkeley-Oakland border has been run by Cambodian immigrant Alex Sieu and his family since 1987 — though the shop has been around since the 1930's. Sieu and his shop was recently profiled in the Chronicle, and specialties here are melty glazed doughnuts, and fine, not greasy old-fashioneds. — Jay Barmann
2637 Ashby Avenue, Berkeley
Flakey Cream Do-Nuts
Healdsburg's Flakey Cream Do-Nuts & Coffee Shop is diner doughnut perfection. You won't find any of those city doughnuts like bourbon or green tea here, just glaze and sprinkles etc. etc. Flakey Cream serves breakfast and lunch, but hey, isn't that what donuts are? —Caleb Pershan
41 Center Street, Healdsburg
Photo: Facebook
Johnny Doughnuts
We got the good news this year that popular, four-year-old Johnny Doughnuts, which started as a truck operation and now has a store in San Rafael, is opening a San Francisco spot later this year at 388 Fulton in Hayes Valley. Until then, you can trek to San Rafael to try out their hearty Bismarcks, fritters, and "crodoughs," which is their take on the trademarked cronut. — Jay Barmann
1617 4th Street, San Rafael
Photo via Yelp.
Maple Leaf Donuts
When looking for a traditional doughnut in the South Bay world of Psycho Donuts, Maple Leaf Donuts delivers. Think classic style and flavors all served up for less than a dollar each (the apple fritter is a bit more, but we can forgive that). This mom-and-pop shop has legions of fans in San Jose whose only complaint seems to be that the donuts will frequently sell out before 10:00 a.m. — and with good reason. Those seeking to avoid fancy, new-school doughnuts revel in the more traditional pastry fare. Also, if you buy a dozen the owners will typically throw free doughnut holes in the box. — Jack Morse
1110 Saratoga Avenue, Between Piper and Mitzi Drive, San Jose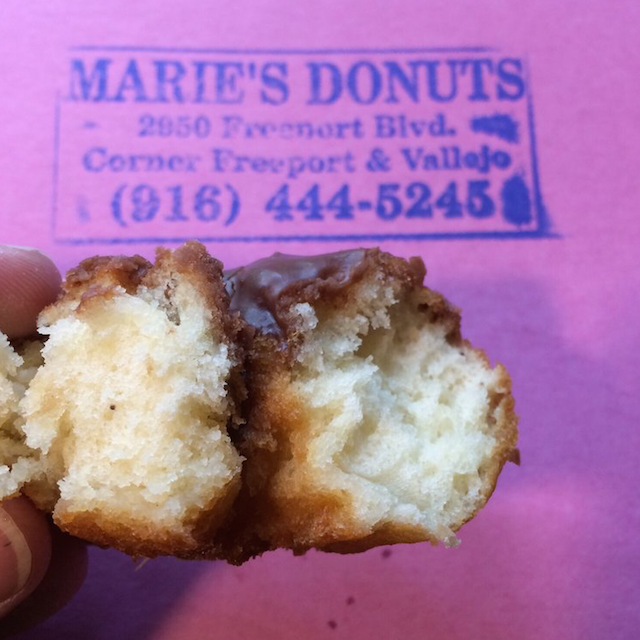 Photo via Yelp.
Marie's Donuts
With apple fritters that would make even Shaq's hands look small, Marie's Donuts is a must for anyone serious about getting their doughnut on. Also, you can get whipped cream on your doughnut, so that's just awesome. Their custard-filled doughnuts and square apple fritter (smaller than the giant one) are the main draws, but the crullers are no slouch. Marie's falls into the more traditional brand of doughnut experience, so don't expect to find overpriced bacon-topped whatever. Instead, when you're craving the platonic ideal of a donut (remember back to what your grandparents used to get you), head to Marie's. — Jack Morse
2950 Freeport Boulevard at Vallejo Way, Sacramento
Psycho Doughnuts
For those moments when you can't decide between a Rice Krispie Treat and a doughnut, Psycho Doughnuts has got you covered, you twisted animal. The raving lunatics behind this shop call it "the world's first and only asylum for wayward donuts," so take a look inside their ward — or pastry case, I guess — and you'll find all the usual suspects. Those, of course, include the Dead Elvis, the Cereal Killer, and the dreaded Cinnamon troll. For those who are truly unhinged, there are (gasp!) vegan options. With its locations in San Jose, Santa Clara, and Campbell, Psycho has donated over 100,000 doughnuts to causes such as the Downtown Streets Team, which encourages homeless volunteers to clean up streets and distribute supplies in exchange for vouchers. Eat up — but be careful: These doughnuts could literally kill you. —Caleb Pershan
288 South Second Street (inside the Camera 3 Theater) in San Jose, 2006 S Winchester Boulevard in Campbell, and 2000 El Camino Real in Santa Clara
Honorable Mention: Dunkin' Donuts, which is a special and nostalgic treat for all you East Coast transplants, and which recently opened new locations in Walnut Creek and Half Moon Bay — with SF locations on the way.

Photo: Facebook