Here at SFist, we're declaring this San Francisco Appreciation Week. Perhaps it's just the good mood the weather has put us in — and yes, I know, not everyone loves the heat, and some of you are allergic to sun — but we thought it was about time to set aside some (if not all) jadedness and snark and show some special attention to the things that make SF great and weird and wonderful. And it's not like we've never done this before, but occasionally all of us need these reminders, especially with this crazy election looming and the typical, never-ending flow of bad news cycles.
And we kick off with a list of things that long-term and semi-long-term San Franciscans should all be familiar with.
You're not a real San Franciscan until...
You get confused at the sight of small children, and assume they've been shipped in from out of town.


You drop everything and run to the beach/park the minute the temperature goes above 80.


You've stayed in a bad relationship just because of rent control.


You've gotten food poisoning twice from bacon wrapped hot dogs on Mission Street, and you will still get it a third time.

(Original photo: Rob Koziura on flickr)

You Uber/Lyft everywhere despite having a car because parking in your neighborhood is too much of a nightmare.

Image via mia_judkins on Flickr.

You've had three bikes stolen.


You've had your car broken into at least three times.

Photo: Shutterstock

A naked elder gentleman wandering down the street with a tiny bit of sequined fabric over his junk simply means it's sunny out, or it's Tuesday.


You've begun making your own terraria, and collecting air plants.

(Photo: Flora Grubb)

You know how to pronounce 'nduja, and where to find it at the Ferry Building.

Photo: Beer & Nosh

You know when it's pineapple guava season at Bi-Rite.

Photo: Jay Barmann/SFist

You only go to the Academy of Sciences when it's adult night, and there's booze.

Social sciences! (Gerard Livernois)

You can't remember the last time you left the house without a layer.


You've vocally shamed someone for saying things like "I don't go to the Avenues" or "I don't go north of Geary."

(Via: Street View)
You only go to North Beach once a year, when friends are in from out of town.

(Photo: Alexandra Jones on flickr)

You've reported an illegal Airbnb on your block.


You've ridden a tech shuttle *and* subsequently complained about them ruining your neighborhood.


You don't even bother calling it "summer" anymore, and you associate the Fourth of July with parkas.

Photo: Bob Horowitz

You've gone trick-or-treating at Dianne Feinstein's former house just for the full-size candy bars.

Photo: Nina Hatveny

You've been to a party or sat at a bar with Willie Brown.

Willie Brown at WNYC in 2008. Credit: WNYC

You've spent more money at a food truck event than you would have for dinner at Delfina.

Photo courtesy of Off the Grid

The scent of urine is simply the familiar smell of home.

Photo: jb_brooke on Flickr.

You would literally rather fall over than touch one of the poles on BART.

Photo: Nick/Flickr

You've wasted a Tuesday afternoon watching the Board of Supervisors' meeting on SFGov TV.

Photo: SFgov

You've gone for chow fun at 3 a.m. in Chinatown.

The original Sam Wo sign, which will be moving over to replace the more plasticky new one. Photo: mobili/Flickr
You've blacked out at The Elbo Room / The Makeout Room / _____ [fill in name of any Mission or Castro bar]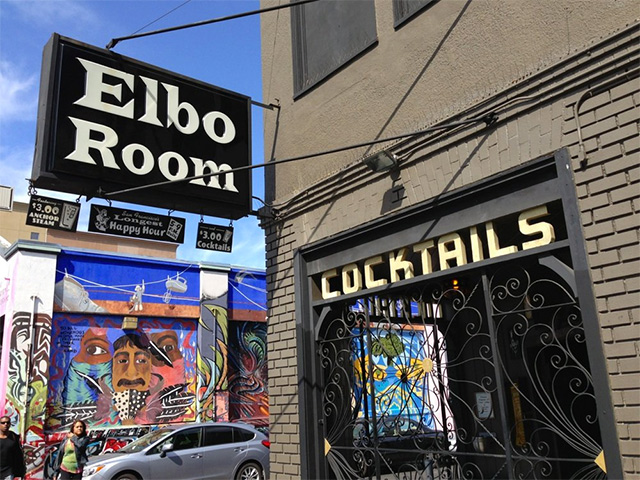 Photo: Yelp

You've purchased a pot truffle from Trevor the truffle guy, eaten too much of it, and required assistance exiting Dolores Park.

The graphic of a shirt once sold by Turk+Taylorvia Yelp

You've gotten your first Muni fare evasion ticket.


You are remarkably good at identifying human shit versus dog shit.


You get angry when traveling when there's no bin for compost.

Photo: SFEnvironment.org

You've stopped calling them bodegas, because they're corner stores.

(Photo: Potential Past on flickr)

You can make a good case for why the toast costs $5.


You've ridden a cable car just to get home.


You've lied to your parents about what you were doing on Folsom Street Fair / Bay 2 Breakers day.

Photo from the 2007 fair, via Wikimedia.

You've given up trying to understand Frank Chu.

Photo: Generik11 on Flickr.

You've broken up with someone because they moved to the East Bay.

(Photo: Sergio Ruiz on flickr)

Previously: 50 Things That Prove SF Is Still Rad

(Photo: DocPop on flickr)