Some people will argue that pizza is pizza, it's hard to screw it up, and even bad pizza is still pizza and therefore good enough to eat. I do not like or agree with those people. And those who have lived in San Francisco for more than a couple of years will remember a time when this was a virtual pizza desert, save for some good-enough slice shops and a couple of decent deep-dish options — which New Yorkers like Jon Stewart will tell you isn't even pizza, really. The last half decade has brought us some stellar, properly Neapolitan pies, an all new and arguably even more authentic Chicago-style spot, and a bevy of new-wave, California-ish pizza places that will give some of the best of New York a run for their money. Will anyone from the East Coast ever recognize that SF is now, legitimately, a good pizza town? Probably not. But who cares. It's true. (And while we brought you a definitive list of SF pizza before, this list is updated and includes entries from Oakland, Berkeley, and Sausalito.) — Jay Barmann


Arinell Pizza
Arguably the definitive NY-style slice shop in SF, Arinell's fresh-out-of-the-oven cheese slices are pretty much the East Coast ideal. The cheese is properly spread, orange and molten, the sauce is tangy, and the crust is thin and floppy with crisp edges that actually taste like something. And Arinell has stood the test of time on Valencia through the corridor's many incarnations of the last four decades, having opened on this block in 1975 way before this strip was anything more than a couple taquerias and an appliance store. Also, a fun fact to share with drunk friends whilst eating here: Kink shot some hardcore porn here a few years back.— Jay Barmann
In San Francisco: 509 Valencia (at 16th Street)
In Berkeley: 2119 Shattuck (at Addison)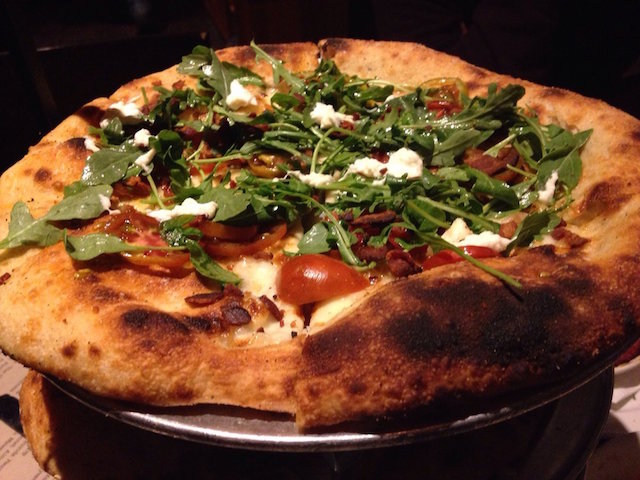 Bar Bocce
While definitely notable for its killer outdoor beach patio, the pizza served at Bar Bocce makes the Sausalito spot worth the trip regardless of the weather. The margherita pizza is "the classic" as the menu suggests, but don't let that sway you away from the mushroom, speck, or heirloom tomato (pictured above) pizzas. And yes, you may get stuck with a wait for a table, with garlic bread to tide you over and drinks to wash the pie down makes it all worth while. Just place your order, play some bocce ball, and wait for that pizza goodness. — Jack Morse
1250 Bridgeway, Sausalito



Beretta and Delarosa
Beretta on Valencia and Delarosa on Chestnut are (still) quite trendy in their respective Mission and Marina ways (you can infer those differences). One constant is the pizza, elevated by fresh herbs and rich sauce. As sit-down, cocktail-equipped spots serving a food everyone likes, they sort of scream "date night." And indeed, if you'd like to overhear strangers who met on an app attempting conversation — or if you've just matched with a new hottie — head on in. The walnut bread with burrata and mushroom truffle honey appetizer should give you something to talk about. — Caleb Pershan
1199 Valencia Street at 23rd and 2175 Chestnut Street between Steiner and Pierce Streets
A margherita a Pizzaiolo. Photo: Facebook


Boot & Shoe Service / Pizzaiolo
Chef Charlie Hallowell's twin Oakland pizza institutions — and I think I can call them that now, nearly a decade in — continue to produce some delicious wood-fired pizzas with an array of seasonal toppings, alongside delicious cocktails and plenty of salads and small plates. They're both convivial, constantly busy spots known for serving some of the most consistently good food in the East Bay, even if prices have been on the rise (most of the modest-sized pizzas now run you $20). Go for the signature rapini with housemade sausage, or the chanterelle mushroom pie with gremolata. — Jay Barmann
3308 Grand Avenue, Oakland and 5008 Telegraph Avenue, Oakland
Photo: Facebook


Capo's
You're going to hear carping from New Yorkers (most notably Jon Stewart) that Chicago-style pizza isn't pizza. You're also going to hear arguments from San Franciscans that Little Star has the Chicago pizza game all wrapped up here, end of story. Well, these people have probably not been to Capo's, because despite the fact that you may not be able to walk after scarfing more than two slices of their seriously hefty deep-dish pies, this ode to Chicago pizza by pizza master Tony Gemignani is a winner on all fronts. There's a full bar with good cocktails. The atmosphere is cool — red booths, brick, photos of gangsters — and like at his other North Beach pizzeria, Gemignani makes sure to turn the menu into an encyclopedia of styles, in this case focused on the Midwest: traditional deep dish, stuffed, cast iron, and cracker thin. The Sam Giancana is excellent as a thin-crust, and the Old Chicago you'd better have stuffed, and bear in mind that these are not vegetarian friendly — the ultra-traditional crusts have lard in them, all except the cracker-thin. — Jay Barmann
641 Vallejo (at Columbus)



Casey's
As Casey's namesake Casey Crynes negotiates a lease at 1170 4th Street for a brick and mortar, the rotating firebrick oven aboard Casey's pizza truck will do just fine, as it has for many since he launched with a hacked Weber grill pizza oven in 2011. Even before that, Cryne's pizza skills with a modified weber grill at farmers markets was a hit, launching his venture in the first place. Casey's pizza truck, a roving slice of the East Coast transported out west, Casey's well-blistered pies can be found on weekdays in the Financial District or on weekends at Proxy in Hayes Valley.— Caleb Pershan
Rotating locations available on Casey's website



A California corn pizza with pasilla peppers, garlic-olive oil, Corsican feta, and cilantro. Photo: John L./Yelp


The Cheese Board Collective
A Berkeley institution since 1971 (i.e. the same year that Chez Panisse opened across Shattuck Street), the worker-owned Cheese Board keeps things very simple with just one seasonal, vegetarian pizza option each day, along with one salad. Berkeley dwellers still pack the place, adhering to their (very Berkeley) limited-hour schedule (11:30 to 3 p.m. for lunch, and 4:30 to 8 p.m. for dinner), and where there's often live music in both the afternoons and evenings. Whole pies, which can be ordered lightly baked for finishing off at home, are just $22, with half pizzas for $11 and slices for $2.75, and of course they also make gluten-free pizzas. Their signature touch: The pizzas often come with wedges of lime to squeeze over them, and if you order a whole pie it usually has a few extra slices thrown on top. Keep track of the always changing menu here. — Jay Barmann
1504 Shattuck Avenue at Vine, Berkeley



Broccoli raab pie at Pizzeria Delfina


Pizzeria Delfina
Delfina's pizza off-shoot has been a star on 18th Street since it opened, and there are now locations in Pac Heights, Burlingame, and Palo Alto. The secret is fine ingredients, great dough, and hot gas ovens that produce Neapolitan-like results (though some people will complain about their consistancy across locations). Also, unlike Una Pizza Napoletana, there's variety, from the clam pie to the house-made fennel sausage to the daily rotating seasonal specials, all clocking in under $20. The proximity to the Mission's favorite sunny weekend hang, Dolores Park, doesn't hurt either. — Jay Barmann
3621 18th Street and 2406 California Street



Darsky manning his oven at his new Nob Hill spot. Photo: Joseph Schell


Del Popolo
Pizzaiolo Jon Darsky got his start in the early days of Flour + Water, but left to launch his own thing, which ended up morphing into a $180,000 mobile pizza operation, with a full-sized, Naples-built, wood-fueled pizza oven on board. The truck is impressive on its own, and last fall he opened his first brick-and-mortar spot on Nob Hill, where he's expanded his repertoire to include some excellent salads and inventive Italian small plates. Del Popolo's perfectly blistered margherita rivals that of local pizza-masters Tony Gemignani and Anthony Mangieri, and any of the rotating other pies, cooked in a couple of minutes at high heat, come out just as crisp, chewy, smoky and delicious too.— Jay Barmann
855 Bush Street, with weekly truck appearances at Mint Plaza and Off the Grid



Photo: Hurjane V./Yelp


Emilia's
Former IT guy Keith Freilich opened this tiny, one-man Berkeley spot in 2009 and keeps very specific hours — much in the same vein as the Cheese Board nearby — sometimes closing on random nights of the week because of his personal schedule. It's only open four nights a week, Wednesday to Saturday, and with just a couple tables it's primarily a takeout operation, serving just six house combo pies and whatever custom combos you care to create. Freilich is working with a hot gas oven but had experience at both Pizzaiolo and Flour + Water before opening this place, and Serious Eats raved even before the place opened, via a preview pop-up, that Emilia's pizzas are "a dead ringer for any of New York's legendary coal-oven pizzerias." They are, indeed, fairly thin and crisp with nicely blistered edges, and a generous smattering of toppings. Calling ahead, though, before Freilich closes promptly at 9 p.m., is recommended. — Jay Barmann
2995 Shattuck Avenue at Ashby, Berkeley



Fiorella
I had high hopes for Fiorella when it opened at the beginning of 2016, hopes that were fulfilled at my first visit, the moment I bit into my first slice of their pizza. The crust is springy and charred to perfection, and their oft-changing list of pies (right now I am all about their Zucchini Pie, news that would make 5-year-old me fly into a rage) always offers a surprise. But just because you're headed to the Outer Richmond doesn't mean you can just waltz in there: They get packed, (though their new patio seating might relieve some of the scrum) so make a reservation or be ready to sit at the counter or their communal table. — Eve Batey
2339 Clement Street between 24th and 25th Avenues
A recent shot of a veal sausage and kale pizza. Photo: Mai Y./Yelp


Flour + Water
Known more, overall, for their pasta, Flour + Water has made Neapolitan-style pizzas of varying quality since their debut seven years ago — initially under the helm of Del Popolo founder Jon Darsky, who broke off to do his own thing a couple years in. The consensus is that the pizza here is back in proper form, with thin, crisp crusts, well blistered edges, and frequently delicious seasonal topping combinations (currently you'll find one with green zebra tomatoes, lemon basil, and garlic scapes), and it's not as tough a reservation to get as it once was — possibly thanks to slipping off of the Chron's Top 100 last year — though unless you want to wait an hour for a table, prime time reservations need to be snagged a couple weeks out. — Jay Barmann
2401 Harrison Street at 20th

A special Calabrian Fireball pizza with Calabrian chiles, jalapenos, and meatballs. Photo: John K/Yelp


The Forge
Launched in 2013 in Oakland's Jack London Square with help of pizza consultant Jeff Krupman of Pizza Hacker fame, The Forge serves some of the better wood-fired pizzas you'll find in the East Bay — although my own experience there is a couple years out of date, and some recent Yelp comments suggest the pizzas aren't always consistent these days, with complaints about sogginess and overly burnt edges. Their pepperoni pie comes with jalapeno, they do a popular ham-pineapple combo called the Mainlander with ricotta and Calabrian peppers, and there's white pie with three cheeses, ricotta, garlic, lemon, and arugula — as well as nightly specials. Expect many families with kids, because it's an East Bay pizza place, and don't forget an order of fried cheese curds. — Jay Barmann
Jack London Square, Oakland, and 345 Railroad Avenue, Danville



Photo: Jay Barmann/SFist


Gialina
If you're passionate about pizza, you shouldn't mind the trek to Glen Park to try one of the best spots in town, which Sharon Ardiana opened a few years back much to the delight of Michael Bauer (though he recently let the place slip off his Top 100). She's since expanded with Ragazza on Divis, which is almost as good, but something about the consistency in quality of the pies at Gialina keeps it a notch above in my book. Go for the extraordinary, egg-topped Amatriciana, or Bauer's favorite, the Atomica, or any of the rotating seasonal pies, and you'll see what a great dough recipe and a hot gas oven can do. — Jay Barmann
2842 Diamond (at Bosworth)



Jay 'n' Bee's more than solid margherita. Photo: Tiff T./Yelp


Jay 'n' Bee Club
A neighborhood bar with zero pretenses and a serious pizza game, it's shockingly easy to get drunk at Jay'n Bee club, not that I'm encouraging that. The drinks are economical and you'll probably keep at it until your food arrives, which takes a while, so order right when you get in. But, of course, it's worth the wait — usually people are surprised at how good these pies are, with a traditional chewy crust. If you like spicy, go for the Atomic. — Caleb Pershan
2736 20th Street at York



The New Yorker pie at Jersey. Photo courtesy of the restaurant.


Jersey
One of the new kids on the pizza block is this downtown spot from the guys behind Town Hall and Salt House, which serves up East Coast-style pizza with a particular New Jersey flair. Jersey debuted in 2015 and quickly got a solid Bauer review, with the star of the show being the Trenton Tomato Pie — a golden, crisp-crust pie topped with mozzarella, parmesan, and crushed tomato, which chef and co-owner Steven Rosenthal clearly spent many months perfecting. There's also the "New Yorker" on the same Jersey-style crust topped with sausage, pepperoni, and pancetta, and the kitchen also produces several "California-style" pies with a different type of dough, puffier crusts, and sparser toppings, including a couple of Mexican-fusion combos like chorizo and piquillo pepper, and a black bean pizza with cherry tomatoes, queso fresco, red onion, and jalapeno cream. Given the location, they open for breakfast and lunch too, serving a breakfast pizza in the mornings topped with scrambled eggs, onion crema, and your choice of smoked salmon or prosciutto. There are also some solid non-pizza options at dinner, if you want eat something in addition to your pizza, including a delicious chopped salad, and a hearty (if salty) lasagna. — Jay Barmann
145 2nd Street between Mission and Howard



(Photo: John)


Little Star
Little Star's Chicago-style deep dish pizzas are, in my opinion, the best in town, primarily because of the cornmeal crusts (that they allegedly do not make in-house) and the well seasoned tomato sauce. Capo's may rival this place for the sheer audacity, calories, and size of their pies, but the punch of Little Star's flavors are always consistent, and great. Go for the Classic, for starters, or try the off-menu Brass Monkey (so named for the Beastie Boys song because a guy named Mike D. always used to order it), which is a Little Star (spinach, ricotta, feta, mushrooms, onion, and garlic) with sausage added. Also, the thin crust pizzas are pretty great too. — Jay Barmann
In San Francisco: 846 Divisadero (McAllister) or 400 Valencia (at 15th Street)
Also in Albany: 1175 Solano (at Stannage), and The Star in Oakland, 3425 Grand



A sausage-mushroom slice and a pesto-artichoke slice at Marcello's. Photo: Melissa D./Yelp


Marcello's
As neighborhood slice shops catering mostly to drunks after 10 p.m. go, Marcello's is up there on the quality scale, and it's definitely the best option in or around the Castro, where it's been since 1978. The slices aren't gourmet or perfect, but the crust is flavorful and thin-ish, and crisps up well in the oven. Also, the topping choices are usually good and pretty varied, with options like potato, cheddar and bacon; artichoke-pesto; and fresh tomato and mushroom. And above all else, they're typically open until 2 a.m. or a few minutes after. — Jay Barmann
420 Castro Street near Market



A sweet potato-scallion-Korean sauce pie featured this week. Photo: Jay Barmann/SFist


The Mill
Starting two years ago, bread baker Josey Baker (his real name) started doing a pizza night on Mondays at his Divisadero coffee shop, which has been popular enough that it's spawned a second weekly pizza night on Wednesdays (see the ever changing menu here). This is definitely a crust-lovers pizza for sure, with crispy, semi-thin edges and variable bread-like qualities — the crust on a sweet potato-scallion-Korean sauce pie this week featured a crunchy, dark grain, almost pretzel-like crust dusted with sesame seeds and Maldon salt, but Monday's okra pizza featured a smoked malted barley crust. The situation is BYOB, which many NoPa Millennials take advantage of, with Mondays still more popular than Wednesdays it seems. And the pizzas aren't a bad deal — full pies, about 18 inches, are $26, and slices are $3.50. But don't go looking for meat options here — inspired by the Cheeseboard in Berkeley, Baker only makes one kind each night and it's always vegetarian. — Jay Barmann
736 Divisadero between Fulton and Grove



Photo: Michael U./Yelp


Mozzeria
This place is unique not just because it's the only deaf-owned and operated restaurant in the country, but also because it's the only place besides Flour + Water making classic Neapolitan pizzas in the Mission, conveniently located on 16th Street. Pizza chef Russell Stein is self-taught, but has markedly perfected his craft in the last four years in business, and his margheritas are on point. Also, it's not good for you, but the Mozzeria Bar (a big stick of breaded fried cheese) is damn delicious. — Jay Barmann
3228 16th Street between Dolores and Guerrero



Orbit Room
Closed abruptly in the spring of 2015 after the death of owner Jay Johnson, two devotees of the cocktail-pioneering and pizza-slinging bar, Courtney Ross and Nic DeLillo, re-opened the Orbit Room last November. Food and drinks were updated in July, and pizza — including original combinations like the Reuben — still satisfies. Service is informal, with food ordered at a counter and drinks at the bar, making the Orbit Room a casual, mid-week date night spot if there ever was one. — Caleb Pershan
1900 Market Street at Laguna Street



Patxi's
Founded in Palo Alto in 2004 by entrepreneur Bill Freeman and pizza maker Francisco "Patxi" Azpiroz, the Patxi's empire has grown to include four SF locations and outposts in the East Bay, South Bay, SoCal, Colorado, and Seattle. Patxi's heart, however, is clearly in Chicago, and the chain's deep-dish options are far superior to their thin-crust pies. Chicagoans might take umbrage at the relatively chewy crust on those (Little Star still has them beat), but vegans — an even harder group to please — are nuts for the vegan deep dish option here. — Caleb Pershan
3318 Fillmore Street, 511 Hayes Street, 822 Irving Street, and 4042 24th Street, and many more locations



The Louisiana andouille pizza at Pauline's (photo: Andrei Riskin)


Pauline's
Pauline's is special. First of all, it's been around on Valencia Street for 29 years, since long before the corridor became the hip and often expensive destination it is now. And the pizza they make is San Francisco-style, if I had to define it, with a thick, yeasty, sourdough-esque crust that bulbs out at the edges and is baked crisp on the outside and chewy on the inside — a bread lover's dream, really. They use an array of fresh, seasonal toppings from their own gardens, their salads are huge and great, the wine is reasonably priced, and their signature pesto pizza, while straight of the 1980's, is the bomb. Added bonus: It's never that hard to get in, and if there's a wait, you can hang out in the wine bar next door. — Jay Barmann
260 Valencia (near 14th), S.F.



PizzaHacker
What began with a modified Weber grill on the sidewalk and morphed into pop-ups at Vinyl and elsewhere has taken root at a cool Mission Street location in Bernal Heights. The hype hasn't cooled off, either, so get in their early and put your name on the chalkboard. Jeff Krupman is the hacker in question, and his standout dough is a riff on Tartine's tangy country white bread with a sprinkling of smoked salt. The Yo Vinny is a perennial favorite, with good reason: it's got marinated onions, goat horn peppers, 4505 sausage, tomato sauce, fresh mozzarella, and if you'd like, an egg. — Caleb Pershan
3299 Mission Street between Valencia and 29th Streets



The Pizza Shop
$3 is all it takes to make an East Coaster happy at this spot on 24th. That's the cost of one cheese slice, or as they call it where I come from, "moz" (pronounced mootz). But there are many affordable wonders in the cases at The Pizza Shop, which opened last year in a corridor better known for burritos. Crusts are thin, toppings are traditional, and it's cash only. Once you start with this one, you'll be back to cheat on El Farolito. — Caleb Pershan
3104 24th Street between Folsom and Shotwell Streets



Pizzetta 211's Piadine with Bacon, Dry Farmed Early Girl Tomato, Romaine, Gorgonzola Dolce Viniagrette. Photo: Maria M/Yelp


Pizzetta 211
Jay named Pizzetta 211 "The best pizza in the Avenues" last year, and as SFist's sole Avenue dweller, I must reluctantly agree — it seems impossible that such a large swath of the city is free of great pie, but after some recent changes at a couple of former faves, this is where things remain. This postage-stamp-sized place has been pumping out excellent "artisanal" (I hate that word, but it makes sense here) pizza since 1999, long before most of the other shops of that ilk were even a glint in their founders' eyes. It's almost always packed, so weekday afternoons or carry-out are basically the only ways to go, as they don't take reservations (and only recently started accepting charge cards). Everything about this place is... idiosyncratic, but the mind-blowing quality of the pizza makes you forget everything else. -- Eve Batey
211 23rd Avenue between Clement and California



Photo via Pythagoras Pizza.


Pythagoras Pizza
We wrote about this delicious pizza back in January when the company was still called Pi Pizza, and while the name has changed (possibly due to confusion with Pi Bar?), the deliciousness factor has not. Pythagoras Pizza is a bit of an outlier on this list, as it exists as a delivery-only option — there is no storefront or restaurant — but we promise its place here is deserved. The thin sourdough crust would be enough to write home about even if it wasn't delivery, and the roasted broccoli and garlic vegetarian pie is the perfect accompaniment for an evening on the town (they deliver to bars or the park or wherever if you're in their delivery range). With lightening fast delivery times and top-notch ingredients, Pythagoras is truly one of the best pizza bets in town. — Jack Morse
Delivery Only



The Golden Gate deep-dish pie. Photo: Facebook


The Star
Opened two years as a spinoff of the Little Star chain, The Star serves nearly identical deep-dish pizzas with cornmeal crusts, although with a totally different menu of special combos including the ricotta-topped meatball pie pictured above, called the Golden Gate. Also, unlike Little Star in the city, The Star has a full bar and cocktail menu, with classics like a Corpse Reviver #2 and a Vieux Carré, as well signature creations like the Sound Machine with Old Forester Bourbon, Noval Black Port, lemon, and agave. — Jay Barmann
3425 Grand Avenue, Oakland



A three-in-one, square-cut Roman-style pizza at Tony's. Photo: Facebook


Tony's Pizza Napoletana
Hometown pizzaiolo Tony Gemignani is, as I've written before, like a Universalist high priest of pizza, having turned his North Beach restaurant into an edible survey course in pizza styles from around the country, and Italy. He makes a great, wood-fired Neapolitan pizza, but he also makes shining examples of Sicilian, classic New York, coal-fired, St. Louis cracker-thin, Detroit red-topped, New Jersey tomato-topped, Roman by-the-meter square-sliced, classic Italian gas-fired, and California-style pizzas, all with equal care. The menu is kind of dizzying that way, in fact, with so many options and combinations that you could take a few years exhausting them all, not to mention he makes classic calzones and stromboli too. If you want Chicago deep-dish, you have to walk a couple blocks to his other spot, Capo's, but otherwise the entire universe of pizza is covered here, and the place is always packed. — Jay Barmann
1570 Stockton Street at Union



The Filetti pizza at Una Pizza Napoletana. Photo courtesy of the restaurant.


Una Pizza Napoletana
Much has been written about this place — it's only open four days a week (Wednesday to Saturday), there's nothing on the menu but pizza, atmosphere is nil, there's often a wait — but pretty much everyone agrees that Anthony Mangieri's wood-fired, Neapolitan pies are perfectly authentic, or as near-perfect as you'll find in San Francisco. (Ever the perfectionist and monk-like student of pizza, Mangieri himself says that he gets in a "zone" each night when he knows the pizzas are at their most perfect overall, but that isn't always the case.) The dough is properly seasoned and delicious, and always ideally blistered and smoked from his Stefano Ferrara oven. The sauce is tomato heaven. And with just a modest dose of cheese, the result is typically a comforting, unimpeachable paradigm of pizza. You are paying for perfection, however — 12-inch pies, which can easily be eaten by one person, are $25 apiece. — Jay Barmann
210 11th Street (at Howard)



Zachary's classic spinach-mushroom stuffed pizza. Photo via Facebook


Zachary's
Look. I'm just going to say it. Longtime East Bay mainstay for deep-dish pizza goodness Zachary's isn't quite as good as Little Star — or the more recently open The Star in Oakland. I'm a sucker for cornmeal crusts, and Zachary's simple flour crust doesn't always hold up well beneath the mountains of cheese, tomato, and filling in their stuffed pies. That being said, Zachary's is still pretty delicious, the wine is stupidly cheap by SF standards, and their Mediterranean in particular is a favorite of mine, assuming you can work your way around some occasionally stringy artichoke hearts. (Their classic spinach-mushroom, too, is a vegetarian fave, if sometimes a bit waterlogged.) The Rockridge and Berkeley locations are typically teeming with small children, so be warned, but they do a brisk takeout/half-baked business too. And you can also find them in San Ramon and Pleasant Hill these days too. — Jay Barmann
5801 College Avenue, Oakland; 1853 Solano Avenue, Berkeley



Zante's Indian Pizza: Tandoori chicken, lamb, spinach, eggplant, cauliflower, ginger and garlic. Photo: Cherylynn N./Yelp


Zante
If I had a dollar for every person I've heard scoff at the idea of a restaurant that serves both pizza and Indian food, I'd have enough money to pay for the defense attorney I'd need after I punched someone while yelling "have you ever eaten naan, you idiot?" The fact is that pizza and Indian food go together like peanut butter and jelly, and nowhere is that clearer than at Zante. Their standard vegetarian Indian pizza (spinach, eggplant, cauliflower, ginger, garlic, green onions and cilantro) is my favorite — they even offer a vegan version for those who are so inclined. They also do a pizza with their own homemade paneer and masala that is out of this world, as well as pies containing tandoori chicken, lamb, and prawns. Look, I'll be honest: you're going to smell like garlic and spices for days after eating this, so it's not a great first date venue. But with someone who is too entrenched/lazy to leave you, it's heaven on a crust. — Eve Batey
3489 Mission Street, near Cortland Street



Zero Zero's Fillmore: Hen of the Woods, Leeks, Mozzarella, Grana Padano, Pecorino, Fontina, Garlic and Thyme. Photo: Cherylynn N./Yelp


Zero Zero
Perhaps one of the most "date night"-ish spots on this list, Zero Zero isn't your corner slice-on-paper place: This is a full-on, sit-down, drink-a-cocktail joint that just happens to serve some of the best pizza in town. Every time I go, I think I should try one of their more "grownup" entrees, but why front? I wake up in the middle of the night thinking about their hen of the woods and fontina, and regularly have some doubtlessly exploited laborer drive their Margherita Extra all the way from SoMa to my apartment by the ocean. With a yeasty, chewy crust covered in black blisters, every pizza there looks like pizza is supposed to look, and tastes even better. — Eve Batey
826 Folsom Street at 4th Street


Honorable Mentions:
Pizzeria Avellino (2769 Lombard Street, solid New York-style slices)
Giorgio's (151 Clement Street, old-school enough that it might charm you)
Gioia Pizzeria (2240 Polk Street, definitely tops for Russian Hill, California-style)
Il Cesaro (348 Columbus Avenue, a decent take on Neapolitan in North Beach)
Ragazza (311 Divisadero, good but just not quite as good and consistent as sister spot Gialina)
Rotten City Pizza ( 6613 Hollis Street, Emeryville, for more than decent, thin-crust goodness)
Tommaso's (1042 Kearny Street, super old-school and doughy, but you just might love it)


Photo via Yelp.