Summery weather starting to get you in the mood for something icy and delicious? Perhaps you're vegan-ish or you're just trying to stick to a swimsuit diet, and you need some ideas for sweet treats that are not ice cream. Well, we have you covered.


100% Sweet Cafe
While the giant menu at 100% Sweet Cafe has a lot to offer, you'll want to go straight for the shaved ice. With the consistency of lightly fallen snow, this dairy-free dessert (make sure you request they skip the condensed milk topping) comes in a bunch of different flavors like green tea and mango (pictured above). Also, the portions are huge so you can share with a friend or just really go to town solo. — Jack Morse
2512 Clement Street near 26th Avenue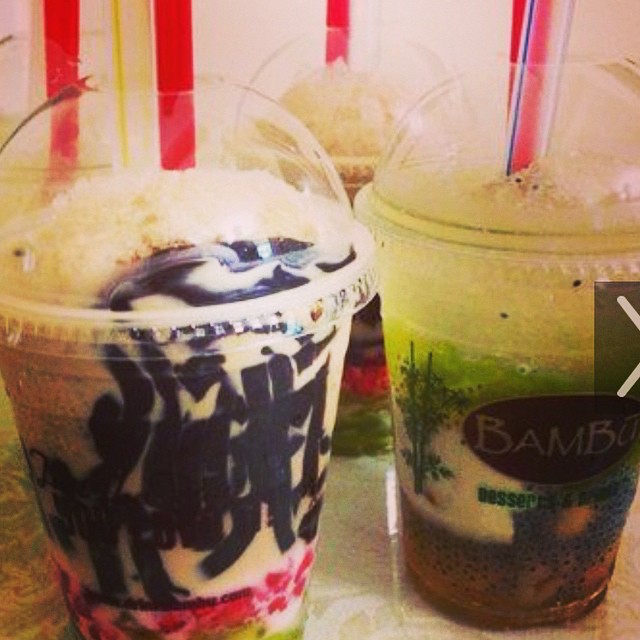 Bambu Dessert & Drinks
This Vietnamese dessert spot hits all the right notes with their sweets and ché, which are shave ice parfaits layered with things like lychee, pandan jelly, jackfruit, and even avocado. With a base of coconut water or coconut mike, Bambu also makes delicious dairy-free and gluten free puddings and desserts. With longan, red tapioca, and basil seeds, the extensive menu provides you with plenty of excuses to keep coming back for new combination. — Jack Morse
6050 Geary Boulevard at 25h Avenue



Delfina & Pizzeria Delfina
A Sicilian specialty on the sorbet/Italian ice spectrum, granita is a staple of Delfina's dessert menu, and it makes a wonderful end to any meal at this next-door sister restaurant to the Mission's Pizzeria Delfina. Offerings change frequently — today's is a cucumber-melon variety — and sometimes you'll find tarter flavors like strawberry balsamic vinegar. But don't go looking for them at the Pacific Heights pizzeria location, where they stick to gelato. —Caleb Pershan
3621 18th Street between Guerrero and Oakwood Streets



Cucumber granita with strawberry sorbet at Foreign Cinema. Photo: Yelp


Foreign Cinema
One of multiple fine, Italian or Cal-Med restaurants around town where you'll find granita on the menu this time of year, Foreign Cinema is well known for its watermelon granita in the summertime that is reason enough to drop in for dinner. Right now it's being served with a scoop of guava sorbet on top, but at other times of year you might find a refreshing cucumber version like the one pictured above. — Jay Barmann
2534 Mission Street between 21st and 22nd



Garden Creamery
Kickstarted way back in 2013, Garden Creamery's "tricked out dessert truck" has been been serving patrons at locations around the Bay Area since. Handcrafted in Northern California, their small-batch dairy-free sorbets are coconut-based and sweetened with organic agave nectar. And these aren't your standard "raspberry, mango, chocolate" sorbets, either: Flavors include Earl Grey, Orange Creamsicle, and Coconut Pandan, but my favorite is their Kona Coffee, a heady and rich concoction that goes insanely well with cream soda. — Eve Batey
Follow Garden Creamery on Twitter or Facebook to determine where they are on any given day.


Holy Gelato
See that, everyone? 12 vegan flavors! Holy Gelato is doing dairy teetotalers right in the Inner Sunset by giving out options, because one vegan choice is just tokenism. That said, who needs so many to choose from when vegan Thai tea is on the menu? —Caleb Pershan
1392 9th Avenue, between Irving and Judah Streets
Outside The Ice Cream Bar. Photo: Giovanna R./Yelp


The Ice Cream Bar
The Ice Cream Bar always has three dairy-free flavors: Chocolate sorbet, a coconut milk-almond, and a rotating fruit flavor (when contacted today, it was a delicious-sounding blackberry). Though all are great, it's the almond that's the real winner — the coconut milk gives you that fatty/creamy taste you want from ice cream, while the almonds give a salty kick and flecks of dark chocolate provide a bittersweet edge. It's complicated in all the right ways. — Eve Batey
815 Cole Street between Fredrick and Carl Streets



Merigan Sub Shop
Former A16 chef Liza Shaw's Merigan Sub Shop will hit the spot for East Coasters looking for a taste of nostalgia. Take the Italian ice: sweet shaved shards in lemon, almond, or a seasonal flavor. Syrupy but light and summery regardless of the season, it's is always a treat after, say, a chicken parm. —Caleb Pershan
636 2nd Street between Brannan and Townsend Streets




Namu Gaji
The "shave ice" as-is on Namu Gaji's dessert menu isn't exactly always dairy free, or vegan, but you can order it without the whipped cream and it'll be close! One of their version sof the popular shaved ice dessert that you'll find in Taiwan, Korea, Hawaii and elsewhere is made with Four Barrel coffee and chocolate syrup, and another version is coconut flavored ice with chocolate mint syrup and chocolate cookie piece. And both are damn good. — Jay Barmann
499 Dolores Street at 18th



Photo, with whipped cream, via Foodspotting.


Zuni Cafe
One of the staple, classic dessert items at this iconic restaurant is the espresso granita, which will come as a parfait with whipped cream if you don't ask for it without, but stands excellently well on its own. It's rich with coffee flavor and never leaves the menu for a reason. — Jay Barmann
1658 Market Street


Related: The 12 Best Bakeries In San Francisco

Image via Bambu SF.