Longtime San Francisco art lovers will surely recognize the signature artwork of local legend Jason Mecier, the kaleidoscope-portrait prodigy whose 20-year body of work includes such notables as the Big Bird portrait made of breakfast cereal, the Snoop Dogg portrait made of joints and marijuana buds, Kevin Bacon sculpted from 15 pounds of bacon and the infamous 108-square-foot junk sculpture of the Farrah Fawcett swimsuit poster. But you may not know Mecier has changed his focus to creating these portraits out of the celebrities' actual discarded trash.
Mecier's "Celebrity Junk Drawer" series continues this week with a new gallery exhibition, "Celebrity Trash," the opening reception for which is Friday night at 111 Minna Gallery. SFist caught up with the dumpster-diving designer in advance of the show, which features Pamela Anderson sculpted from the actress' own dirty laundry, Phyllis Diller crafted from the late comedian's discarded anti-itch cream containers, and other works that prove how one queen's trash is another queen's treasure.
"I just finished my Heidi Fleiss portrait made out of all her chewed up bird toys and moldy slippers," Mecier told SFist, discussing some of the works in the show. "Amy Sedaris sent me all the leftovers from her recent craft book. Amy Schumer send me a dental dam."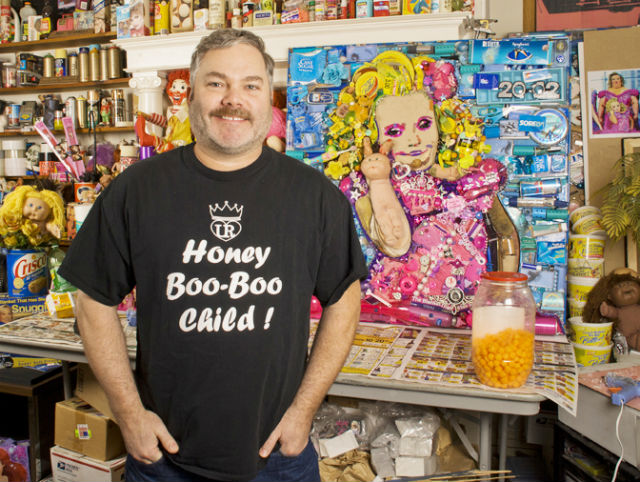 Jason Mecier with his portrait of Honey Boo-Boo
These oversize trash portraits are a combination of the donated rubbish from celebrities and other detritus that Mecier embellished the portraits with himself. "It's A mixture," Mecier said. "Most of [the portraits] the celebrity sent me things and then I added in my own collections of junk to fill them out."
Betty White with her portrait (in Red Vines) by Jason Mecier
Precisely how does one go about acquiring the garbage of the rich and famous? "The easiest, best way is if it's through a friend of a friend," Mecier told SFist. "But I also IMBD people where you can get their publicist or manager's info."
The video above shows a time-lapse of the roughly 50-hour process required to sculpt and fashion this garbage into stunningly realistic portraits. "I sort everything by size, color, and shape, and then try to put it together like a 3D jigsaw puzzle," Mecier said.
That Lindsay Lohan portrait will indeed be on display in the "Celebrity Trash" exhibit, guaranteeing that the opening night reception will make for a distinctly freaky Friday.
"Celebrity Trash" is on display now at 111 Minna Gallery, with an opening reception Friday, May 6 from 5 p.m. until "late." The reception is free and open to the public.

Previously: S.F. Artist Creates Snoop Dogg Portrait Out of Joints, Buds
Pamela Anderson by Jason Mecier