Black Bark BBQ opens for real today, and the spinoff of 1300 on Fillmore seems destined to make a splash in what was once the most BBQ-centric 'hood in town.
In recent years, the mostly quiet stretch of lower Fillmore between Geary and Eddy has gained some sudden foodinista foot traffic thanks to the openings of State Bird Provisions and The Progress, and now entering the fray — ahead of the upcoming Wise Sons Bagel — is a fast-casual barbecue spot from 1300 chef David Lawrence, who as Inside Scoop reports enlisted the help of "secret weapon" Edith Cheadle, who grew up in Kansas City and spent 20 years running a barbecue place in Dallas with her husband. Her kids live in the Bay Area and hooked her up with the London-born Lawrence, who says, "There's a taste that [Edith] brings to the barbecue that you gain over years and years and years of working with barbecue and food that I'm trying to do in a matter of months... I don't have to put in 20 years with the barbecue to have that taste."

Included among the menu offerings at Black Bark are some recipes right out of Edith's stash, including her walnut-filled sweet potato casserole, and perfectly spicy collard greens.
See it all below, and note the combo plate prices are basically on par with nearby 4505 Burgers & BBQ, though the brisket is a little less expensive by the pound.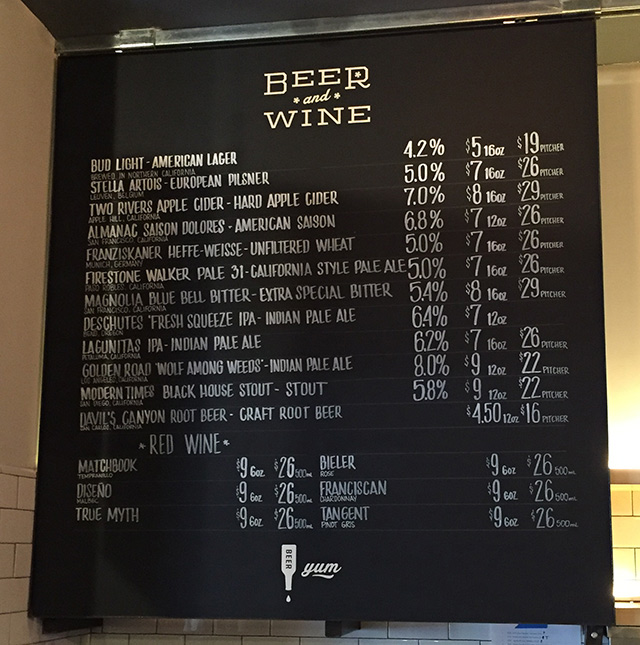 Expect some lines to form and the limited seating to get snatched up as meat lovers make a beeline for this place.

Black Bark BBQ - 1325 Fillmore Street between Eddy and Ellis - Open Wednesday to Sunday 11:30 a.m. to 10 p.m., closed Tuesdays.
Previously: Black Bark BBQ Gets New Opening Date: January 13
Photo: Jay Barmann/SFist