We know the story: You really, really love Star Wars but for some reason slept on getting those tickets and now all the showings are sold out for the foreseeable future (i.e. the next day or so). What's a true fan to do? Well, get yourself in the Jedi state of mind by visiting these Bay Area Star Wars spots, of course.
MUIR WOODS
This one is an absolute no-brainer. While not exactly the shooting location for the forest planet Endor in Star Wars: Episode VI Return of The Jedi (that was actually Redwood National Park further up the coast), the gorgeous redwood trees and forest of Muir Woods will put you right in that Ewok state of mind. But plan ahead, as Muir Woods now requires that you make reservations in advance.
PRESIDIO YODA FOUNTAIN
You know that George Lucas's company Lucasfilm is based right here in San Francisco, right? Their headquarters is located in the Presidio, and as the company is responsible for the Star Wars films, there is a special tribute outside their offices — this giant Yoda fountain.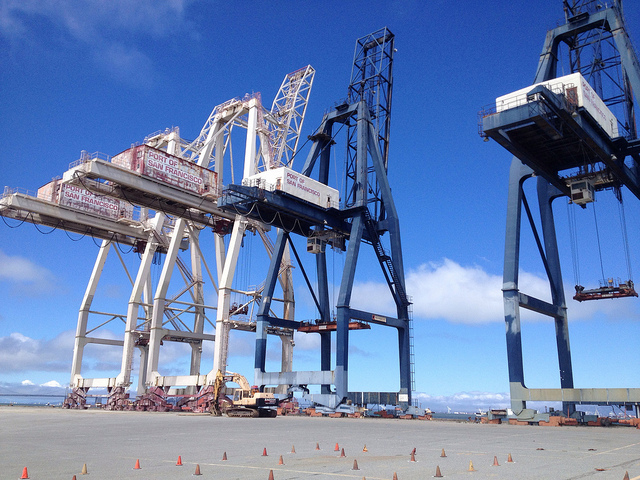 PORT OF OAKLAND CRANES
Despite George Lucas frequent protestations that the Port of Oakland cranes were not the inspiration for the AT-AT Walkers featured in Star Wars Episode V The Empire Strikes Back, there is an uncanny resemblances that is impossible to deny. The best viewing spot (other than by air or by sea) is probably Middle Harbor Shoreline Park.
Photo via Yelp.
SEVEN STARS BAR AND GRILL
After you've hiked both Muir Woods and through Middle Harbor Shoreline Park you'll probably be pretty hungry, so head to the proudly Star Wars themed bar Seven Stars Bar & Grill. It's located in San Jose, which makes it a bit of a trek from the other spots on the list, but the place is full of Star Wars memorabilia and it serves a specialty Light Saber cocktail ("3-Olives Grape Vodka, Blue Curacao, Lemon Juice and a splash of Rock Star").
Photo via Facebook.
LIGHT SABER TRAINING SCHOOL
Head to class with the San Francisco Golden Gate Knights, and really channel that inner Jedi. The group meets every Sunday from 12 p.m. to 3 p.m. (and yes, they have class this Sunday), and gives participants the opportunity to "become an expert at saber choreography, spins, flourishes and a whole lot more." The Knights hold their training classes in SoMa at 19 Heron Street, and at $10 it's a definite bargain.
WHERE TO WATCH THE ACTUAL MOVIE
When it comes time to actually watch The Force Awakens, assuming you didn't buy your tickets weeks ago, don't just see it in any old theater — Director J.J. Abrams filmed at least some of the movie using 70mm IMAX cameras, notes Wired, and as such your viewing experience will benefit from seeing it on an IMAX screen. Fortunately for us, the AMC Metreon not only has one of the largest screens in the U.S. but also has an IMAX theater equipped with 3D IMAX Laser projection. AMC Metreon, 135 Fourth St at Minna Street
If you're going for atmosphere over sheer size, you can't beat the recently opened Alamo Drafthouse on Mission Street. The opening show at the Drafthouse was The Force Awakens, so you know that the place will be full of fans. Also, with their insistence on kicking out movie goers who talk or use their phones during the film, you'll actually get to hear the dialogue on screen as opposed to the dude next to you chatting it up. Alamo Drafthouse, 2550 Mission between 21st and 22nd Streets.
Some other theaters with IMAX screens for honorable mention:
AMC Van Ness 14, 1000 Van Ness Avenue at O'Farrell Street
AMC Bay Street 16, 5614 Shellmound Street in Emeryville
Regal Hacienda Crossings, 5000 Dublin Boulevard in Dublin
Photo via Yelp.