I fell in love with Greta Gerwig the minute I saw her make a face while eating bad pizza in the horror movie The House of the Devil. Since then, I've seen almost all her movies, and even in the bad ones, she's been enjoyable. She's immensely watchable, and her performances always feel completely authentic. When she teamed up with writer and director Noah Baumbach (they're also romantically involved) for Frances Ha, it felt like a perfect melding; this century's Annie Hall. So I was eager to see their latest team-up, Mistress America.
Unfortunately, it's a misfire, and Gerwig gives her first performance that feels like a performance.
Gerwig plays 30-year-old Brooke, a New Yorker who "does everything and nothing." Tracy Fishko (Lola Kirke) is a freshman at Barnard College, and her divorced mom (Kathryn "Law and Order: Criminal Intent" Erbe!) is set to marry Brooke's widower dad. Tracy is reluctant to give her soon-to-be-step-sister a call, but after a few lonely months at school, she does, and very quickly falls under Brooke's manic spell.
Brooke is everything enviable to the naive writing student, and soon she becomes inspiration for Tracy's latest short story. Brooke lives in an apartment that's zoned commercial, is a part time singer, interior decorator, math tutor, and enthusiastic home cook. She has dreams of creating a TV show, writing short stories ("but longer"), and developing an app. But her big dream is to open a restaurant/hair salon/community hangout called Mom's, with help from her boyfriend of whom she says "he's everything I hate except I love him." Problem is, Brooke is 90% dreamer, 10% doer, and her boyfriend is soon out of the picture.
We're supposed to understand why Tracy would be so drawn to Brooke, and this is where the movie — and Gerwig — falters. Brooke is, frankly, annoying as hell, and Gerwig is never able to get her Brooke to rise above that fatal character flaw.
It also doesn't help that much of the dialogue feels stilted and mannered — like it was written to be a stage play. This style dominates the middle portion, an extended sequence with an ever-increasing number of superfluous characters that's supposed to come off as screwball and quirky, but instead grinds the movie to a halt. What had felt slightly like a stage play turns into something that feels like the dress rehearsal for a play desperately in need of a final rewrite.
Second movie based on the Hitman video game franchise. The first one came out in 2007 so basically they waited eight years before coming out with a new one in the hopes that everyone would just forgot that terrible first one. Now we all get a terrible second one to forget! Starring Rupert Friend as the Hitman, and Zachary Quinto as the man he wants to hit.
I didn't find the first one, starring Ethan Hawke, particularly scary, but the audience was screaming [Incl me — ELB] around me, so perhaps it was just me. This sequel does not star Ethan Hawke, which you'd know if you saw the first one, but does feature the return of Mr. Boogie, the demon who haunts the home that for some reason people keep moving in to. Pro tip: Never play old movies you find in the attic. It's either gonna be some homemade porn the owners left behind, or the portal to Mr. Boogie's world. Either way: Not fun.
She's Funny That Way - Metreon
Peter Bogdanovich ventures back to his screwball comedy roots, but it sounds like this one is more They All Laughed than it is What's Up, Doc?. The story centers on a Broadway director (Owen Wilson) and his hooker girlfriend (Imogen Poots), who wants to be an actress in his play, which stars his wife (Kathryn Hahn). Jennifer Aniston is also in the mix, as the hooker's therapist, in love with the playwright (Will Forte) who's also in love with the hooker.
Jess Eisenberg plays the Geena Davis role in this action comedy about a small town stoner who finds out he's actually a lethal sleeper agent — for one of America's enemies. Kirsten Stewart costars as his love interest/handler.
Before Jackass, there was Evel Knevel, the 1970's superstar daredevil who, it turns out, was a bit of a jackass in real life. This documentary delves into the man's crime-ridden adolescence, every bone breaking stunt (in which he broke every bone in his body), and the difficult man he was behind the scenes. Includes an interview with Johnny Knoxville (of course).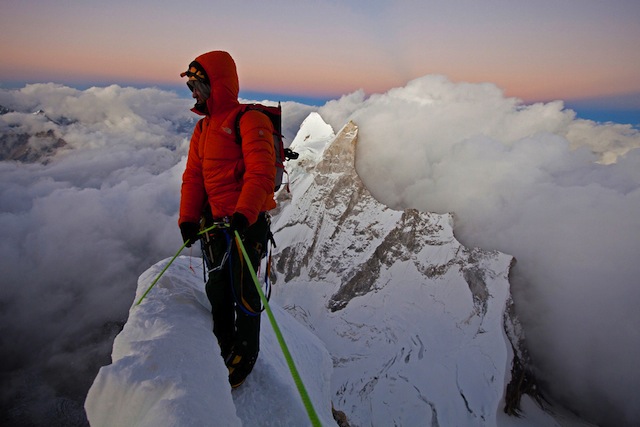 Documentary about three climbers, (Conrad Anker, Jimmy Chin, and Renan Ozturk), who set out to climb to the summit of the "Shark's Fin" on Mount Meruthe in India, three years after their first attempt disastrously failed.
Ring-a-Ding: The Movies of Frank Sinatra - Vogue
It's a Frank Sinatra film festival, presented by Jack Daniel's! After all, that was the Chairman of the Board's drink of choice. The festival kicks off tonight with a whisky tasting bar at 5:30 p.m.. followed by a showing of Ocean's Eleven at 7 p.m. All his best films will be screened (including From Here to Eternity and On the Town) as well as some of his lesser known movies (The Joker Is Wild; Suddenly). Complete schedule here.
After Words - Roxie

Marcia Gay Harden Gets Her Groove Back. Harden (or is it Gay Harden?) stars in this romantic drama about a lonely librarian facing a midlife crisis. She escapes to Costa Rica where she meets a younger man (Oscar Jaenada), and does more than teach him the Dewey Decimal System. Probably.