The Up Your Alley Fair, informally known as the Dore Alley Fair, celebrates its 30-year anniversary with this Sunday's bare-chested, manly iteration. To mark the occasion, the SF Leathermen's Discussion Group brought in noted LGBT cultural historian Dr. Gayle Rubin for a History of the Up Your Alley Fair lecture Wednesday night at the LGBT Center. SFist was onhand to get vintage flyer pictures and the full historical roundup, and Dr. Rubin's complete, two-hour lecture can be found at the bottom of this article.
The Up Your Alley Fair wasn't originally on Dore Alley, and it wasn't originally "Folsom Street Fair's dirty little brother". In fact, the two fairs were originally completely unrelated to one another. The first Folsom Street Fairs were celebrations of SoMA's neighborhood diversity whereas Up Your Alley was a celebration specifically of the gay leather community.
The Pre-Up Your Alley Era

South of Market was traditionally a gay leather hotbed, with its first leather bar The Toolbox established in 1962 (it's now a Whole Foods). At its early 80s peak, SoMA had 16 leather bars with names like The Ramrod and The Brig, 10 bathhouses and sex clubs and 8 leather retail establishments. Of these original Folsom "Miracle Mile" leather establishments, only Stompers Boots, Mr. S and Blow Buddies (NSFW, obviously) remain today. Most fell victim to the "urban renewal" push of the early 1980s and City Hall harassment over fears of the spread of AIDS.
Up Your Alley was founded in by International Mr. Leather 1985 Patrick Toner and Jerry Vallaire specifically as a fundraiser for charities benefiting the increasingly persecuted gay and AIDS communities.
1985: First Up Your Alley Fair

Image: Torbakhopper
The first Up Your Alley Fair was held on August 25, 1985. It was technically called Up Your Alley, but was more commonly referred to as the "Ringold Alley Fair" or the "Leather Block Party". Billed as a "block party and t-dance", the fair took place on Ringold Alley, known as a notorious late-night cruising spot. "There were a lot of blowjobs on the alcoves of the alley," Dr. Rubin said, noting that vans operated as fully equipped S&M dungeons. "The street became an outdoor late night sex carnival." Up Your Alley brought these activities into the daylight for one day.
An event planned specifically in response to the AIDS crisis, Up Your Alley's first beneficiaries were the SF AIDS Fund, the Gay Games and Community United Against Violence. It was essentially a daytime outdoor cruising party and beer bust with kissing booths, pie-throwing contests and "dunk-a-hunk" booths being operated to benefit those charity causes.
1986: Conflict in the Community

Here we see a poster from the 1986 Up Your Alley Fair, also on Ringold. The second Up Your Alley was slightly more gender inclusive. "There were women," Dr. Rubin said. "I was one of them."
At the time, Up Your Alley had a strict policy of no independent vending or craft booths. All booths were run by the Fair or by the Sisters of Perpetual Indulgence. "One could throw a pie or dunk a hunk, but you couldn't buy a cockring," Dr. Rubin pointed out. Local artist Scott Taylor did a performance art piece in protest of Prop. 64, a Lyndon LaRouche-backed ballot measure that would have effectively quarantined the HIV-positive. Taylor mummified himself and his friends chained him to a fence and put a "Quarantine" sign on him. Furious that someone was attempting an unsanctioned Fair attraction, Toner demanded the performers leave and even threatened to have them removed by police.
1987: Up Your Alley moves to Dore Alley

For reasons that are uncertain, Up You Alley had to leave Ringold for the 1987 event. "I'm told it was a protest by the residents," Dr. Rubin said. The fair took on the Dore Alley location where it still remains today.
1990: Folsom and Up Your Alley Converge

Image: Joe Kukura
By 1990, Toner and other event organizers were being lost to the rampant AIDS epidemic (Toner died in 1993). With a serious loss in leadership, both fairs were merged into the same non-profit management structure called SMMILE (South of Market Merchants and Individuals Lifestyle Events). This is when Up Your Alley came of age as a "warm-up event" for Folsom, one which drew fewer tourists and remained a niche event for the gay leather community.
In 1991, independent leather vendors were allowed for the first time. "It was then, I think, that Up Your Alley finally assumed the character it maintains to this day, which is the Folsom fair's easygoing local sibling," Dr. Rubin said, calling it "a temporary leather takeover of its old [SoMA] heartland."
1995-Present: SoMA Gentrification Backlash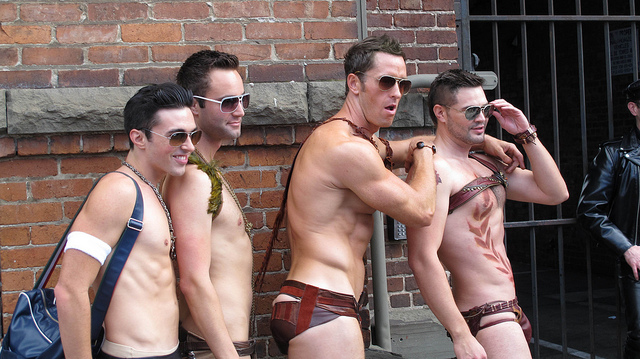 Image: Ed Biernan
The fair had a near death experience in the mid-1990s, but expanded its paid staff and promotions. The new non-volunteer arrangement allowed Up Your Alley to enjoy a growth trajectory even as the SoMA leather scene declined. "The leather communities needed these fairs so much so that they kept them going and continually revitalized them, and kept them their own in ways the founders would have understood even if they never would have anticipated," Dr. Rubin said. "On those days, the streets of South of Market belong to the leather folk."
In 2003, SMMILE reincorporated as the Folsom Street Events organization that it still is today. In 2008, I did an NFSW photoset for SFist that got picked up by Fleshbot. This was a big deal at the time! Brock Keeling and I were high-fiving each other all week.
In its dirty 30-year lifespan, the Up Your Alley Fair has always been a smaller niche event, more local and named after obscure little alleys instead of a major street like Folsom. "If you know about it, you know about it," said Folsom Street Events executive director Demitri Moshoyannis. "If not, we don't know what you're talking about."
The 30th Up Your Alley Fair is this Sunday, July 26 from 11 a.m.-6:30 p.m. on Dore Alley between Howard and Folsom. Dr. Gayle Rubin's lecture "Up Your Alley Fair: History and Transitions" is presented in its entirety below courtesy the SF Leathermen's Discussion Group.
Image: Folsom Street Events