The former Dimond Bowl, a long-ago eight-lane bowling alley that hasn't been in use for bowling since the 1970s or 80s, is up for sale, and it's kind of an amazing space. For the past three decades it has been something called Dimond Printers which one local resident called "the creepiest ghost business in all of East Oakland" because "never in 30 years of living in the Dimond District did I see any person (client or employee) enter or leave this business."
It's located at 3525 Fruitvale Avenue, which is up near MacArthur and the 580 freeway, in/near the Dimond District, but nowhere near the Fruitvale BART station.
As Estately tells us, the 7,680-square-foot property, which has offices on the second floor that could be turned into a residence, is listed for $850,000. And so far nobody's biting, because it's been on the market now over a month.
A lot of the original bowling lane floors are still in there, and despite what that neighbor said above, it does look like it was some sort of functioning print operation somewhat recently, with big printing presses and lots of paper.
The upstairs offices are totally trapped in the 80s.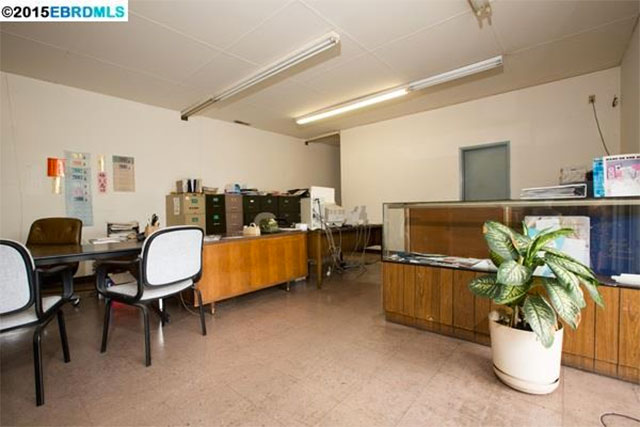 Sure, it's adjacent to East Oakland, but this could be a very cool destination club of some kind. The hip kids would lose their minds. Who's in?
Update: A tipster tells us that the property is in fact in contract, with a sale pending.