Popular Marina pub Liverpool Lil's (2942 Lyon at Lombard) was hit with a two-alarm fire this morning which as far as we know is still ongoing. A tipster sent in the above and below photos, and Bay City News reports that the fire was not yet extinguished as of 8 a.m.
The blaze was first reported at 7:30 a.m. and a second alarm was called at 7:48. It's unclear if the restaurant itself is the location of the fire, or a space upstairs.
Liverpool Lil's has been at this location, overlooking the Presidio, since 1973.
We'll update you as we learn more about the status of the fire, and any damage.
Update: Bay City News and NBC Bay Area report that the restaurant did sustain some smoke and water damage, and holes had to be punched in the roof to help extinguish the blaze. Assistant Fire Chief Kevin Burke says the restaurant will be "out for a while," and that the fire started somewhere in the rear of the building and extended into the walls and attic. The building next door was also damaged. It's still unclear if anyone was in the restaurant at the time of the blaze.
Update 2: The Liverpool Lil's team says via Facebook that "some damage has been sustained," and "Due to these damages LiL's will have to be closed for a short time."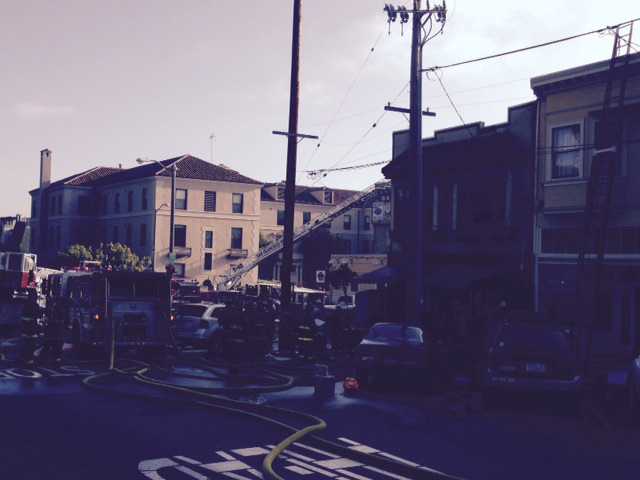 A view from Lyon Street. Photo: Toby Jackson