Ever since Diego Rivera first took a brush to our fair city's walls in the 1930s, San Francisco has served as a global hot spot for for outdoor public art. Here we take a stroll through the outdoor art gallery that is the City and County of San Francisco, highlighting what we at SFist consider our finest and most fabulous street art works. And if you feel this list has omissions, inaccuracies or criticisms that you would criticize, you know exactly what to do down in the Comments section.
(NOTE: For purposes of contemporary accuracy, this list does not include seasonal works, temporary installations, ephemeral graffiti or Banksy pieces. These may be covered in a future list.)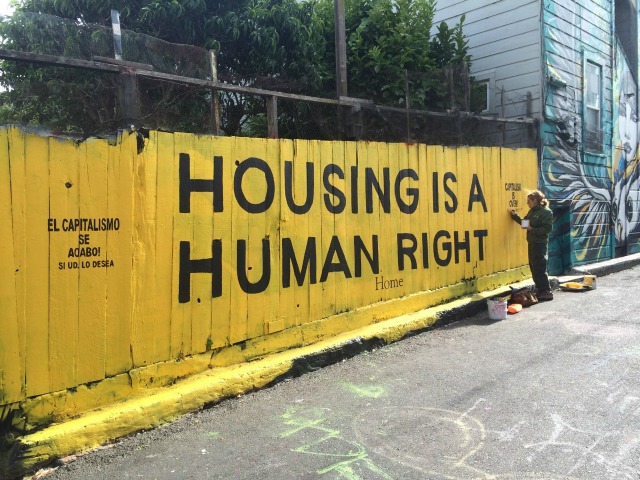 Clarion Alley Mural Project (Clarion between Mission-Valencia)
Since 1992, the Clarion Alley Mural Project has been visually voicing artists' objections to SF gentrification (we thought it was bad in the 90s!) with a regularly-refreshed batch of nearly 50 murals on the tiny alley's walls. Some murals are even found on the street itself. Each year, the Clarion Alley Mural Project hosts a block party/mural unveiling event, with this year's event scheduled for Saturday, October 17, 2015. But fair warning — do not visit the Clarion Alley Mural Project if you are easily offended by messages of bombing the condos, fucking the yuppies or accelerating taxation on the wealthy.
Women's Building mural detail, Photo: Joe Kukura

The Women's Building Mural (Lapidge @ 18th St,)
Who among does not consider the women depicted atop the Women's Building mural as personal maternal figures? The mural is called MaestraPeace and it's been delivering that feeling to San Franciscans since 1994.
Photo: @lovingsfdotcom via Twitter


Yoda Heart at Union Square (Geary @ Powell)
Did you even know there's a Yoda heart up at Union Square? I know, you're way too cool to ever go there. It's my favorite heart sculpture ever, though I can't escape the feeling that it's a Disney-backed promotion for the next three shitty sequels.
Photo: Ricardo Bernandes


The Art of Rigo 23
How many times has the One Tree painting (Harrison & 6th) farewelled you off before a trip down south? Or the Innercity Home painting (Clementina @ 6th) welcomed you back from a vacation? These artisitic variations on the old one-way sign are concocted by Rigo 23, a Bay Area public art treasure for more than 30 years.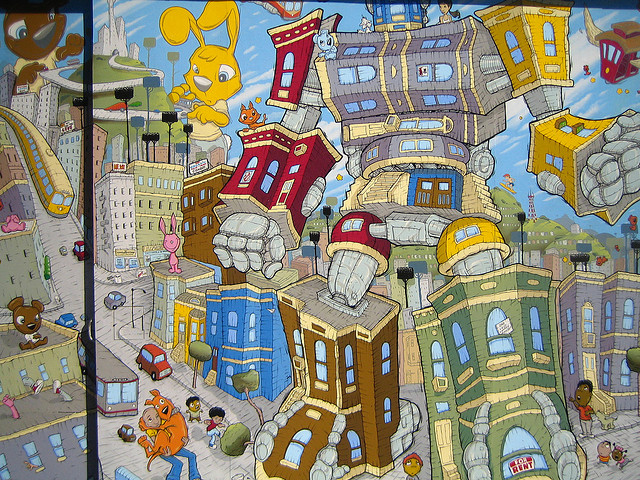 Photo: Rick


The Art of Sirron Norris
Maybe it's because I'm more hipster than James Franco in Dolores Park creating an Indiegogo campaign on his smartwatch, but I love the vibrant, comical work of Sirron Norris seen at spots all over town.
Photo: DavityDave


The White Walls Project in the Tenderloin
The White Walls and Shooting Gallery has been bring an array of outstanding outdoor murals to the Tenderloin since the early 2000s.
Photo: Phil Whitehouse


Balmy Alley (Balmy between 24th - 25th Sts.)
The original 'mural alley', Balmy Alley is a maintained outdoor mural gallery instrumental in the outdoor art movement.
Photo: Joe Kukura


Superheroes Mural (Mission @ 19th St.)
It's juvenile, patriarchal and probably done by white people, but the 'superheroes' mural at Mission & 18th remains a favorite since its painting in 2009.
Photo: Joe Kukura


Christmas Light Bulb Balls (Haight at Fillmore)
These things are the greatest, as is the angel atop the corner building.
Photo: Joe Kukura


The Bronze Chairs at Church & Duboce (Church at Duboce)
They may not be particularly pretty or comfy, but goddamn they serve a purpose for N-Judah riders and our transient population!
Photo: kke27


Yerba Buena Gardens (Mission @ 5th St.)
This guy! He and other public pieces are on display at the Yerba Buena Gardens outdoor park between the Yerba Buena Center and the Metreon.
Photo: Joe Kukura


Market Street Railway Mural (Church @ 15th St.)
One of many fine Mona Caron murals in San Francisco, the Market Street Railway Mural is a time-traveling trip depicting Wobblies and longshoremen getting their asses kicked by cops, Sisters of Perpetual Indulgence, the Extra Action Marching Band and something we hope someday exists in the future called Cellspace #13.

Honorable Mentions: Duboce Bikeway Mural, Upper Playground's Fifty24SF Art Gallery Exterior, The Precita Eyes building, the rainbow crosswalks in the Castro, the side of Beauty Bar, Duboce Bikeway Mural, The Diego Rivera Mural at City College, Bethany Center Building, and, of course, The Bay Lights which won't return until next year.

Clarion Alley Mural Project, photo credit Christopher Statton