Anyone who eats food in SF knows that the sandwich holds a sacred place in the pantheon of great things that people endlessly gush, tweet, and blog about year after year. Because sandwiches are typically cheap, and certainly not created equal, there is a democratic uproar anytime you start debating who has the best meatball sandwich, or pastrami sandwich, or fried chicken sandwich, or you name it.
And there's a certain sandwich specialist in the Bay Area whose name rhymes with Spike's who has garnered enough TV and web attention to warrant a full-scale backlash concerning just how great their sandwiches actually are. Without getting too deep into that debate, let's just say that San Francisco proper - let alone the greater Bay Area, which is being excluded for this list just for the sake of focus - has such a huge variety of superior sandwiches that we thought it would be important to focus on the places we truly love, that we can with all our hearts say are not overrated. With that, we bring you this pretty comprehensive list of 30, in alphabetical order, that will no doubt spark outrage because we left your favorite out.

4505 Burgers & BBQ
One complaint about the newish 4505 outpost on "Divisalencia" is that their delicious, heavily smoked brisket can run out. Well, I hate to say it, but that's because it's really good and people like it a lot. I recommend the brisket in sandwich form, tempered with some slaw and, as pictured, a hunk of fried frankaroni on the side (that's deep fried mac and cheese with hot dog). I'd also be remiss not to mention that 4505 Meats does an incredible maple bacon breakfast sandwich at their farmer's market stand on weekends at the Ferry Building plaza. It's more of a breakfast burger, but it's easier to justify a "sandwich" in the morning. Also, vegetarians should take note of the grits and egg sandwich with roasted green chile peppers: it's nothing to scoff at, either.
-- Caleb Pershan
705 Divisadero Street between Grove and Fulton Streets
photo credit: xelipe
Adam's Grub Truck
Considering the number of gonzoed-out fusion trucks in the city, we think it's worth highlighting one that does it right. Adam's Grub Truck isn't afraid to go big, and messy, with their creations — think fried chicken and pulled pork AND a runny egg, topped with a spicy-laced slaw and served on brioche (a.k.a. The Double Dragon) — but flavors remain balanced, and the overall effect is as delicious as it is decadent. We'd say to stick with the sandwiches, and add avocado wasabi to everything. And yes, $17 is a lot for a sandwich, but a sandwich featuring two fried soft shell crabs and bacon (called, yes, the Kraken) is something that you should treat yourself to at least once. -- Lauren Sloss
Check their site for locations, and find them at SOMA StrEat Food.

American Grilled Cheese Kitchen
Fontina and gruyere cheeses, roasted wild mushrooms, roasted potatoes, melted leeks, caramelized onions, and savory thyme butter on levain make for a standout grilled cheese sandwich that might well represent the comfort-food goodness of American Grilled Cheese Kitchen. Of course, there's a wonderful Cubano, too, and lots of grilled cheese variations they're playing with (with one that includes mac and cheese). Everything comes with a refreshing orange as well. If a grilled cheese is your kind of lunch, then this is your kind of lunch spot. -- Caleb Pershan
1 S Park Street at 2nd Street and 2400 Harrison Street at 20th Street
Photo: Lauren Sloss


Arguello Supermarket
A turkey sandwich can be so dull if done wrong. But when done right, it's a revelation — like the version at Arguello. Whole turkeys are roasted on a rotisserie, resulting in juicy, tender, well-salted meat. The sandwiches feature perfectly layered dark and white meat; we like ours with the works on Dutch Crunch bread, plus pepper jack and avocado. -- Lauren Sloss
782 Arguello Boulevard, between McAllister and Golden Gate
The Cubano. Photo courtesy of Bacon Bacon


Bacon Bacon
The bacon purveyors of Bacon Bacon famously had to temporarily close their Cole Valley brick-and-mortar shop after a couple of neighbors complained about the persistent bacon aroma, garnering them national news attention. But all that hubbub aside, this is the place to go for a very solid BLT — here called the LGBT with the addition of goat cheese — a great bacon fried chicken sandwich with bacon mayo, and a mean, bacon-enhanced Cubano sandwich, which is pictured above. -- Jay Barmann
205A Frederick Street and various truck locations
photo credit: Bi Rite


Bi-Rite Market
It should be no surprise that the city's best gourmet grocery slings some truly excellent sandwiches, too; every ingredient is top-notch, and are combined in delicious sandwich style. We love 'em all, from the banh mi-style roast pork with pickled vegetables and lemon aioli, to the Vegan Hippie, featuring fried sweet potato and avocado on Josey Baker Seed Feast bread. But we really can't get enough of the deceptively simple grilled chicken — it's layered with balsamic onions and provolone on Acme focaccia for a salty-sweet-addictive combo. -- Lauren Sloss
3639 18th Street, Between Guerrero and Oakwood, or 550 Divisadero Street, Between Hayes and Fell
The Danny Zuko sandwich. Photo: Caleb Pershan


Bite Me Sandwiches
We're going to make a bold claim here. Who needs Ike's when there's Bite Me Sandwiches? Yeah, that's right. We'll take Bite Me over Ike's any day of the week. Why? They have the killer combinations, the garlicky sauce, the perfectly soft sub-style bread. And there's no massive line. And they're cheaper. Need we go on? No, but we will — you can go extreme with toppings like nacho cheese chips, but we dig more classic combos like the Danny Zuko (house-roasted turkey, bacon, avocado, jalapenos, and Swiss), plus mustard on Dutch Crunch. -- Lauren Sloss
2797 16th Street, Between Folsom and Harrison
The roast beef. Photo courtesy of Darwin Cafe


Darwin Cafe
We've never met a sandwich at this pocket-sized SOMA cafe that we haven't liked. What's so good? The ingredients are top notch, the flavors perfectly balanced, and, oh yeah, they're stacked. The menu changes biweekly, but we're particularly fond of the roast beef (currently served with gruyere, gremolata, celery root remoulade, and sweet onion) and anything involving pastrami. A nice little bonus — their seasonal side salads are always excellent (and almost always involve cheese). Oh, and they've got a Dungeness crab melt with white cheddar and jalapeno on the menu right now. You're welcome. -- Lauren Sloss
212 Ritch Street, Between Bryant and Brannan
The Brett breakfast sandwich. Photo: Niall Kennedy


Deli Board
The big, honking sandwiches at this five-year-old spot in SoMa come with the East Coast lineage of owner Adam Mesnick. You'll find original creations like the meaty Mr. Adams, the Diego (turkey, bacon, cream cheese, American cheese, cherry peppers, sprouts, and Board sauce), and The Brett breakfast sandwich (hash browns, fried egg, american cheese, cole slaw, Board sauce, and bacon on Dutch crunch), and you will probably end up saving half for later, unless you're just that kind of big-eatin' dude. --Jay Barmann
1058 Folsom Street near 6th
Photo: Google Plus


Duc Loi
The best banh mi claim is a tough one in this city. We love Saigon Sandwiches, and even the fancified versions from Bun Mee, but these days, our banh mi of choice comes from Duc Loi Market in the Mission. In part, it's the variety — the classic pork filled version is great, but the staggeringly-filled fried chicken and even the meaty fried tofu versions (with mushrooms and avocado, please!) are equally delicious, if not better. Duc Loi's nice selection of local beers doesn't hurt things either; nothing beats a great banh mi and a local brew, after all. Or a tall boy of Tecate. -- Lauren Sloss
2200 Mission Street, at 18th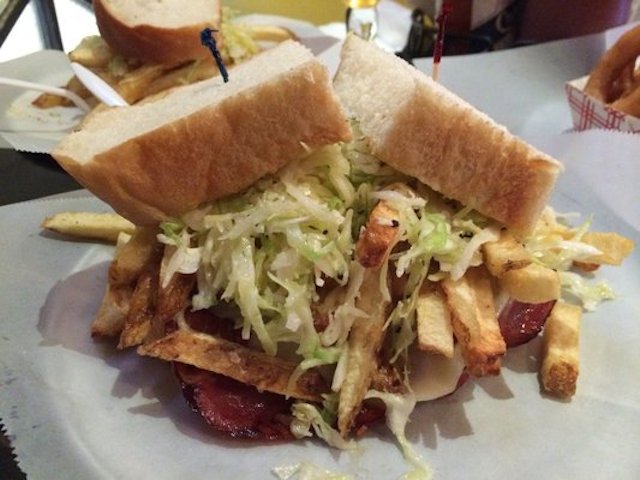 A hot cappicola all-in-one sandwich from Giordano Bros. Adele F. via Yelp


Giordano Bros.
It's difficult for me to talk about Giordano Bros. because my mouth is usually full of one of their all-in-one sandwiches. As they put it, tired of questions and requests, "Yes, our fries and slaw are IN the sandwich, and yes, it is amazing." I'll frequently have the double egg option for breakfast, and recommend the hot cappicola (delicious, spicy dry-cured pork) for any other meal. If you'd like an added kick, request some of that wing sauce right on the sandwich (that's where everything goes, after all). Yes, they are from Pittsburgh, and yes, they do know who Primanti Bros. are (they've got a sign so you won't ask.) -- Caleb Pershan
303 Columbus Avenue between Broadway and Vallejo Streets, and 3108 16th Street
between Valencia and Guerrero Streets
Caleb Pershan: HRD's Fried Oyster Po' Bo


HRD Coffeeshop
HRD, known far and wide for Korean fusion burritos, also deserve a shoutout for their equally impressive Po' Boys. With plenty of this "Coffeeshop's" signature kimchi and sauces topped off with fresh-daily fried oysters that dissolve in a bite, I'd just as soon get a sandwich at HRD. Though I'm highlighting the oysters, crispy fried chicken and shrimp katsu are a similarly delightful, crunchy mouthful. And don't forget about the Mongolian cheesesteak that graces the menu, because I won't any time soon. -- Caleb Pershan
521A 3rd Street between Taber Alley and Park Avenue

Ironside
This ballpark-adjacent "West Coast BBQ" spot may have some solid ribs, but they make a seriously awesome pressed Cubano sandwich that's kept loyal fans circling back here for the last half decade. It's perfectly toasted, melty, and smoky with excellent Cuban BBQ pork and ham, and topped with gruyere, chipotle aioli, and pickles. And it will rival any Cubano you might find between here or Miami's Little Cuba. --Jay Barmann
680A 2nd Street at Townsend
The fried chicken sandwich. Photo courtesy of Hi Tops.


Hi Tops
Though Bakesale Betty in Oakland lays claim to the rise of the fried chicken sandwich with spicy slaw, now available in dozens of versions across the region, Hi Tops consulting chef Jamie Lauren's darkly fried version with sweet slaw and a soft, eggy brioche bun is a particularly good one. Always seasoned and fried well, with juicy chicken breast and plenty of aioli, it's a soft-crunchy and delicious accompaniment to a pitcher of beer and the televised sporting event of your choice at this Castro sports bar. Honorable mentions here go to their buttery grilled cheese (bacon optional), the Dr. Pepper-braised pulled pork sandwich, and the well seasoned ahi tuna "burger" that tastes remarkably like a McDonald's Filet-o-Fish without being fried. --Jay Barmann
2247 Market Street between Sanchez and Noe
A pulled pork torta from La Torta Gorda. Photo: Caleb Pershan


La Torta Gorda
We may be a burrito town, but that doesn't mean that we don't have ample room in our hearts (and bellies) for the glorious monster Mexican sandwich known as the torta. La Torta Gorda does them best, in part, because they're not afraid to go big really big. The massive sandwiches all include refried beans, avocado, queso fresco, onions, mayo, and a chile of choice; as for meat, we're partial to the carnitas, but have been known to dabble in the crispy-fried milanesa. And chorizo and egg. And the pulled pork. And the mega Cubana when we're feeling rowdy. Okay, we love them all. -- Lauren Sloss
2833 24th Street, Between Bryant and York
Little Vietnam's Banh Mi Chay Jen B/Yelp


Little Vietnam Cafe
I know a guy who only ate Little Vietnam's various banh mi (multiple pork and chicken treatments, cold cuts, tofu) for lunch and dinner for about a month, like Jared but a zillion times cooler. Unlike Jared, this guy didn't need to drop any weight, he just loved their sandwiches so much he couldn't make himself eat anything else. While we don't all have that guy's singular focus, I will say that I could eat their banh mi chay at least once a week and be fine with it (especially because at publication time it only costs $3.25. This is not a typo). It's still-warm from toasting French bread stuffed with pickled carrots and radishes, cucumber, jalapeños, marinated and fried tofu that actually tastes good (and not "vegetarian" good, but good good), cilantro, and their delicious secret sauce. The sandwich is the perfect size, enough to fill you up but not so huge that you're done for the day. And if you're a hot sauce fan, grab some from the front counter — the unconfirmed rumor is that it's an old family recipe, I just know it's amazing. -- Eve Batey
309 6th Ave between Clement Street and Geary Boulevard
A turkey with avocado on Dutch Crunch from Lou's. Photo: AntoineLouella Ortaliz/Google Plus


Lou's Cafe
Surely I am not the only person who wants breakfast any time of day? And yet, so many places cruelly cut patrons off from breakfast burritos, sandwiches, and other all-hours-appropriate foods long before many of us are ready to venture out of the house. But not at Lou's, where from 8 a.m. to 7 p.m., 6 days a week (they close on Sundays) you can get any of their five breakfast sandwiches containing ingredients like southwest omelettes and corned beef hash. While mixing it up is always encouraged, their Original Breakfast Sandwich is the "original" for a reason: bacon, ham, or both, a hash brown patty, American cheese, egg, and Lou's special sauce, all on a ciabatta roll. When I go, I swap the American for cheddar (they also have provolone, Swiss, Monterey Jack, and pepper jack) and skip the meat, but that's just me. This isn't a breakfast-only sandwich, this is an all-day treat. Oh, and their other sandwich selection is pretty great too. -- Eve Batey
5017 Geary Boulevard at 14th Avenue
Photo: Joey DeRuy


Mario's Bohemian Cigar Store Cafe
Some of the most fantastic sandwiches you will find in the entire city are at this unassuming little cafe, which also boasts that it was one of the first spots to serve a proper espresso in the city. They're one of the only businesses with a vendor relationship with famed Liguria Bakery across Washington Square Park, and with Liguria's fresh focaccia they make delicious, drool-worthy meatball and sausage sandwiches that are the stuff food dreams are made of. Find your way there on a rainy lunch break, and you'll wonder how you never made it there before (assuming you haven't already, many times). -- Jay Barmann
566 Columbus Avenue at Union
The chicken parm. Photo: Jay Barmann


Merigan Sub Shop
Newly open in SoMa as of 2013, this sandwich shop from former A16 chef Liza Shaw specializes in East Coast-style subs and hoagies. You've got your well toasted and cheesy chicken parm, its vegetarian cousin the eggplant parm, as well as a solid cheesesteak, a great meatball sub, and better-than-average vegetarian options like the panelle, with ceci bean fritters, fresh ricotta, olive salad, tomato conserva, and arugula. These subs are a little pricy, starting at $10-$12, but the ingredients are high-end, and this is SoMa, after all.--Jay Barmann
636 2nd Street near Brannan
photo credit: justinkellerislame


Molinari Delicatessen
There is no better Italian deli in town than Molinari (and we'd go so far as to put it head-to-head with New York's finest). The best sandwiches feature ample piles of Molinari salami, from the North Beach Special featuring prosciutto and provolone to the Italian Combo, a gorgeous pile of all of the meats (ever). Our favorite, though, is the Renzo Special, a gorgeous combination of melty prosciutto, spicy coppa, milky fresh mozzarella, and tender, sweet sundried tomatoes. You get your pick of bread, too; we recommend the ciabatta (all the better to soak up the olive oil). -- Lauren Sloss
373 Columbus Avenue at Vallejo
photo credit: stu_spivack


Pal's Takeaway
The unassuming sandwich counter tucked in the back of Tony's Market on 24th is a clever front for the magical, mystery sandwich madness happening within. Each creation showcases local ingredients prepared in ways that defy any and all between bread expectations. The menu changes constantly, but recent gems include a cider-braised pork with cannellini beans, smoked trout with pickled cucumber and avocado, and a killer vegetable and egg combination on Josey Baker Bread. If Auntie Malay's Lao sausage sandwich is on the menu, do not hesitate. -- Lauren Sloss
2751 24th Street at Hampshire
Rhea's Pork Katsu Sandwich: Cin T. via Yelp


Rhea's Deli & Market
Rhea's beloved Korean steak sandwich be damned, I find the pork katsu to be a much more fulfilling (if slightly less filling) lunch. That's because that aforementioned "king" of the menu, the deli's most popular item, is almost too big to be comfortably edible, with its flavors extending in all directions, too. By contrast (and only by contrast) the quite big katsu is more modest: a textural delight, flattened and crispy, and served with refreshing slaw, pickled red onions, jalapenos, and a nice, spicy aioli all for just over $8. Rhea's (pronounced Rays, at least according to the market's twitter handle) can get a little backed up, so its worth calling ahead and picking up. And look, if you're that attached to the Korean steak option, just get both! -- Caleb Pershan
800 Valencia Street at 19th Street
photo credit: pyrogenic


Roli Roti
Before food trucks were a dime a dozen in this town, there was Roli Roti holding court at the Ferry Building farmers market. The gleaming rotisserie chickens are noteworthy, but their porchetta sandwich — a life-altering strata of meat, fat, and crackling skin - is worth the line, the early mornings, the hunger-induced crankiness. Served on airy, warm Acme bread with a sprinkling of bracing arugula, it's good enough to tempt you into buying a whole, $250 porchetta roll (that ostensibly serves 40-50 yeah right, like you're sharing it).-- Lauren Sloss
Thursdays and Saturdays at the Ferry Building Farmers Market, 1 Ferry Building, see other locations here.
"World Famous Sandwiches" (Photo: shellEProductions)


Roxie Food Center
Every sandwich at this Mission Terrace deli/corner store/sandwich mecca is fantastic, but in a city where most sandwich makers seem confused by the concept of a hot veggie sub, Roxie offers a unique melty delight. You've got about eight bread choices, tons of veggie options (everything from traditional picks like lettuce and pepperoncini to... bean salad?), and at least six cheeses that they'll melt to near liquid form. Sandwiches come in three sizes: junior, regular, and supreme (a junior is too big for me to hold in one hand), so you're guaranteed not to go hungry. The service is swift, friendly, efficient, and flawless, no matter how many weird requests you might have, and while you wait you can shop their wide variety of drinks and chips or talk to the counter guys about local sports teams, the weather, Muni, or gentrification with equal alacrity. -- Eve Batey
1901 San Jose Ave, between Havelock Street and Santa Ynez Avenue (there's a Roxie in the Inner Sunset, too, but it's not remotely as good)
photo credit: Rye Project


Rye Project
Nailing the simple meat-and-bread combination is no easy task; without cheese and toppings to distract the senses, there's no room for error. Rye Project accomplishes this, and how — their pastrami and corned beef both will send you straight to Jewish deli heaven, all on a pillowy cloud of rye bread. Neither need more than a healthy dose of spicy Cleveland mustard, but should you feel the need to combine meats, add cheese, etc. you won't be disappointed. -- Lauren Sloss
180 7th Street, Between Natoma and Howard
Juan Gutierrez, The Sandwich Place


The Sandwich Place
This locally beloved sandwich joint near 16th Street BART is the work of Juan Gutierrez, who according to the SFBG, opened his store back in 1979 at only 14 years old. His sandwiches, made on brick-oven bread in all kinds of Italian combinations, are clearly a labor of love, and the secret sauce is Gutierrez's sparkling conversation. When I asked to take his picture for this story, he nearly refused, saying "everyone here makes sandwiches." Sure, but nobody makes them like he does. -- Caleb Pershan
2029 Mission St between 16th and 17th Streets.
Photo: Jay Barmann


Saigon Sandwich
If you've ever wondered why there's a line headed into an unassuming storefront on this part of Larkin, wonder no more. Saigon Sandwich serves up some excellent and excellently cheap banh mi, with well dressed vegetables and nicely marinated pork or chicken, all for four bucks. And, in a nod to Vietnam's history as a French colony (from whence they came to love baguettes) might I suggest the addition of a little canned pate, if you're feeling fancy. --Jay Barmann
560 Larkin Street at Eddy
photo credit: raffik


The Sentinel
If the line snaking around the block isn't a good enough indication of the magical sandwiches housed within, the smell of fresh bread (with a hint of corned beef) certainly should be. Dennis Leary's cheffy sandwiches were a downtown worker's revelation back in the day, and their continued popularity speaks to the excellent ingredients, creative flavor combinations, and generous amounts of mayo. The aforementioned corned beef is classic for a reason, but you'd be remiss to stop there; the super-rare roast beef (with horseradish cream cheese!) is unreal, as is the mustard-and-chili-laced deviled egg. -- Lauren Sloss
37 New Montgomery Street at Stevenson Alley
Photo: Facebook


The Whole Beast
The amazing, whole animal rotisserie / smoking / grill work of chef John Fink can't be praised enough. This is a man who knows his meat, and his lunch options at the newly opened food hall The Hall are better than pretty much anything you'll find in mid-Market. The lamb gyro, with succulent, perfectly marinated meat and covered in housemade tzatziki sauce, fresh tomato, peppers, and cucumber is killer. As is the superior Philly cheesesteak (pictured), and the brisket sandwich, the likes of which you aren't going to find anywhere else in these 49 square miles. -- Jay Barmann
At The Hall, 1028 Market Street, between Jones and Taylor
Wise Sons Pastrami Reuben: Elaine W. via Yelp


Wise Sons Jewish Delicatessen
The pastrami Reuben, griddled with sauerkraut, Swiss cheese and Russian dressing (on rye, of course) is everything it should be at Wise Sons. That translates to pink with smoke, a little fatty, and seriously appetizing. Stop in and you'll overhear comparisons to New York and Montreal, and for what its worth I'm usually among the ones making them. But hey, I'm a sucker for the Jewish heritage, hanging right there on the wall in the form of family portraits., across from the classic deli board. One question remains: Room for chocolate babka? -- Caleb Pershan
3150 24th St between Shotwell Street and S Van Ness Avenue

Photo of the mushroom Gruyere Grilled Cheese at the American Grilled Cheese Kitchen. Photo: Caleb Pershan