Apple's biggest and most anticipated unveiling in at least two years is happening this morning in Cupertino, and news correspondents from the East Coast have been standing outside the large, mysterious white cube they have down there since before dawn, covering the pre-coverage of the event. We know that the iPhone 6 is most probably going to be part of today's product launch, but also in the mix is likely to be the iWatch, or iTime, or the wrist-worn electronic device going by some other name that geeks the world over have been breathlessly awaiting for years. Also, U2 is allegedly going to be there.
CNET has a live stream from their studios, with three people sitting around talking about this, radio-station style. It's super exciting so far.
Tech Crunch is already on the scene in Cupertino, in line with other journalists, and this is what that looks like.

Photo: Darrell Etherington/Tech Crunch
Live From Apple's iPhone Event In Cupertino http://t.co/OeCEiGw0DP by @drizzled @panzer

— TechCrunch (@TechCrunch) September 9, 2014
And here's the big white cube, under which is...something. Possibly a makeshift Apple store.
Apple's mysterious, windowless white cube up close. #AppleEvent #iPhone6 pic.twitter.com/80Ohzhn9X6

— Jordan (@iJ0rd8n) September 9, 2014
The iPhone 6 has been long rumored to come in two sizes, both larger than the last model, the 5s. As the rumors have it, those sizes will look like this:
Update, 10:15 a.m.: As widely predicted, the iPhone 6 comes in two sizes that are both bigger and thinner than the 5S, and have a Retina HD screen that's "unlike any display on a phone."
The iPhone 6 has a 4.7-inch screen and has 1 million pixels in its display, while the iPhone 6 Plus has a 5.5-inch screen and 2 million pixels in its display.
10:20: The new iPhones also feature a new chip, the A8 microprocessor, which is supposed to be 50 percent more power efficient than the chips in previous devices, according to CNET.
Below is a screenshot of the iPhone 6 taken from the live stream:
10:30: The new, larger phone has a whole new expanding OS that allows for horizontal views of iMessage, Mail, and other apps with extra shortcut buttons on the keypad, etc.
10:35: Also, there's expanded LTE service, now providing more LTE roaming coverage than other smartphone.
10:40: Both phones have fantastic new cameras with faster auto-focus, better image stabilization, advanced noise reduction, and a bunch of new bangs and whistles including a "blast selfie" function that allows multiple shots to be taken all in a "blast."
10:43: Now Tim Cook is on stage again showing off some new ads featuring Justin Timberlake and Jimmy Fallon.
10:48: Now they're getting into the widely rumored retail payment functionality, using a near-field communication (NFC) antenna. It's called Apple Pay, and they're already addressing the possibility of crime with this, showing how payments for a device can be quickly disabled.
10:56: And now it's time for "one more thing..." And it is, indeed, wearable.
11:01: Calling it "the most personal device we've ever made," introduces a bunch of super-close-up video of the watch, which maybe isn't called iWatch at all but just [apple symbol] Watch. It's pretty. It comes with colorful plastic band options, and fancy metal bands.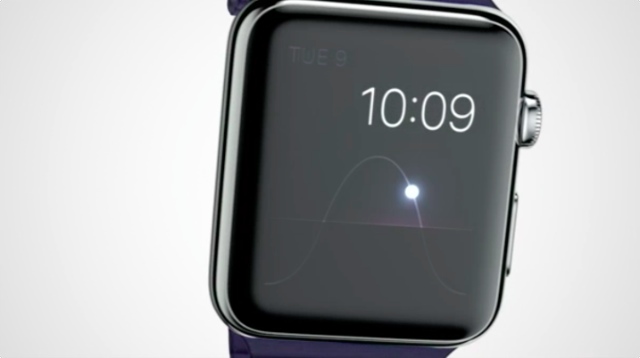 via live stream
11:03: It has a circular app-button interface, like a tiny iPhone but with all round buttons mushed together. And it's square, with rounded edges.
via live stream
11:10: As predicted, health and fitness are a big component, but so is quick texting, maps, and more. There is a inductive, wireless charger on the back, as predicted.
11:20: The watch comes in two sizes, with three options for casing materials (including "sport" and the "Edition" version that's 18K gold) and six different wristband types including leather, gold, and colorful plastic.
via Apple live stream
11:25: Big bonus: INTERACTIVE EMOJI
11:27: The watch is able to communicate with you, via GPS mapping and "subtle" vibrations of some kind, to tell you to turn left or right when mapping a route without you having to look down at it for directions. And, in the cool/potentially creepy column: You can "gently tap" a friend's wrist from thousands of miles away if that friend as an Apple Watch.
11:29: And you can "share something as personal as the beating of your heart" by tapping twice and letting the phone detect your heartbeat through your fingers.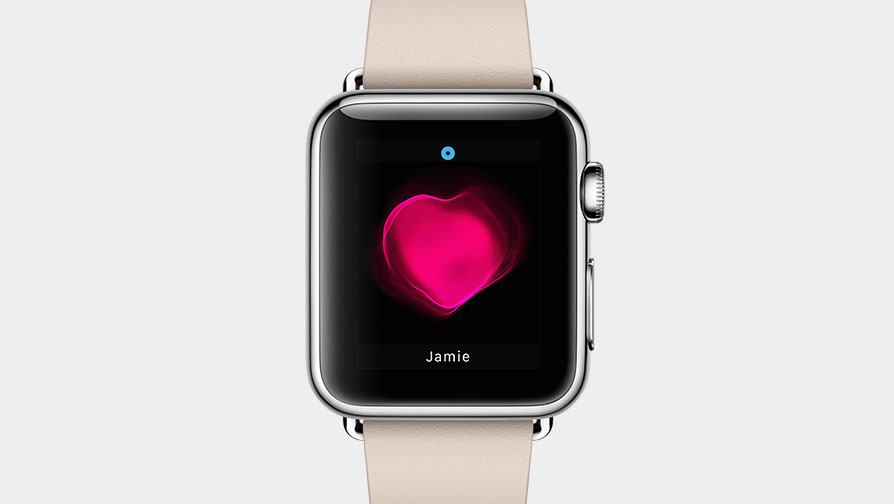 via Apple live blog
11:30: And now it's time to see some third-party apps that have already been developed, including a Starwood hotel app that lets you unlock your hotel room door, and something called CityMapper that will tell you when the next subway train is coming.
11:40: The Apple Watch promises to "change the way we look at fitness" with plenty of apps that measure workouts, calories, etc.
via Apple live blog
11:43: But DON'T RUN TO THE STORE just yet. The actual watch won't be available until "early next year," and will start at $349 for the cheapest version.
11:45: Tech writer David Pogue is already gushing. He's probably in tears right now.
I can't type fast enough to show all the stuff they're showing. But this is by FAR the richest, deepest, most elaborate smartwatch OS ever.

— David Pogue (@Pogue) September 9, 2014
So the iWatch has FOUR ways to input: Speak, touch the screen, turn the crown, press the button under the crown. Brainwaves coming in 2.0.

— David Pogue (@Pogue) September 9, 2014
11:48: And yes, Apple Pay of course be on the watch, too, so you'll never have to touch that dirty wallet of yours ever again.
Also, this is funny.
The new Apple Watch allows wearers to start and stop the flow of time http://t.co/hUbnucT7ps pic.twitter.com/o4wrqQKcSf

— The Onion (@TheOnion) September 9, 2014
11:49: And now it's time for U2. They're releasing an album today, in celebration of the iWatch? Or something. It's called Songs of Innocence. The crowd goes wild. The end.
Bono, everyone. Photo: Apple live blog
Check out more photos of the Apple Watch here.
[Apple]
[TechCrunch]
These are iPhone mockups via Macrumors.