Question: What's better than grilled cheese? Answer: Nothing. No, but really — what in this big beautiful world can possibly be better than a bread-cheese-butter combination?
Of course, that doesn't mean that all grilled cheeses are created equal. Nor must all GCs be limited to a simple bread-cheese-butter combination. We live in a city rife with brilliant, creative people, who have no qualms about adding bacon/jam/even more cheese to their skillet-fried or panini-pressed creations. Who makes the best? We conducted a highly scientific and professional study to narrow down the vast multitude of grilled cheese available in San Francisco to the top ten, plus one in Oakland for good measure. In no particular order:

photo credit: Hog Island Oyster Company
"But wait," you're thinking. "You eat oysters at Hog Island, not grilled cheese!" Wrong. You eat both oysters and grilled cheese at Hog Island! Why? Because their grilled cheese sandwich is stupid-good, featuring buttery, toasty bread, three kinds of cheese (Cowgirl Creamery's fromage blanc, Vella mezzo secco, and cave-aged Gruyere), plus house made pickles. The resulting sandwich has just the right amounts of sharp and creamy cheese flavors, and yeah, a whole lot of butter. Go ahead and balance it out with some bivalves.
1 Ferry Building, 11A, at The Embarcadero

photo credit: Eric Wolfinger
I mean, just look at that grilled cheese sandwich. This beauty features the restaurant's gorgeous bread (baked in-house, natch), sliced thick, and piled with enough creamy, heavenly cheese to balance the generous serving of carbs. This is then brushed with garlic oil and griddled crisp in a cast-iron skillet. You can pair it with a serving of seasonal soup, and should, because Outerlands grilled cheese dipped in Outerlands soup is a whole new level of grilled cheese nirvana.
4001 Judah Street

photo credit: Tartine
Seeing as bread is kind of an essential ingredient in a grilled cheese sandwich, it is unsurprising that Tartine Bakery makes some damn good ones, considering their bread is more or less the best thing ever. Also, they are not shy about using butter. There's no bad combination here, from Idiazabel (sheep's milk cheese) with quince jam to Pecorino with crushed almonds and olive oil to Zoe's pastrami with horseradish and nutty Gruyere. They're so generously sized that they're cut into three pieces, but that does not mean that you need to share it with two friends.
600 Guerrero Street
American Grilled Cheese Kitchen

photo credit: The American Grilled Cheese Kitchen
You can't go calling your restaurant the American Grilled Cheese Kitchen and serve subpar grilled cheese (or worse yet, none at all). Fortunately, AGCK delivers on all counts, serving at least nine varieties of grilled cheese goodness at all times on fresh bread from Pinkie's with all a variety of cheeses and meats and veggies (oh my!). Where to start? We love the classic Mousetrap on sourdough with cheddar, Havarti, and Monterey Jack; dig the heat (and the bacon) in the Jalapeno Popper; and sometimes just can't say no to the gut bomb that is the Mac 'n' Cheese Grilled Cheese (featuring a rotating selection of mac). But we really can't get enough of the Mushroom Gruyere, a sophisticated sandwich made with Gruyere, Havarti, 'shrooms, melted leeks, roast potatoes, caramelized onions, and thyme butter, for good measure.
1 South Park Avenue
2400 Harrison Street

photo credit: Mission Cheese
Speaking of expectation-setting restaurant names, Mission Cheese lives up to it's dairy-centric promise by making a mean selection of damn good grilled cheeses. Take your pick between blends of cheddar and apple chutney; Burrata, balsamic, and tomatoes; Gruyere with salami, mustard, and cornichon; or our personal grilled cheese fantasy, San Joaquin Gold with chevre, prosciutto, and fig preserves. Also, they're all pressed on Josey Baker Bread, which is nothing but good news around these parts.
736 Valencia Street

photo credit: Mariko Reed
When we talk about cheese here in San Francisco, we can't not talk about Cowgirl Creamery. Why? Because they make some of the best damn cheese in the Bay Area, the state, the country, the world...to say the least. They have a grilled cheese sando that changes by the week and features a wide array of interesting fillings (hello, black truffle cheese!). You can always get their open-faced cheese toasties, made with Cabot Clothbound Cheddar and served with whole-grain mustard, or the flatbread cheese melt, featuring their own Wagon Wheel cheese and apple chutney.
1 Ferry Building, 19, at The Embarcadero

photo credit: Blue Barn
Blue Barn may draw the crowds for their generously-sized salads, but who needs salads when you can eat all of the grilled cheese? With six versions on offer, you can find a grilled cheese for every taste, including the Toma, featuring Pt. Reyes Toma and chicken; the Sheep, with manchego, sopressata, and Mission fig jam; and the Provo, and oh-so-California combo with provolone, turkey, avocado, tomato, and thyme aioli.
2105 Chestnut Street
2237 Polk Street

photo credit: Bacon Bacon
Bacon on a grilled cheese sandwich is a no-brainer. But why not put two kinds of bacon on a grilled cheese sandwich? Thankfully, the good people behind the Bacon Bacon truck (and new brick-and-mortar) have done just that, combining toasty bread and melted cheese with both thick slices of smokey, salty bacon, and a healthy spread of bacon jam for good measure. We see nothing wrong with ordering a bacon bouquet, too, should you want some bacon to go with your bacon.
205 Fredrick Street; Get truck locations here.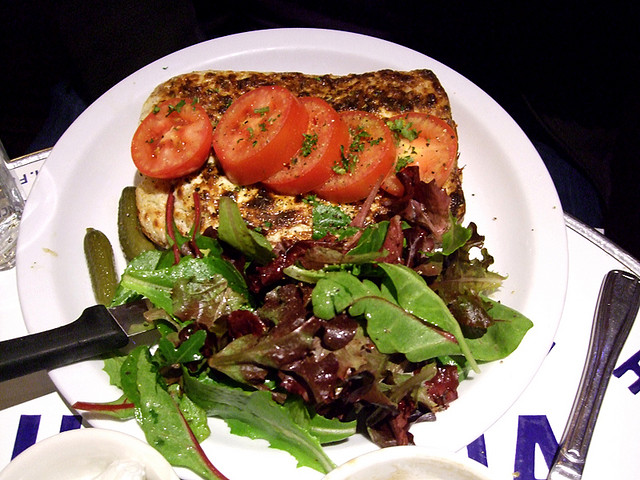 photo credit: Your Hauness
Can one classify a croque monsieur as a grilled cheese sandwich? Seeing as it's basically a French version, with the decadent addition of cream, we say yes, and how. Get thee to The Butler and the Chef for the best croques in town — the Butler combines salty-sweet Niman Ranch ham with funky emmenthal cheese, topping the whole thing with a luscious dollop of creme fraiche and more cheese, plus a sprinkling of herbs for, you know, health. Add a little of the Dijon mustard sitting on the table, and yes, you can and should use your fork and knife. And wine...c'est tres Francais, non?
155 South Park Avenue

photo credit: Hi Tops
You should never be shy about experimenting with cheese combinations when making grilled cheese. Take Hi Tops' version — their blend of smoked gouda, cheddar, gruyere, and jarlsburg is the right amount of of sharp and salty, creamy and smokey, and nutty and funky. A.K.A. all kinds of awesome. The blend is paired with the sweet kick of dried fruit chutney, and bacon, should you so desire (yes). You could make a comment about the rad gay sports bar making a fruity grilled cheese, but then we'd just smack you and steal your sandwich for ourselves.
2247 Market Street

photo credit: Bar Dogwood
We're shocked that more people haven't landed on the brilliance of a whiskey-grilled cheese combination. Thank goodness for Bar Dogwood in Uptown Oakland, a sexy little cocktail joint with charcuterie and cheese on offer, and some truly delicious grilled cheese blends to help soak up the brown stuff (while making for a mean pairing, too). The grilled cheese starts with levain, sharp cheddar, and Bellefiore mozzarella; from there, it's a choose-your-own-adventure experience. Choices include tomato jam, truffle oil, coppa, salami, pepperocinis, and the pocket ace of the bunch — a whiskey bacon chutney.
1644 Telegraph Avenue, Oakland