There was a protest outside the Prison of Love party on Saturday at the Kink.com Armory, with about 150 protesters who—though mostly peaceful—pelted guards and early partygoers with fruits and vegetables around 10 p.m.
According to a statement by Kink.com, several protesters turned belligerent and attacked security guards at the party entrance, causing the entrance to be briefly shut down. Six people were arrested and SFist is awaiting confirmation from the SFPD as to how many are still custody. According to Indywire, all but two had been released on Sunday, and according to this new Change.org petition calling for charges to be dropped, three people— Rebecca Ruiz-Lichter, Prisca Carpenter, and Sarai Robles-Mendez—remain in custody on felony charges.
The protest was organized by Lesbians and Gays Against Intervention (LAGAI) and Gay Shame in reaction to the large gay circuit party's prison theme, which they said was offensive in light of incarceration rates for LGBT people, and especially on Pride weekend. Though the event was not officially endorsed by SF Pride, and was a joint venture between Kink.com and a European event promoter, protesters took issue with theme and some seemed intent on shutting the party down. The demonstration included projections on the 14th Street exterior wall of the Armory, one of which you can see in the photo above.
Kink.com's statement says: "One of the [event security] guards was spit on, another was punched twice in the stomach. The guards did not retaliate in any way, but we were temporarily forced to shut the entrance to prevent those entering from being injured."
Police arrived and dispersed the crowd, but reportedly a handful of protesters continued to engage with partygoers and police officers. According to Kink, "At least one gay man leaving was assaulted about a block from the Armory, and had his phone smashed by protesters. Another man leaving the party reportedly had his collar bone broken."
According to Indywire, "A Kink.com security guard followed the protesters back to 16th street and approximately 30 minutes after the protest ended [and] began targeting people who were casually standing on the sidewalk getting ready to return home. The arrests and police violence were reportedly in retribution for the night's protest." And according to Gay Shame, "several protesters were clubbed and beaten to the ground."
The party continued with most attendees arriving after this dustup took place. Reportedly around 3,000 tickets had been sold.
A couple more photos below.
Update: SFist spoke with SFPD spokesman Albie Esparza who says that six people were detained, with three cited and released, at least two of whom were charged with lynching a prisoner — meaning they were attempting to pull away a protester whom the cops had already detained. One individual was charged with assault with a deadly weapon, which referred to a metal projectile that was thrown at one of the party's security guards. Other charges included misdemeanor assault, and resisting arrest. It appears the three individuals are still in Sheriff's Department custody, though that still needs to be confirmed. Esparza said that officers initially responded to 16th and Mission Streets at 11 p.m. where security guards from the event subsequently identified those who had assaulted them. At least one guard had mentioned seeing a slingshot, but that is unconfirmed.
Here's another report slanted more to the protesters' side of things at 48 Hills.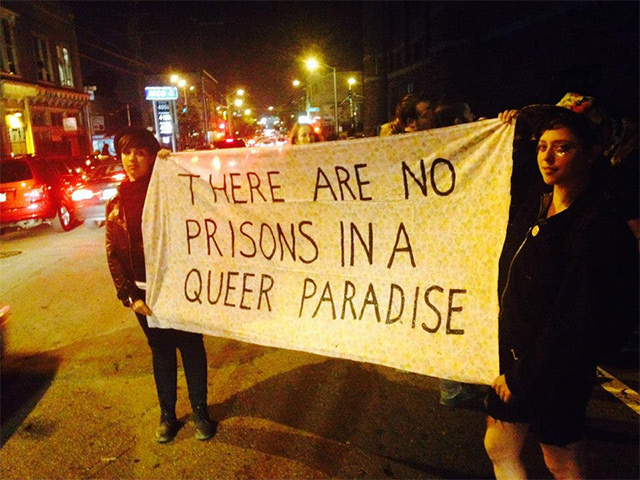 via Gay Shame
[Indywire]
Previously: Kink.com CEO Reacts To Flack Over Prison-Themed Pride Party

via Gay Shame