photo credit: Nick Sherman via photopin cc
People in San Francisco like waiting in line for food (a lot). Sometimes, that wait is worth it. While You Wait, SFist's guide for how to pass the time while trying to get into San Francisco's most ridiculously popular restaurants, is here to help.
Minimum wait time at Una Pizza Napoletana for party of four, Saturday, 8 p.m.: The question, young grasshopper, is not how long that line will take. It is about the meaning of the line, and your life.
Sometimes, I wonder if I'm just a glutton for food punishment. I do things like eat spicy peppers whole, even though I know I'll be a weeping sweaty mess, more likely than not. I'll eat heart-stopping amounts of fried chicken "for journalism." And I'll wait for tables, for way longer than I should, because I want to reach the delicious food tunnel at the end of the dark, dark tunnel of waiting. Sometimes, I'll even wait in physical lines, but only if it's really worth it.
Take Una Pizza Napoletana. This temple of pizza purity comes from Anthony Mangieri, who, bless his heart, left his wildly popular outpost of neapolitan pizza heaven in New York to set up shop on our fair shores (take that, New York pizza snobs!). His menu is very limited, and only features tomato, cheese, garlic, and basil in various combinations. There's one meat pizza, available only on Saturdays. And no, he will NOT put a farm egg on your pizza for you. There are no reservations, no wait list, and no exceptions — you wait in line for a table, and Mangieri closes the doors when the dough runs out.
I know. You're thinking, "Why would I waste precious time waiting in line for this nonsense?"
Because the pizza is impeccable. This is the kind of airy, tender, leopard-spotted crust that pizza lovers dream of. The toppings are straight-forward and simple because they are all that is necessary to bring out a nuanced balance of fresh flavor — rich milky cheese, bright, sweet tomato, a hit of earthy garlic. This is pizza that you really, really want to eat.
But that doesn't change the fact that line-waiting for a table is a whole different beast from your typical waitlist situation. You're bound to your spot in line. Leaving to, say, accidentally bar crawl around the neighborhood, automatically forfeits your chance for a table. And line-waiting is boring… unless you do it right.
Some basics. Go with a group of four. Yes, you will have to wait later than a party of two, but unless you're showing up at an early-bird hour, you're going to want to entertain yourselves. With a group of four, you can institute the buddy system, and venture away from the line without losing your spot. Then, work in shifts. Take turns disappearing for a drink or snack, and stay in touch about your place in line. With this basic framework, you are on a surefire path to success… unless one of your party falls asleep in the street (hey, it happens).
Gameplan, set. Now, where to venture when you're not holding the line?
First Shift: Bar Agricole

photo credit: saimad via photopin cc
It's been a big year for the Bar Agricole team, with rave reviews for their revamped food menu, and the opening of Trou Normand downtown. And the hype is true — Thad Volger's cocktails are some of the country's best, and Melissa Reitz has brought some serious magic to Bar Agricole's edible offerings. Ease the pain of standing in line with a Rye Gin Old Fashioned and an order of oysters. Oh okay, get the pig's head fritters, too — you can smuggle out a couple for your waiting comrades in a cocktail napkin. Don't forget to ask about a reservation for dinner, maybe sometime next week?
Bar Agricole: 355 11th St., btwn 11th & Folsom, 415-355-9400
Second Shift: Bergerac

photo: Michael David Rose
Having been relieved by your friends who took way too long savoring their cocktails (though the pig's head fritter helped), head to Bergerac, a cocktail spot that's about as fabulous as its Rolling Stones-inspired name would imply. Avoid the temptation of the large format cocktails (you'll have a hard time bringing those out to your friends), but sample a Between the Sheets from the retro cocktails section of the menu, and dig in to an order of deviled eggs. You won't be getting an egg on your pizza, after all. Yes, you should pick up some tall boys to brown bag as you make your way back to the line.
Bergerac: 316 11th St., btwn Folsom & Harrison, 415-255-9440
Third Shift: Basil Canteen

photo credit: ZagatBuzz via photopin cc
Get over your anger that those jerks you call friends didn't bring you a deviled egg and follow the delicious smells of fried noodles and lemongrass to Basil Canteen, a solid, charming Thai restaurant that's been holding court in SOMA for years. Their cocktails aren't revolutionary, but you totally deserve a Siamese-Kaze, made with Hangar 1 kaffir lime vodka and lemongrass syrup. And yes, some pan-fried dumplings are a great idea. Wash it all down with a refreshing, cold Singha beer.
Basil Canteen: 1489 Folsom St., at 11th, 41-552-3963
Fourth Shift: Oh Whatever, Let's Just go Party at Butter!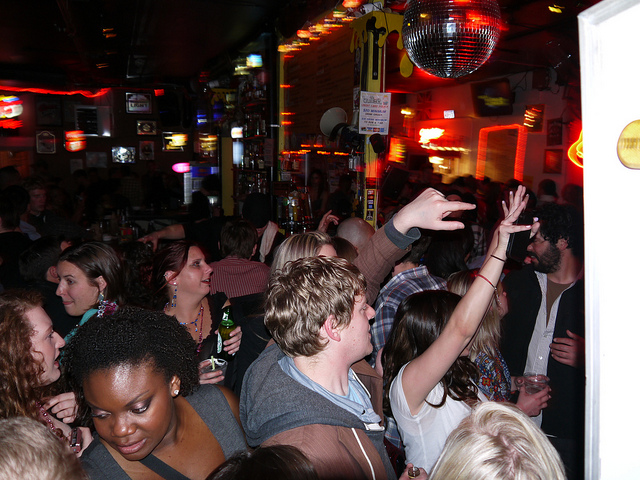 photo credit: davitydave via photopin cc
At this point, the four of you are some combination of drunk, cranky, and salivating from the various fried food smells that keep wafting down 11th Street in your direction. Avoid a mid-line brawl, finish your beers, and go make up at Butter. After a few rounds of Jello shots, some fried mac 'n' cheese, and some boisterous Journey renditions, you'll be ready to cap your night off with some hearty crepes from Crepes A Go Go. Oh, you still want pizza? A slice from DNA Lounge should do the trick.
*Editor's note: We do not take responsibility if you end up at Bootie at this point.
Butter: 354 11th St., btwn Folsom & Harrison, 415-863-5964