photo credit: Eden Hensley Silverstein via photopin cc
People in San Francisco like waiting in line for food (a lot). Sometimes, that wait is worth it. While You Wait, SFist's guide for how to pass the time while trying to get into San Francisco's most ridiculously popular restaurants, is here to help.
Minimum wait time at Mission Beach Cafe for party of four, Saturday, 11:00 a.m.: You didn't arrive at 8:45 a.m., to be there when they opened the doors at 9? You're screwed.
Man, you know how I like to start my weekend? By waiting multiple hours for brunch with a hangover! Yeah, no, I'm lying. I get hangry, REALLY hangry when I'm not fed, particularly when my need for something bacon-and-egg like is reaching desperate heights.
My cranky-morning musings aside, I really do love brunch. The food is salty and decadent, it involves an almost requisite level of overindulgence, and more often than not, you can drink before noon (and should). I'm not alone in this. Our city's collective brunch-love, plus the lack of reservations at most brunch establishments, lead to one unfortunate conclusion: really long waits. Unless you're an ambitious type who wakes up at 5 am, goes on a 40 mile bike ride, and still beats 90% of the city to breakfast (ya jerk).
Like most things in this city, we have all kinds of "Best Brunch" lists to fuel the crowded factor. Mission Beach Cafe is always featured, and with good reason — their seasonal, hearty takes on huevos rancheros, scrambles, and pancakes are damn good. Their breakfast sandwich, served on a house made English muffin, is the stuff hangover dreams are made of. And their burger, topped with caramelized onions, mushrooms, and gouda is one of the best in the city (especially with bacon and an egg added).
But that party of 8 beat you to the waiting list, and you're about to eat that person's leftover breakfast potatoes. Where to wait instead?
First Half Hour: Zeitgeist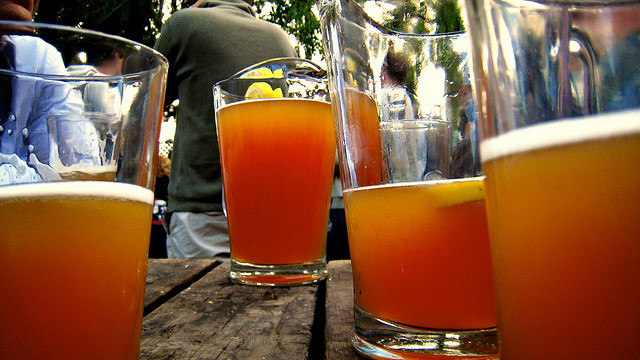 photo credit: Jared Zimmerman via photopin cc
Brunch is just better with a bloody mary, and Zeitgeist does them better than most. Salty, flavorful, and full of tasty pickled vegetables, Zeitgeist's bloody is filling enough to act as an appetizer, of sorts, and good enough to warrant a second round (you're hungry, after all). Cope with the ensuing vodka buzz by ordering a sausage to share amongst your group — those slippery, griddle-crisped potatoes will give you strength.
Zeitgeist: 199 Valencia St. (at Duboce), 415-255-7505
Hour One: 500 Club

photo credit: phil dokas via photopin cc
After swinging by Mission Beach to ensure that, no, your table is not ready, cruise down Guerrero to the 500 Club. Here, you can get another bloody mary (!) with bacon in it (!!), chase it with a PBR, and get to know the daytime bartender (their website notes that, "Do to popular demand we will soon be opening at 9am." Give the people what they want!). If you do a very good job, you may even get the bartender to take a shot of whiskey with you. Oh, another one? Okay! It's the weekend!
500 Club: 500 Guerrero St. (at 17th), 415-861-2500
Hour Two: The Liberties

photo credit: Joe Shlabotnik via photopin cc
Of course you turned the wrong way when you stumbled out of the 500 Club. Who wouldn't? After huffing up the Guerrero Street Hill (where did that come from?!), get yourself to The Liberties. This charming neighborhood bar will not only have a table for you, they serve brunch. Choices include chicken fried steak, a breakfast pizza, and oh, hell yes — a breakfast burrito stuffed with chorizo and avocado. Try to control your rapacious hunger long enough to sip some water, and order a bucket of mimosas.
The Liberties: 998 Guerrero St. (at 22nd), 415-282-6789
Did We Just Do a Before-Noon Bar Crawl? Oops: Dolores Park

photo credit: greg z via photopin cc
You need a nap. Now. And your journey to The Liberties has placed you conveniently closed to the still-open southern end of Dolores Park — clever! Find yourself a sunny patch of grass, avoid the tightrope walker, and stretch out for a well deserved break. Try to remember to acquire a bottle of water before passing out. I mean, Mission Beach Cafe serves that burger at dinner, right? And you can earn some line-waiting karma by getting Bi-Rite after you wake up. Zzzz.
Dolores Park: Dolores, btwn 18th & 20th, 415-554-9521