"If it's good, it's good" local omnivorous chef Matt Shapiro told SFist when asked why even the most passionate offal lover might choose a vegetarian meal over a meat dish. We couldn't agree more. We've listed the best local vegan and best local vegetarian restaurants in years past, but this time around, we're listing the best meat-free dishes at places that cater to all diners. We're sure you have some favorites, too, and we can't wait to hear all about them in the comments.

The Dried Porcini Doughnuts at Rich Table
Sarah and Evan Rich's celebrated Hayes Valley spot has been a hot ticket since opening in 2012 and features a number of excellent veggie-forward dishes on their constantly evolving menu. But one item, the airy and earthy porcini doughnuts, are a meatless standout that would have us popping in daily for a bite, if only we could get a reservation. The light, fluffy dough has a hint of sweetness balanced by the rich umami flavor of the dried porcinis. — Andrew Dalton
199 Gough St (at Fell Street)

The Lentil Croquettes at Bar Tartine
For a sort of Hungarian/Indian take on falafel, chef Nicolaus Balla fries bright green balls of sprouted lentils that are then paired with house-cultured kefir. The earthiness of the lentils holds up to the dusting of onion powder, paprika, caraway and chili powder that give them a spicy edge. — Andrew Dalton
561 Valencia Street (at 16th Street)
Writing the below made me crave these guoc enchiladas so much I had to order them for takeout immediately. Photo: Eve Batey


The Guacamole Enchiladas at The Little Chihuahua
It's so simple that it's stupid: two enchiladas filled with cubes of queso fresco and gloriously chunky guoc. You can get them topped with red or green sauce (I vote green), sour cream, and more onions. Little Chihuahua offers two animal-free bean options, a black and a black refried, the latter of which is especially rare and glorious. It's not a great first date dish, as your breath will end up a bit more savory than sweet. But with a stomach full of guacamole, who needs love? — Eve Batey
292 Divisadero Street, 4123 24th Street, or 581 Valencia Street
Kin Khao's Yum Yai Salad (photo: Brock Keeling)


The Yum Yai Salad at Kin Khao
Food writer and blogger Pim Techamuanvivit of Chez Pim opened Kin Khao in an unassuming location (Parc 55 Hotel) in an unassuming part of town (i.e., blessedly not in the Mission). Chef Michael Gaines recreates the Thai food that Pim grew up with, most of which she's never been able to find here. But who would have thought that a salad—a salad—would knock me on my ass. Kin Khao's Yum Yai salad boasts an array raw, cooked, and tempura-fried vegetables (watermelon radish, asparagus, parsley, and squash) laced with an umami-heavy, sweet-sour-salty dressing made with fish sauce and Pim's grandmother's chili jam. An ostensible mishmash of different flavors and textures that, lo and behold, come together seamlessly. As Mr. Barmann warns: "If there are more than two of you at the table I'd recommend ordering at least two." — Brock Keeling
55 Cyril Magnin (at Mason)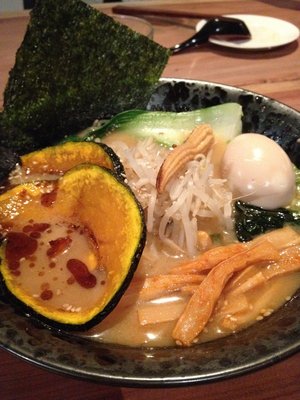 Ken Ken Ramen's Miso Veggie Ramen: Sandy K/Yelp
The Miso Veggie or Vegan Ramen at Ken Ken Ramen
The steaming vegan miso ramen served in generous bowls at Ken Ken Ramen is the ultimate comfort food: it's salty, rich, and comes loaded with perfectly seasoned vegetables. Crispy, sweet edges of roasted kabocha squash are the perfect foil for fresh, crunch sprouts. The chewy, handmade noodles (the vegan dish offers noodles made specifically without eggs, while the vegetarian version has eggy counterparts) should be served with everything, at every meal, for all time because they are so flipping satisfying. Oh, and the broth? That thing that separates decent ramen from out-of-this-world ramen? It's the latter. For $11, the enormous bowlful could easily make two meals, or you can slurp up the whole thing in one sitting and then waddle home completely content. Plus, Ken Ken offers an amazingly enthusiastic staff, a solid sake selection, and an almost obligatory Instagram shot of the glowing paper lanterns that warm up the entryway.
— Elizabeth Castoria is a fervent ramen fan and the author of How to Be Vegan. She's @ecastoria on Instagram, Pinterest, and Twitter.
Ken Ken Ramen: 3378 18th Street (between Capp and Mission)
Pagan's tea leaf salad: Tian Q/Yelp


The Tea Leaf Salad and Samusa Soup at Pagan
While it seems like you can't throw a rock without hitting a Richmond District Burmese joint, Pagan comes out ahead in quality, price, portion size, wait (there isn't one) and service. That's why I'm picking their tea leaf salad and samusa soup over the competitions', but really, they're pretty good no matter where you go. This is the perfect meal when you want something filling and delicious, but you're feeling crummy and run down from some sort of overindulgence (food, booze, work, life). Pagan's vegetarian (be sure to specify or you'll end up with a sprinkling of ground-up dried shrimp) tea leaf salad is a bunch of mixed nuts and seeds, with jalapenos, fried garlic, and tomatoes and lettuce served with fermented tea leaves and a lemon wedge. (Purists insist that it shouldn't contain lettuce and tomatoes, but that's your call.) Pair that with their samusa soup, which is falafels, samusas, cabbage and onions in a fantastic vegetable broth and you've got the best hangover cure/sickbed meal/comfort food on the planet. — Eve Batey
3199 Clement (at 33rd Avenue)
Photo of Mikako's sign: Jen I/Yelp


Vegan Unagi at Minako Organic Japanese
Real talk, I loved me some cooked freshwater eel slathered in tare sauce. More real talk, eels are severely over-fished and don't get me started on the parasites and disease that thrive in their open net farms. Yum yum! But, never fear, if you're still looking to get busy with some crispy, salty, fatty eel-like sushi, Minako is the place. Since my parents lived in Japan before I was born and also hated cooking, I was basically raised on unagi, and I know what this isht should taste like. And it's how it tastes at Minako. Is it a dead-on replica? No, no it's not. Is it close enough and absolutely delicious and not harming of anyone or anything and also served to you in a restaurant with the most amazing bathroom on Earth? Yes. Yes, it is. — Occasional SFist contributor Laura Hooper Beck is one of the founders of Vegansaurus, and is on Twitter as @mrpenguino
Minako Organic Japanese: 2154 Mission (between Sycamore and 18th Streets)
Flour + Water posted this shot of their funghi pizza to their Facebook page, and we can't wait for it to tag our stomachs.


The Funghi Pizza at Flour + Water
This is probably the best mushroom pizza in town — and that's saying a lot in a town this full of pizza. The wood-fired, Neapolitan pies at Flour + Water with their perfectly salted and crisped crusts continue to be some of the best in the city, and the funghi is a constant on the menu, topped with fontina cheese, with specific mushrooms and other toppings changing a bit season to season. Currently, the early spring version is yellowfoot mushrooms with green garlic and lava leaves. — Jay Barmann
2401 Harrison (at 20th Street)

The Hen-of-the-Woods Mushroom dish at Alta CA
It's a risotto-ish dish, with a rustic, cracked wheat porridge as its base, but the star here are meaty, smoky hen-of-the-woods mushrooms, touched by fire and dressed with rich olive oil. There's also a touch of parmesan, adding to the richness, and cutting through it all are some tender, mildly bitter, roasted baby turnips. It's the paradigm of what all good vegetarian cooking should be like — you not only don't miss the meat, you're sure it would be worse if there were any. — Jay Barmann
1420 Market Street (between Van Ness and Polk)
Photo by Jennifer 8. Lee


The Sourdough and Sauerkraut Pancakes at State Bird Provisions
On any given night there is plenty for a vegetarian (though probably not a vegan) to choose from at this most frothed-over of San Francisco hot spots, both coming around on trays or on the "commandables" menu, but the staple sourdough pancakes, flecked with tangy sauerkraut and bound together with a mix of ricotta and pecorino cheeses, are the dream hors d'oeuvres your mother never made. I could eat a dozen and still want more. — Jay Barmann
1529 Fillmore Street (between O'Farrell and Geary)


Honorable mentions:

Photo: Bar Tartine