Friday morning around 9:30 a.m., water was seen spewing out of the top of One Kearny onto the intersection near Market and Third/Kearny Streets below. No word yet on what caused the building to spring a leak, but photographs from witnesses on the street and adjacent buildings are pretty spectacular.
Here's another angle from local blogger Kevin Montgomery, who also notes that the water was running brown at one point:
What the fuck? pic.twitter.com/p3IqRc2mIR

— Kevin Montgomery (@kevinmonty) March 7, 2014
One Kearny is an office building which also happens to contain the clubby, high-end Chinese restaurant Hakkasan on the second floor. There is also a really love privately owned public space on the roof of the building. We will, of course, update when we have more details.
Update, 10:45 a.m.: A building employee of One Kearny tells SFist the waterfall was caused by "a broken pipe." Below, SFist reader Brian Turner shot video of the cascade from the Hearst Building across Market Street, and our own Brock Keeling brings us another shot from street level:
Update, 11:15 a.m.: Bay City News reports that the waterfall was caused by a malfunctioning sprinkler system. The manager at Hakkasan says the leak did not affect the restaurants operations. That said, you might have to walk through a puddle to get in the front door.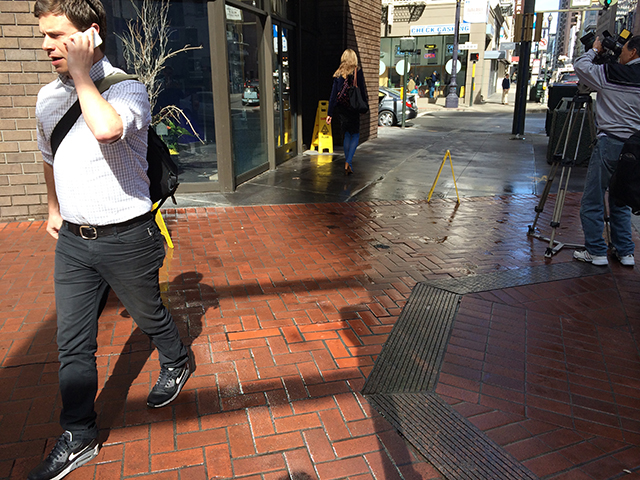 (Photo: Brock Keeling/SFist)