San Francisco's hippy-dippy embrace of holistic healing, plus everyone's constant need to get naked all the time, make this city a particularly great place to unwind with a spa treatment or just soak in some city views while you unwind in a tub. Options range from the communal and traditional to the new-agey and intimate, meaning there's something for every price range and comfort level. (But if you're looking for the sort of bathhouses that make cameos in Looking, well, those are reserved for another listicle.) Here now, are our favorites:
Spa Vitale
The spa at the Hotel Vitale is tucked away on an upper floor with its own, bamboo-enclosed outdoor patio with deep soaking tubs. The massage therapists all have top-notch training (read their bios here), but if you don't even want to spring for a full treatment, you can just spend $60 to have a bath personally drawn for you to soak in for 25 minutes on the patio, and then go downstairs and treat yourself to a Manhattan at Americano. —Jay Barmann
Hotel Vitale, 8 Mission Street at the Embarcadero
Bliss at the W
Bliss is an enormous national brand at this point, skin care products and all, but their location at the W is still one of the better spas in town. You'll get good deep-tissue massages from trained professionals, a rubberized floor so you feel like you're floating a little bit, an R&B soundtrack in the main areas, and a clean and relaxing locker room area with steam sauna to relax in afterwards. They also have stations where you can watch a movie while you get a manicure, and, yeah, there's a brownie bar, so it's not about health here so much as pampering. —Jay Barmann
Bliss Spa, 181 Third Street, 4th Floor. 415-817-4100
Photo courtesy Kabuki Springs and Spa
Kabuki Springs and Spa
Sure, they have spa treatments galore, but the real reason to hit the Kabuki are their communal baths. You know that scene in Eastern Promises? You could totally imagine that at the Kabuki. You're not allowed to talk (someone bangs a gong at you if you do, no joke), and it's a nude scene, so creepers get the boot. Sunday, Wednesday, and Friday is for the ladies, Monday, Thursday, and Saturday is for the gentlemen, and Tuesday is co-ed (bathing suits required). You can hang out in there for the entire day, snarfing up all the bath products and tea you can handle, for $25. — Eve Batey
1750 Geary Boulevard at Fillmore
Photo of Hand Job: Hand Job proprietor bao n./Yelp
Hand Job Salon and Spa
Yeah, the name is a little hard to take (don't even bother googling them, geez), but the quality of service you get will distract you from their moniker. Flop on their couch and get a manicure and/or pedicure while you're plied with free champagne (the discriminating palates at Yelp say it's Cook's, but, hey, it's on the house), no stiff chairs or awkward manicure tables here. Unlike some places, they're just as ready to serve men as they are women, they don't balk at cutting women's nails very short, and they won't let you leave until your polish is completely dry (no flimsy flip flops or weird purse maneuvers here). My (male and female) friends with the coolest eyebrows get theirs done at Hand Job, where, if you're lucky, actress and comedienne Tuesday Thomas will dish the dirt on her latest adventures as she shapes yours to perfection. — Eve Batey
565 Castro between 18th and 19th Streets
Burke Williams
Did someone order a steaming pile of LUXURY? Take a whiff. That's that nasty stank of pure fucking relaxation. The Burke Williams Spa (located inside the Westfield Mall, if you can imagine) experience will extract the unruly brats, subpar maids, and couldn't-catch-an-Uber-towncar-to-save-your-life pandemonium clogging your pores. It's the perfect place to go if you're rich and are under the impression that you actually have problems and/or real stress. Also of note? They've got a fireplace. So that's nice. —Brock Keeling
845 Market (at the Westfield Mall), level 5; 415-694-7980
Dude. Whoa.
Nob Hill Spa at the Huntington Hotel
O-p-u-l-e-n-c-e...opulence. You. Own. Everything. Everything is yours. And here at the Huntington Hotel Nob Hill Spa you can feel that way for a day. Yes, the joint comes replete with all the amenities one would expect from a spa (massages, a workout room, pedicures, infinity pool, water with slices of fruit shoved in it, rich bitches in fluffy white robes), but it also boasts one of the best views in the entire city. Seriously, it's nuts. And if you haven't been to the Huntington Hotel's Nob HIll Spa yet, there might be something seriously wrong with you, you sick freak. For immediate help, call 415-345-2888. —Brock Keeling
1075 California (at Jones), 415-345-2888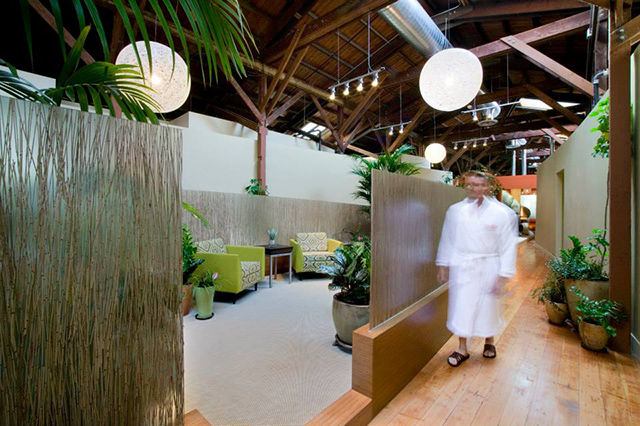 (Photo credit: David Wakley Photography via SenSpa)
SenSpa
Hidden in plain sight on the eastern edge of the Presidio, SenSpa's converted warehouse shelters a lush, indoor oasis. On the menu you'll find the usual spa treatments like Thai, Shiatsu and deep-tissue massages, mud baths and acupuncture treatments, as well as acupuncture, rolfing and naturopathic medicine. In between sessions, you can lounge about in the tea garden, drift to sleep by the fireplace, or just open up in the eucalyptus steam room. For maximum bliss, book a couples package. —Andrew Dalton
1161 Gorgas Avenue (Near Richardson Ave in the Presidio)
(Photo: Archimedes Banya)
Archimedes Banya
On the fine line between kitsch and tradition sits Archimedes Banya, wrapped in a towel. Steam yourself in the two traditional Russian saunas, relax with a drink in the soaking pools and finish off with a Platza massage and a cold water plunge. If the humidity gets to be too much, step outside to the roof deck with views of the San Francisco Bay or relax with a beer on the bar mezzanine. Although the facilities are co-ed and clothing-optional in some spaces, the banya maintains a "nude is not lewd" policy. —Andrew Dalton
748 Innes Ave (Near Arelious Walker in Hunters Point)
(Photo: Bliss Spa)