A couple months back, San Francisco's legendary Tiki bar the Tonga Room announced it would be ditching their syrupy mixers that made Anthony Bourdain so sticky in favor of fresher goods and a cocktail menu that wasn't designed for the undiscerning palates of post-war America. Monday night, the Fairmont hosted an open-bar press event, which your humble paper umbrella correspondent took as an invitation to drink every single cocktail on their new menu, you know, for journalism.
It's been a good three or four years since my last trip to the Tonga Room (my memories of the place are admittedly fuzzy), but at the happy hour event on a cold Monday evening, I found that, more or less, nothing has changed as far as decor goes. The straw huts, the faux ship's rigging, the floor made from an actual schooner, the pool that smells slightly like fish food even though there are no fish in it — all the best parts of the Fairmont's basement bar — they're all still there lit by strings of garden lights and watched over by ambiguous island totems, inviting you to drink cocktails inspired by various ports of call.
I started with a Mai Tai, because that seems like a classic, and more importantly, like something you would only order in a bar that has a water feature. The Mai Tai recipe hasn't really changed since your grandaddy was drinking them on shore leave in 1945 and consists of three kinds of rum, orgeat and fresh lime juice served over crushed ice in a frigid ceramic coconut that makes it look like something out of a cartoon. It's still a little syrupy, thanks to the orgeat, but the booze sort of comes out of nowhere and hits you on the head. (As cartoon coconuts are wont to do.) I give it three out of five paper umbrellas.
When revamping the cocktail menu, bar manager J.P. Cote pointed out that the old drinks were so sugary that no one would order a second. With that in mind, I went right ahead and ordered a second. And a third. The Singapore Sling — a mix of Tanqueray, Cointreau, cherry liqueur, lemon juice, pineapple juice and bitters with a splash of Benedicting for good measure — sounds good on paper and tastes a bit like drinking gin while chewing bubblegum. This is a good thing, actually. Four out of five paper umbrellas.
"When I enter a fern bar I want to feel transported to an island paradise where booze grows on trees."
Next on the list was the intimidating yet amazingly playful
Pineapple Royale
, which comes served in
an entire pineapple
. As you might expect, the blend of rum, brandy, Cointreau and pineapple juice comes out tasting like the vessel it is served in. It's just an alcoholic piece of fruit, basically, and that is the platonic ideal of a Tiki drink in my mind: When I enter a fern bar I want to feel transported to an island paradise where booze grows on trees.
Five out of five paper umbrellas
.
For something so simple, the Cuban Daiquiri was a tart, lime-heavy assault on the beachhead of my tastebuds. A little bit disappointing since the acidity of the citrus would have been a pleasant relief from all the sugary drinks that came before it, had it been a bit more balanced. Perhaps the bar could learn a thing or two from Hemingway, who could plow through his version by the dozen. I was four drinks deep and I could only give it one and a half paper umbrellas.
The Smuggler's Golden Punch Bowl, a recipe borrowed from Smuggler's Cove, is another drink that embodies everything great about Tiki Bars: you're there to get stupid drunk in a comical setting, usually along with a group of people whose similarly aggressive drinking habit is negated by the feeling that you are on vacation. Who cares what is in the punch? It comes in a volcano bowl with four hilariously long straws. There's a band playing in the rain on a barge. Just drink the punch, man. Five out of five paper umbrellas.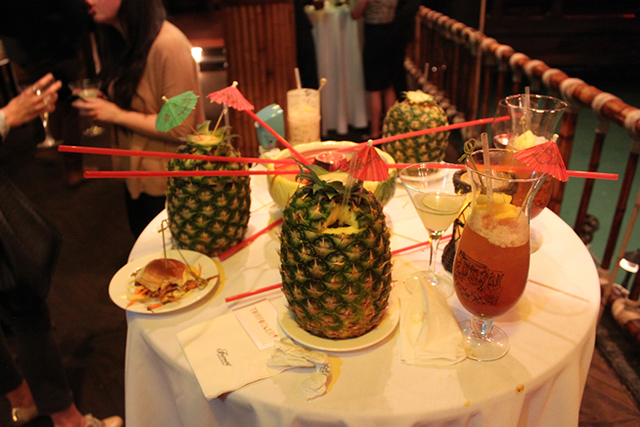 The Tonga Colada is, as promised, a fresher take on the Parrothead favorite: blackstrap molasses, rum, pineapple and coconut cream. A little molasses goes a long way though and the drink comes out with a rich, almost coffee-like flavor, like a pineapple White Russian. Exotic, but weird. Two out of five paper umbrellas.
The Hurricane, a drink most commonly associated with Spring Break in New Orleans, is another fresh winner. Here it's made with two dark rums, fresh lemon, housemade passion fruit syrup and a splash of pomegranate. The tart juices balance out the rums and everything works. I think. I was six drinks deep and eating the pineapple garnish for sustenance. Four out of five paper umbrellas.
For the last round, I ordered a Zombie punch and an Island Margarita. The former is another tutti-frutti jellybean number with a dizzying number of rums and juices that, given my current state, could have been anything really. Unlike the Singapore Sling, this one is served in a ceramic Tiki guy, so at least you can tell them apart. I give it a drunken three out of five paper umbrellas.
As for the Island Margarita, the drink is adapted from the one at Tommy's Mexican. Instead of Tommy's martini glass, this one is served on the rocks with a lick of Hawaiian pink sea salt. I never thought I'd be this excited about salt. Blessed, opposite-of-sweet salt. Four out of five paper umbrellas.
Nine drinks down at 8:30 p.m. on a Monday, I had consumed enough rum to float a battleship around and probably could have done without the Lychee Martini. But I hoped the only vodka drink on the menu would be enough to dry me out a little bit before the hangover I could see looming in the distance made landfall in my brain. Boy, was I wrong. The martini is made with lychee-infused vodka garnished with a drunken lychee that has, according to the bartender, been "swimming in vodka." Much like me at this point, when the band had wrapped up their floating set and the pool started to look inviting. I give it two out of five paper umbrellas because I don't think I'll ever understand the appeal of a lychee.
(Photo: Andrew Dalton/SFist)
Somewhere between drinks three and five, a friend at the event was celebrating the Tonga Room, asking "Where else in San Francisco does it rain inside like this?" To which I pointed out that it actually rains in the produce aisle of Safeway. Somewhere between drinks nine and ten, the Island Groove Band had put their barge into port and my hangover was already beginning to set in. No one goes to Safeway for the fake rainstorm, I thought, but they definitely go to the Tonga Room to work up an exotic hangover. The gloriously kitschy and still impossibly sticky hangovers.
A pineapple and punch bowl massacre. (Photo: Andrew Dalton/SFist)