As the LGBT community waits for the SCOTUS to rule on same-sex marriage, another pressing issue lurks under the radar: the right to get a hand job in the steam room at Fitness SF. The locally-owned gym, with locations throughout the Bay Area, decided to close the steam rooms at the Castro and SoMa locations because they couldn't police the sexual activity, particularly in the Castro location.
Jarring yellow tape greeted steam-heat fans this week, blocking them from both entrance and eroticism. (The Castro location's room of sweat and heat, we should point out, is famous for après-workout sexual release; "the protein pod" is what one friend of SFist crudely calls it.) The Fitness SF management told SFist that they decided to close the steam rooms at both locations after allegedly receiving loads of negative feedback. "We've received too many complaints," they explained, adding, "Now that the steam rooms are closing, we'll expand the shower area with more stalls and provide stalls with doors."
According to a gym member (who asked to remain anonymous) we spoke to, not everyone is kosher with the gym's new steam-free environment. "The management claims that everyone is happy about the decision, but not the bitches I queried in the locker room," notes our frustrated source. "I demand a discount."
According to some Yelp reviews, the steam scene has gotten out of control, and not in a good way. "Locker room, steam, and Sauna have become nothing more than a gay bathhouse with management encouraging this behavior by turning a blind eye to it. Regulars to the bathhouse bypass the workout facilities and go directly to the wet area," notes Dave D. about the SoMa gym. While James E. fumes, "I feel the steam room and locker room should be off limits when searching for your next Mr. Right now! I mean, come on, there are other venues to patronize if you are looking for naughty fun---there are some guys that just want to change, shower, and use the steam room without having to be gawked at and/or accosted."
Alas, the end of an era. Below, signage posted in the locker room that went largely ignored.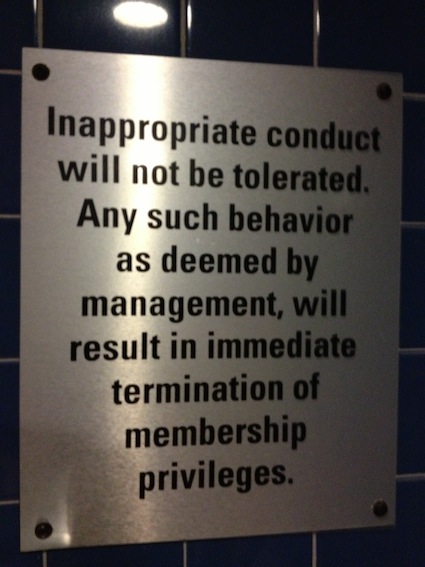 Previously: Web Designer Strikes Back at Fitness SF, Hijacks Their Site
Gold's Gym Becomes Fitness SF Following 2010 Anti-Gay Donations