San Francisco is not only home to some of the best restaurants in the country, but also some of the best vegetarian/vegan spots as well. For your consideration, here are our favorites. We're sure you'll let us know yours.
CHA-YA
You don't have to be vegetarian or vegan to love Cha-Ya's delicate Japanese dishes, which stick to fresh ingredients and simple compositions that show off the vegetables and fruits on your plate. Cha-Ya is a vegan restaurant, but that can translate to healthy and vibrant. Our pick? The soba salad: "buckwheat noodles topped with cucumber, red onion, carrots, broccolini, snow peas, snap peas, atsuage tofu, enoki mushroom, pickled burdock, seasoned kampyo gourd and hijiki sea vegetable, soybeans, yellow and orange peppers, pickled daikon and ginger, kaiware, toasted sunflower seeds, and strawberries."
762 Valencia Street
GOLDEN ERA VEGETARIAN
Is it a cult or is it one the finest vegan joints in town? Who know. Who cares. This Tenderloin staple serves some of the freshest Aulacese, Chinese, Indian, and Thai food with a vegan twist. Best of all, it's the kind of place that even stubborn omnivores love. Personal favorites are the. Lemongrass Deluxe, Hu-tieu soup, and the Truly Sea (crispy pan fried soy "fish" with ginger sauce).
572 O'Farrell
Tacos (rajas, calabaza, hongos) at Gracias Madre. (Photo credit: Jules Morgan)
GRACIAS MADRE
Sure, it's a spinoff of creepy Cafe Gratitude (which no longer has an S.F. outpost), but at least with the whole Mexican thing, the menu is a bit more fun, and less "I Am Glorious" and "I Am Satisfied." Also, it's totally vegan, which can get confusing for newbies who don't know what the "nacho cheese" is made from. Speaking of, those house-made chips tossed with the "nacho" cashew crema are pretty great. Also, the chilaquiles and mole enchiladas can't be beat. (Feel free to skip the "Caesar" salad, which contains neither anchovies nor parmesan, and therefore is useless.)
2211 Mission
Greens (photo credit: Durif M./Yelp)
GREENS
Located in a converted warehouse at Fort Mason, Annie Sommerville's Greens has been an institution since the 1970s. In addition to revolutionizing the way we eat vegetarian, the place still serves a mighty fine meal. The menu changes daily, but its focus on seasonal fare makes it still one of the best places in San Francisco to eat, vegetarian or otherwise.
15 Marina Blvd
Udupi Palace
UDUPI PALACE
Routinely topping lists of both affordable and Indian eats in S.F., Udupi Palace is also a go-to for vegetarians and vegans for its flavorful and filling dosas, uthampam and chutneys. Featuring South Indian dishes that are exclusively vegetarian, Udupi Palace will fill you up without costing you an arm and a leg, and with dishes like dosa with cauliflower and spices, served with coconut chutney and sambar, we could eat here almost every day.
1007 Valencia Street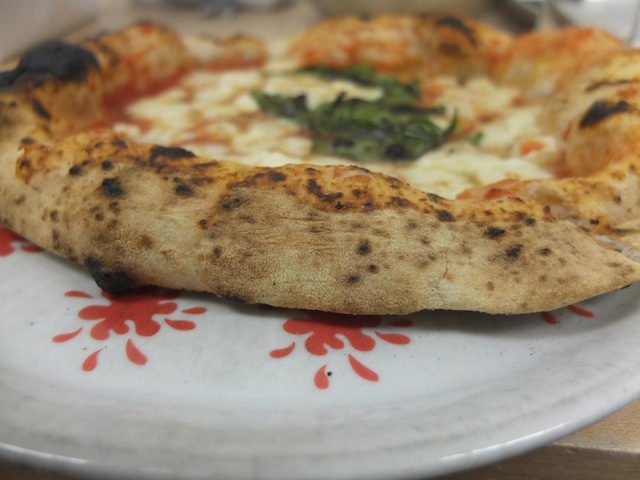 Una Pizza Napoletana (photo via Facebook)
UNA PIZZA NAPOLETANA
It isn't a vegetarian restaurant, per se. But every night of the week besides Saturday there is no meat served at Anthony Mangieri's monastic temple of pizza perfection. Mangieri sticks to the purest examples of the form, too, with just five basic options: marinara with no cheese; the classic Margherita; the Bianca with no sauce; the Filetti with mozzarella and cherry tomatoes; and the Ilaria, with smoked mozzarella and cherry tomatoes. Yes, it's a little pricey ($22 per 12-inch pie), but this is the finest example of Neapolitan pizza in the Bay Area, full stop. You may long for a salad or some other starter, but you will be shit out of luck. Nevertheless, it's probably one of the best places to be vegetarian without feeling in any way cheated.
210 - 11th Street
Jay Barmann, Rose Garrett, and Brock Keeling contributed to this article.
Hu-tieu at Golden Era Vegetarian (photo credit: digiyesica)