Oenophiles and winedrunk sensible shoppers in the Castro, Upper Market and Lower Haight neighborhoods rejoice: you might soon be able to slip in a free tipple while shopping for toilet paper, to-go sushi and sheetcake at the Market Street Safeway. As neighborhood blog Haighteration reports, nearby residents have received notices that the recently remodeled (but still kind of externally gross) supermarket has applied for an "instructional tasting license" from the California ABC.
While the specifics of an instructional tasting license are fairly mundane (it allows wholesalers and supermarkets to dole out samples, basically). Haighteration's research turned up something more promising than just a Costco-style sample table:

A quick googling reveals that several Safeways around the nation have built wine-tasting stations within their stores in recent years
Which: neat, we hardly ever cross a bridge, so we hadn't noticed. And the following photo of a Safeway wine bar in Livermore (California's
other
wine country) turned up on Yelp: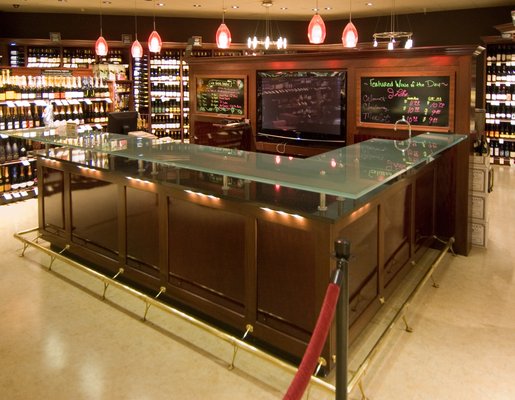 So there you go, the Market Street Safeway could soon be serving up tastes of Napa Cabernets in the same building that hands out free shingles vaccinations. Who even needs to go to wine country anymore?
[Haighteration]
[WineryAttorney]
credit: East Bay Fixture Co. on Yelp