We recently revisited our old haunt, a popular destination in our college days, when the gooey cheesy Mexican fare, warm greasy chips, and pitchers of fruity wine margaritas (they don't have a hard-liquor license) seemed ours for the taking; err... in spite of our youth. Not that we EVER purchased or drank alcoholic beverages before the age of 21.
Our friend was having a birthday dinner there. So while we normally gravitate towards the plethora of great gourmet east bay Mexican restaurants featuring naturally-raised meats and sometimes organic produce (Tamarindo, Doña Tomas, Tacubaya, Picante, Cactus Taqueria), we found ourselves here instead.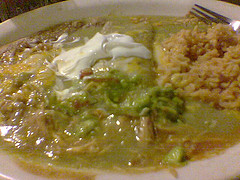 We guess our minds are little, because at Juan's we only ever ordered one thing, and on this night, at least 10 years since our last visit, when facing what we're pretty sure is the exact same menu (except perhaps with higher prices), we picked it again: Green Chicken Enchiladas.