With some summer weather finally hitting San Francisco, nearly a full month into official summertime, you may have a hankering for a frozen adult beverage to beat the (modest) heat.
It's gonna be a scorcher this weekend around the Bay, and even though it may only hit 70 in parts of SF, we'll take it. July has never been the kindest month in this town, after all.
You may still work up a sweat walking around or basking in the rays, and so it seems a good time to round up the city's best spots for frozen adult beverages. Since this isn't New Orleans or Miami, there isn't a frozen drink machine behind every bar you come across, so let this serve as a handy guide to the ones that do exist that are not margaritas.
Bar Nonnina
This one-year-old, tucked-back rooftop bar at Fiorella's Inner Sunset location offers a very Italian take on the frozen drink called the Slushy di Modena. Featuring fresh-shaved ice, the drink includes Occitan gin, Amara d'arancia rosso, lemon, strawberry, pomegranate, and a float of Lambrusco.
1240 9th Avenue
The Beehive
Retro Mission District cocktail spot The Beehive offers their take on a Miami-style frozen Tiki drink called the Miami Nice, featuring Santa Teresa 1796 Rum, pink guava, coconut, allspice dram, and lime. They've also occasionally offered a vodka slushy called the Flower Child, with Reyka vodka, Meyer lemon, caraway, chamomile, and lemon.
842 Valencia Street
The Dorian
SF is sorely lacking in places to find frosé, perhaps because most people most days would rather just drink their rosé straight up. But on a hot day, frozen-drink lovers love a good frosé — which The Dorian offers by the shot as well as by the full glass or the liter (!), which comes in a souvenir cup. And this isn't just frozen and blended wine, it's vodka, rosé wine, watermelon, and lemon, so it's a legit drink with a kick. You can also opt for an optional Campari float.
2001 Chestnut Street

The Detour
Castro arcade bar The Detour offers a good, old fashioned Pina Colada in their frozen-drink machine (note, as of this week, 7/14/23, the machine is down for maintenance, but it should be back up soon). It's made with a house rum blend, and you can opt for an additional rum float for two bucks extra. No better way to loosen up your reflexes for a round of Super Smash Brothers.
2200 Market Street at 15th
Heartwood
New downtown bar Heartwood offers both a boozy and a non-alcoholic slushy, for those wanting to cool down over a sober lunch, say. The boozy one is a frozen Saturn, which is a classic Tiki drink made with gin, passionfruit, orgeat, falernum, and lemon; and the n/a one is a Mint Slushy, made with mint, lime, and cane syrup.
531 Commercial Street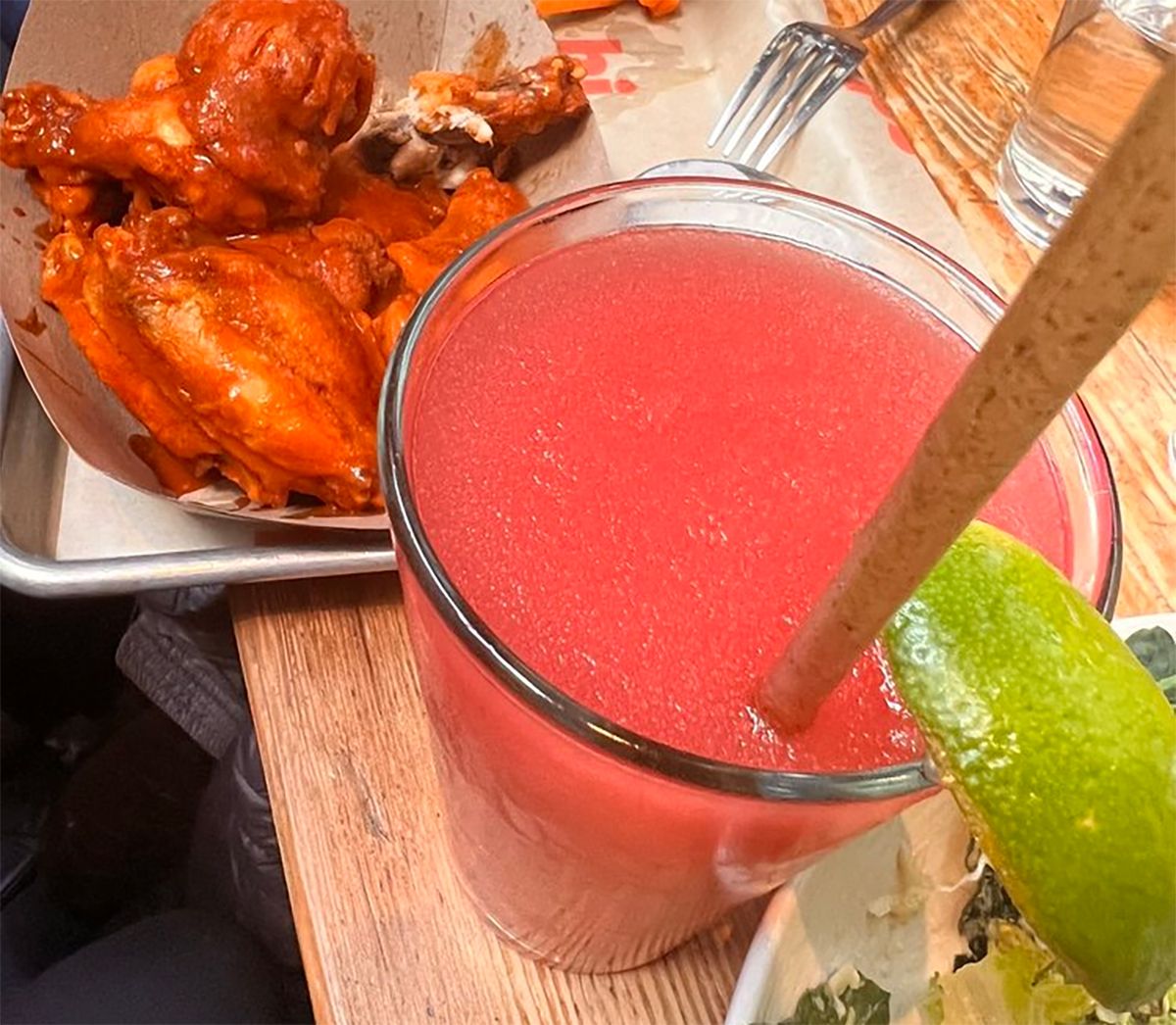 Hi Tops
The frozen Cosmopolitans have been a hit at Hi Tops in the Castro since they installed a slushy machine last year. And it seems, just like with ice cream, San Franciscans don't care how cold it is outside — they will still order frozen Cosmos even if it is Arctic tundra temperatures out on the street, just because they can. These Cosmo slushies are tart and not too sweet, and they give good brain freeze.*
2247 Market Street
The Morris
The annually recurring Chartreuse slushy on the menu at The Morris is back in time for SF summer, and it comes at a time of a worldwide shortage of Chartreuse, so be grateful. This unique concoction that you won't find anywhere else in the city (or the state?) is a great aperitif when dining outside on a warmish night, and it may lead you to getting curious about the bottles of vintage Chartreuse that owner Paul Einbund keeps on hand.
2501 Mariposa Street
Pagan Idol
Kitschy downtown Tiki spot Pagan Idol has rotating boozie slushies on offer under the heading "Frozen Potion," and it could be a Pina Colada variation or something akin to a Hurricane — you'll have to ask! There are also plenty of other drinks here served over crushed ice, so, same difference.
375 Bush Street
Palm House
Cow Hollow's Palm House always has boozy-fruity slushies on the menu, made with rum, lemon, and agave, along with your choice of strawberry, guava, or prickly pear. You can get a rum float on top ($4), and the novelty here is the Big Swig — you can order a full liter ($39) of the slushy in a clear-plastic carton, for easy swigging.
2032 Union Street
Smuggler's Cove
Most of the menu at SF's premiere Tiki bar, Smuggler's Cove, is served on crushed ice, and you can't go wrong with any of their drinks. Classics like the Jet Pilot and Three Dots and a Dash are good places to start. Scared of rum? They have a few offerings made with other spirits, like the Saturn, which is made with gin.
650 Gough Street
The Snug
Upper Fillmore cocktail spot The Snug offers two regular slushies in the warmer months: a Paloma slushy, and a Cosmo slushy. But don't sleep on the excellent Wagyu burger here, to go with your drink.
2301 Fillmore Street
Related: The 34 Best Cocktail Bars In SF
*Disclosure: SFist editor Jay Barmann host trivia nights at Hi Tops, and may be biased.